Check out the very first review of The Writer's Workout
I'm very excited to see the very first review of The Writer's Workout appearing online today, written by Lela Davidson in her blog After The Bubbly.
If there is one thing an author always appreciates after spending years working on a project, it's a thoughtful, thorough, intelligent review of her work. And this is definitely one of those kinds of reviews. So, thanks, Lela.
Are these kinds of reviews harder to come by in today's zoom-zoom-zoom, click-click-click Internet? I'm about to find out and I'll keep you posted.
I have certainly learned from writing two previous books, as most authors do, that not every reviewer takes the time or expends the energy to give a fair and professional quality review. Most do, though. And thank goodness for that.

Swing by bestselling author Allison Winn Scotch's blog today and answer a question for a chance to win my book!
I'm going to break the news to you right now: there will not be very many giveaways of my new book. This is the first of those rare few. Why? Because Allison Winn Scotch has been so incredibly generous with my readers, giving away copies of her awesome books and taking the time to share her wisdom with my readers. Like Lela, Allison is very funny, so please follow her on Twitter right now, if you are not following already. Because who doesn't need a good laugh on a daily basis? I know I always do. 🙂
And finally, guess what? The books are in! The books are in!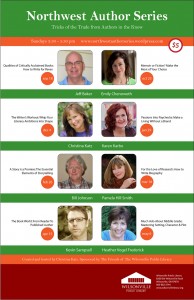 The first paperback copies available for purchase of The Writer's Workout will be sold at my event at the Wilsonville Public Library on Sunday, December 4th at 3:30 pm. I will be speaking about The Writer's Workout, Whip Your Literary Ambitions Into Shape. If you want a copy you'll want to come early because there are only going to be a limited number available. I will make sure to send the pre-order info to my list of local attendees within 24 hours. If you are local and you are not on the list, you can sign up here.
If you are not local and you wish to be among the first to get your copies, order from the online retailer of your choice or call your local bookstore right now and ask them to order. Writer's Digest should be shipping books to retailers within a couple of weeks. So you might even get your pre-order copies by Christmas. Yahoo! [And remember, after you order, send me your receipt for access to the flash class at the January 10th Global Launch Party, right here!]
2012, here we come. And we are going to crush it!
Like this post? Subscribe to my Feed!