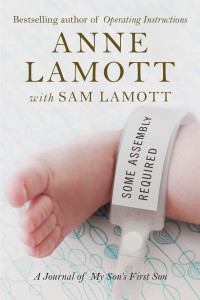 Today, May 6th, is the sixth discussion question for the Beyond Busy Global Monthly Book Club. We just finished Anne Lamott's Some Assembly Required, A Journal of My Son's First Son and now we will spend seven days discussing it. Anyone who has read the book can participate by commenting.
Our next book selection is the hot-off-the-presses Are You My Mother? by Alison Bechdel. You can join our public BBGMBC Facebook group, if you would like to join us in reading one excellent quality book per month and then discussing it here.
Some Assembly Required, A Journal of My Son's First Son is written by Anne Lamott with Sam Lamott and published by Riverhead in 2012.
How many of us have felt like, when we read Anne Lamott, that we are reading an old friend?
I have read so many Anne Lamott books over the years, that I start to have that old familiar Anne-Lamott-book feeling before I even crack open her latest book.
How many of you have had that familiar feeling of an author as an old friend how does that feeling of familiarity impact or not impact your reading experience?
When you are familiar with an author are you hoping for more of what you already know or are you hoping for something new and different every time or a combination of both?
Based on my own response to Some Assembly Required, I am interested in what others have to say about this book and other books.
Like this post? Subscribe to my Feed!