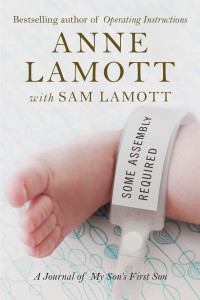 Today, May 7th, is the seventh discussion question for the Beyond Busy Global Monthly Book Club. We just finished Anne Lamott's Some Assembly Required, A Journal of My Son's First Son and now we will spend seven days discussing it. Anyone who has read the book can participate by commenting.
Our next book selection is the hot-off-the-presses Are You My Mother? by Alison Bechdel. You can join our public BBGMBC Facebook group, if you would like to join us in reading one excellent quality book per month and then discussing it here.
Some Assembly Required, A Journal of My Son's First Son is written by Anne Lamott with Sam Lamott and published by Riverhead in 2012.
Field trip! Read this NYT interview that KJ Dell'Antonia did with Anne Lamott. I really enjoyed it, and I hope you will read the whole thing.
Here's one line that jumped out at me: "Having one well parent is the hugest advantage any child can have."
Comment on this line, or read the rest of the interview and pull out a line that jumps out at you and comment on it.
Surprise us!
Thanks for reading Some Assembly Required by Anne Lamott with Sam Lamott. This is our last discussion question for this book and I look forward to our next book and discussion.
Like this post? Subscribe to my Feed!