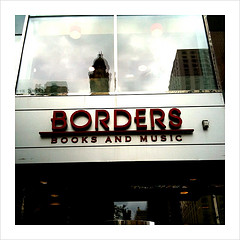 Borders has sold me a lot of books over the years. But not as many as they used to lately.
Apparently I am not the only wayward customer.
I was especially enamored by their huge store on Michigan Avenue, right next to the Water Tower in downtown Chicago.
This was when I was a city girl. You know, back in the day.
I don't remember what year the superstore opened. It wasn't always there. Not when I arrived in 1988.
But once it did open, I hung out there an awful lot. Wandering the shelves. Cruising for books that called out to me.
This reminds me that it was in Borders on Michigan Avenue where I got the job lead from one of the cashiers that finally sprung me from the city I had lived in for nine years.
I went from Michigan Avenue, where I worked in the John Hancock Building, to the Sangre De Christo mountains of New Mexico on a train, taking only what I could carry.
But that's another story for another day.
During the times I spent in Borders cruising books I was mostly dying to leave that city. My God, I was desperate to get out of there. Do you know that feeling? When it's way past time to move on and you are still right where you don't want to be? That was me then.
Borders was a respite—an escape from a place where I didn't really want to be living and hadn't wanted to be living for years.
But back to the books. There were books. There were lots of books—tons of them—spread out over multiple floors. I don't remember if it was two floors or three. At that time in my life, I spent an awful lot of time in the basement of Borders where all of the self-help, creativity, and spirituality books were.
I would walk out of those revolving doors (I think it was revolving doors) with a stack of books, spending like $50-$75 bucks at a time.
I had a ton of astrology books back then. Like a whole shelf full. Today, only a few of my favorites are still with me. I have saved the best of my best and given away, donated, or traded in the rest.
Today, I spend what I used to spend at Borders at Amazon almost each month, probably not quite.
The closest bookstore is Borders at about twenty minutes away without traffic. I have never been as enamored with it as I was with that one on Michigan Avenue.
I think that Michigan Avenue store was special. It had an energy about it. A kind of magic.
Or maybe the magic was in me. I'm not sure. An awful lot of longing went on in me in that store and what I was longing for then…was really the life I have today.
Thanks, Borders. You did me a whole lot of good at a time when I really needed you.
Regardless what anyone says about you. You were good to me. And I appreciate it.
Do you have any Borders memories? What do you want to say to Borders? Good or bad, share your thoughts and ping this post if you want to share.
Like this post? Subscribe to my Feed!