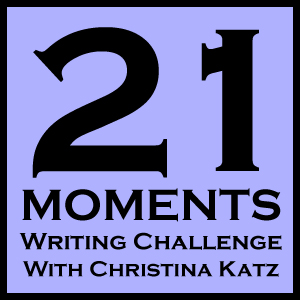 Is your New Year off to a productive start? I hope so!
If it's not as great as you had hoped, writing-productivity-wise, I hope you will check out my new monthly writing challenge for writers in any genre.
For the first 21 days of February 2013, you can receive a daily example of excellent writing ultimately covering every genre. From there you will undertake writing 200-500 words a day with the goal of writing 21 completed moments within one month.
Designed to deepen your writing practice, improve the quality of your writing, and help you go straight to your most compelling material, the 21 Moments Monthly Writing Challenge is an easy, inexpensive way to raise the bar of your writing experience, quickly.
You can squeeze this workout into an already busy life. Kick-start your best writing efforts in only 21 days and you will have an entire month to complete your assignments.
You will gain confidence based on your own experience, exercise your writing voice, and learn to love writing well for its own sake.
This is the first time this challenge has been made available to the general public. A group of my newsletter subscribers have already test-driven the challenge and I have received enthusiastic feedback from them. Be part of the second group to try the workout for the introductory price of only $21.
You'll get:
A list of reasons to write, so you can write for the reasons most compelling to you
A simple method for idea-keeping, so you won't lose a single idea
21 examples of excellent writing curated by Christina Katz delivered right to your inbox
A deadline: your goal is to write 21 200 – 500 word pieces by the end of the month
The opportunity to submit one of your moments as an example for future participants
All for only $21 – that's cheaper than most community education classes. And you never have to leave home to participate.
Beta Price: $21.00
And yes, you can purchase this challenge for a friend if you want to. You asked for it, so I've added a friend button to the registration page.
And you can come back and do another challenge, if you enjoyed the first round. I have created a second round of prompts for those who took the first round already. I will send a registration e-mail to former participants if you did it already and you want to sign up for the next round. Please register using that e-mail link for round, two rather than registering on my website, so I'll know that you are in the second round and not the first round.
I know the 21 Moments Monthly Writing Challenge works because I'm seeing an improvement in my own writing and an increase in my enthusiasm to write well.
And I can't wait to do it all over again. I hope you can join us!
New Participants: Learn more and register here
Like this post? Subscribe to my Feed!