Today, I am excited to announce that Lara Krupicka is launching her new book, Bucket List Living For Moms, Become A More Adventurous Parent. LINK
Like me, you may be a bit of a bucket list skeptic. You may think, as I did, "Yes, bucket lists are nice and fun and all that, but I certainly don't think that having a bucket list is going to change my life or anything like that."
Then I started working with Lara Krupicka on her first bucket list living book, Family Bucket Lists, Bring More Fun, Adventure & Camaraderie Into Every Day. LINK
Lara has a good head on her shoulders and her heart is in the right place. Her books are not about spending your day on Pinterest competing with other moms to create the best Pinterest boards. These books are about examining the contents of your own heart and articulating what you find there — first to yourself and then to others in your family.
After Lara launched her first book on family buckets lists, I sat down with my own family, and put us all through the simple Q & A process that Lara created. In less than an hour, we created three colorful lists of all the things we longed to do, to see, to be, as well as a list of folks we wanted to meet.
I immediately gained a whole new appreciation of my husband and daughter as soon as I could see the world through the lens of their hopes and dreams.
Here we were, three people in one family, and you would think that we were oh, so much alike. But in reality, this family and any family is composed of unique individuals. And our individuality came shining through in each of our lists.
The story could end there. We could have used the book and gained appreciation for each other and then moved on. But nope. We decided to post our lists on the fridge. Then this summer, an opportunity came up for Samantha and I to realize one of the goals that was on both our lists — attending a Katy Perry concert.
The concert was Friday, and we got to spend the whole summer looking forward to the event and getting excited about going together. A bunch of my daughters' friends from school and dance were at the concert with each other, but Samantha did not seem to mind going with her old mom at all.
The concert was unforgettable. I will never forget the incredible amount of creativity that Katy Perry exploded out into that stadium. I will never forget the way she was an electronic fountain of positivity and color and grace and humility and girlpower.
Attending the Katy Perry concert with my daughter was one of the most memorable experiences of my life. And I owe it all to working with the tools provided by Lara Krupicka for bucket list living.
You might think, bucket list living is no big deal. That's it's just a trend, a fad, a passing media fancy.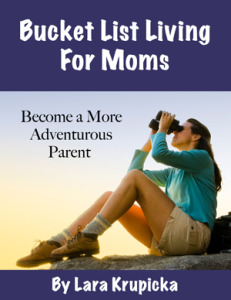 But you know what, you might be, as I was, underestimating the way the bucket list living might change your life for the better.
You might be missing out on ways to connect with the most important people in your life through the hopes and dreams that make them unique.
I will never forget seeing my daughter's face at her very first concert. I will never forget rocking out with her to the opening song, to the songs in the middle, and to the finalé.
And I hope, when it comes to your personal and family bucket list dreams, you will too.
Head on over to Lara Krupicka's website this week to register for a chance to win a Kindle, both of her books and a slew of other prizes.
Or better yet, buy both of her books right now, and start using her bucket list living exercises for yourself and for your family as soon as you can.
Learn more about Lara and all of her awesome offerings and resources at LaraKrupicka.com.
And definitely check out the Katy Perry concert if you get the chance!
Like this post? Subscribe to my Feed!