What do Scott Sigler, Meg Cabot, Allison Winn Scotch, and Dana Stabenow all have in common?
I've stumped you, haven't I?
They all let me interview them for my feature, "Elements of a Successful Fiction Platform" for the November / December issue of Writer's Digest magazine.
And they are not the only folks I interviewed. There were thirteen authors in all. I also caught up with James Scott Bell, Gwyn Cready, Katie Davis, Hallie Ephron, J.A. Konrath, LIsa McMann, Laurel Snyder, and Susan May Warren and asked them questions about how, when and where they promote themselves and their books.
Because I know that aspiring fiction writers want to know which strategies for attracting readers work, which don't, and everything else they can learn from seasoned professionals who have established an author's platform and put it to good use serving readers and fans.
So what can you learn from these — many of them bestselling — authors about how you can best promote yourself and your writing?
Plenty.
And my feature is in great company this issue, appearing alongside articles by fellow journalists Becky Levine, Monica Bhide, Tim Beyers, Melissa Wuske (my new book editor!), and Writer's Digest editor, Jessica Strawser (and many more).
You'll find the full scoop in the November / December issue of Writer's Digest magazine. Coming to newsstands this week. And already in the hands of (and probably dog-eared by now) loyal Writer's Digest subscribers.
Kinda makes you wish you were a Writer's Digest subscriber, doesn't it? You can subscribe here. Download the digital version here. And find the issue on stands after October 26th.
I'd love to hear what you think. And I'm sure the folks at Writer's Digest would like to hear what you think, too. So please don't be shy.
Thanks for reading! Here's a sneak peek of the cover…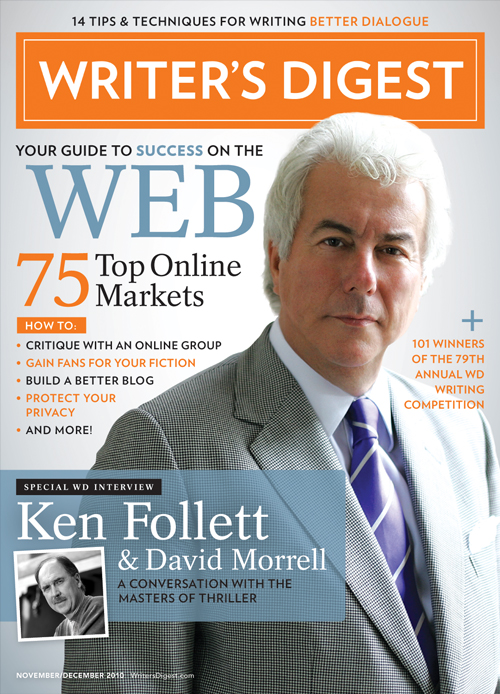 Like this post? Subscribe to my Feed!