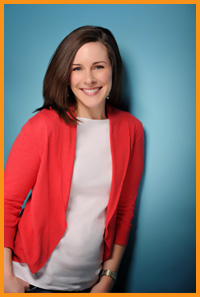 Malia Jacobson is one of the most diligent and efficient writers I know. If I were an editor, I would want to hire a writer like Malia. She dives headlong into a story, whether it's for Women's Health, Costco Connection, ParentMap, or even in her blog, and she gets to the bottom of the topic in her research and her writing.
I think readers of Malia's body of work will see that she never writes anything half way, and this certainly includes the thorough and resourceful job she did on Ready, Set, Sleep. If I were having trouble getting my kids to sleep, I would read this e-book to get the helpful cures that Malia has assembled for tired parents.
Please help me welcome Malia!
About Malia Jacobson
Malia Jacobson has been helping tired families sleep since 2007. She is a writer, editor, nationally-published sleep journalist, and author of Ready, Set, Sleep: 50 Ways to Help Your Child Sleep, So You Can Sleep Too. Her sleep articles reach millions in respected print publications and she answers questions from tired parents as the resident sleep expert at ParentingSquad.com.
Malia's articles have been featured in over 70 news outlets and publications, including ABC News, Women's Health Magazine, Costco Connection Magazine, Seattle's Child Magazine, ParentMap Magazine, Seattle Business Magazine, San Diego Family Magazine, and Cincinnati Family Magazine. She is a contributing writer at Family Time Magazine and Broward Family Life Magazine.
She holds a bachelor's degree in communication and a master's degree in business administration/marketing. When she's not writing, she co-organizes a popular attachment parenting group in her hometown of Tacoma, Washington, digs in her garden, and explores the Pacific Northwest with her husband and two young daughters.
About Ready, Set, Sleep!
Are you a sleep-starved modern parent, frustrated at the prospect of another sleepless night? Are you a new or prospective parent, looking for a healthy, peaceful way to foster lifelong sleep success? If you're ready to get real about sleep, science, and solutions that work, Ready, Set, Sleep: 50 Ways to Help Your Child Sleep, So You Can Sleep Too will help you resolve sleep challenges quickly—or prevent sleep problems entirely—by working with children, not against them.
Compassionate sleep support is the path to healthy, well-rested children and harmonious, thriving families. Ready, Set, Sleep helps parents put compassionate sleep support into practice immediately. This e-book takes parents step-by-step through the process of creating a sleep-friendly home and family environment, resolving sleep resistance, removing barriers to sleep, and overcoming common sleep challenges.
Written by a nationally-published sleep journalist, columnist, and mom of two, Ready, Set, Sleep helps tired parents put their family's sleep struggles to rest quickly and permanently, without battling their children or resorting to cry-it-out.
All of the 50 information-packed, thoroughly explained, easy-to-follow tips are fact-based and mom-tested, and will help even the most sleep-challenged child get more rest, starting now. The tips and tactics are designed for children from birth through the preschool years and beyond.
Ready, Set, Sleep helps parents:
Tap into a child's natural drive to sleep
End night waking, bedtime battles, early waking, and more
Support a child's sleep needs with compassion and respect
Create healthy sleep habits that will last a lifetime
Experience the joy of parenting a well-rested child
All of the tactics in Ready, Set, Sleep are fact-based and mom-tested. None involve cry-it-out.
Ready, Set, Sleep is available in PDF and Kindle.
The Very Short Interview
When did you know for sure that you were a writer and that writing would be a major energy focus in your life?
People around me knew I was a writer long before I did—in fourth grade, my teacher saw a glimmer of talent and told me she wanted to buy a copy of my first novel. But writing didn't grab hold of me until my early thirties.
Who has always been behind your writing career and who helped pull you up the ladder of success?
It's not as much one single person pulling me along (though there are many who have helped me) but one single thing: joy. The pleasure I get from sharing stories keeps me moving and motivated. I don't put much stock in willpower. I know I'll never be successful at something if I have to force myself to keep going, day after day. Plain and simple, I enjoy writing; it's hard work, but it never feels like drudgery. Each project leaves me eager to start the next.
What is the most frequent comment you hear about your book (or books) from readers? Tell us a little story about the response to your work.
The most frequent response from parents who read my sleep writing is gratitude. They're grateful to find a way of supporting their child's sleep that's simple, effective, and compassionate. After reading my health articles, people often tell me that my writing simplifies complex topics—they'll say, "I never heard it presented that way before, but it makes perfect sense." That's the biggest compliment I can get, as a health writer.
And Now, Your Turn
Now it's your turn. You remember how this works right?
I ask you a question. You answer in the comments for your chance to win a book each day.
Please just respond once, even if you make a typo.

Answer in the comments in 50-200 words (no less and no more to qualify to win one of today's books). Please read the complete rules at least once!
Thanks for participating in the Writer Mama Every-Day-In-May Book Giveaway! I hope to see you here every day this month. Bring your friends!
In yesterday's giveaway post, I asked you about what you enjoyed doing as a 9 – 11 year old. Today I am asking you: how can you get more of that childhood pleasure back into your daily life? What would you be doing if you were enjoying life like a 9-11 year-old again?
Ready, set, comment!
Like this post? Subscribe to my Feed!