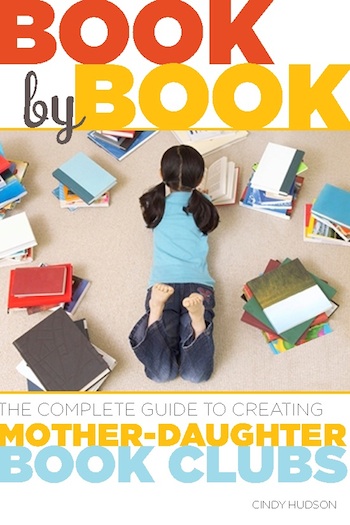 For today's giveaway, Cindy has been generous enough to provide a copy of her e-guide and a copy of her book. One lucky winner will receive both.
My personal, signed copy of Cindy Hudson's book, Book by Book: The Complete Guide to Creating Mother-Daughter Book Clubs no longer lives on my bookshelf. The reason is because I am always pressing it into some unsuspecting mom's hands or making a trip across town to one of Samantha's friends houses to let the mom borrow my copy.
How did I become such an advocate of Cindy's book? Because my daughter's Mother-Daughter Book Club is already having a huge impact on her reading habits and our family life…and she's only been in one for three months.
My daughter was a strong reader until last summer, when we came across my old stash of comic books that my parents preserved and sent to me. I thought it was cool to have them around and share them with my daughter…until she ditched chapter books and only wanted to read comics and graphic novels when she went back to school this year.
Ugh. I tried bribes, I tried threats, I even tried good parenting. But nothing seemed to be helping. When the first book was assigned for the club, Samantha lied and said she'd read it when she hadn't. (More threats, more bribes, not much good parenting…) But now, suddenly, only a few months later she is reading the Harry Potter series.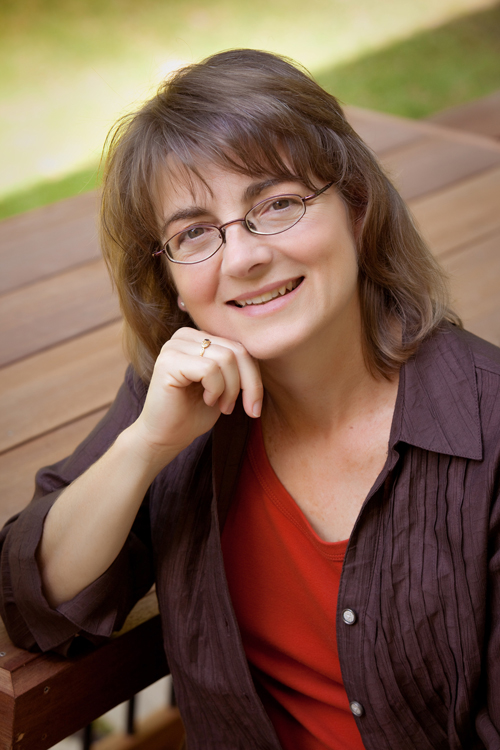 Why? Because of the positive peer pressure coming from some of the girls in the book club, who are heavy readers plowing through HP books like they were comic books. Three cheers for positive peer pressure!
Thanks in great part to Cindy Hudson (and J. K. Rowling), I have my happy reader back again. Please help me welcome Cindy.
About Cindy Hudson
Cindy Hudson is the author of Book by Book: The Complete Guide to Creating Mother-Daughter Book Clubs (Seal Press 2009) and the e-book Mother-Daughter Book Club Meeting Planner Guides: Collection One, as well as twelve individual planning guides. She blogs about reading groups and family literacy at http://motherdaughterbookclub.com. Cindy lives in Portland, Oregon with her husband and two daughters.
About Mother-Daughter Book Club Meeting Planner Guides: Collection One
Planning meetings for kids' and parent-child book clubs holds special challenges. Depending on the age of the kids in the group, you may want to schedule activities along with your book discussion. It's often important to ask questions that help kids relate actions in the book to issues in their own lives. And, if you meet in your home, you may be looking for easy recipes that you can prepare to feed your crowd.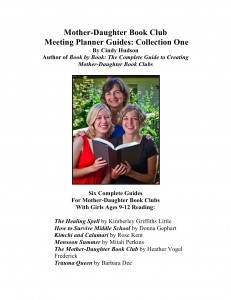 This collection offers guides to six books that I have hand chosen as being especially good for mothers and their daughters who are aged 9 to 12. You could easily start a mother-daughter book club and begin with these six books, or you can plan to read these books for six meetings in your book-club year. Titles include:
The Healing Spell by Kimberley Griffiths Little
How to Survive Middle School by Donna Gephart
Kimchi and Calamari by Rose Kent
Monsoon Summer by Mitali Perkins
The Mother-Daughter Book Club by Heather Vogel Frederick
Trauma Queen by Barbara Dee
The ideas offered in this eBook are designed to make it easy for you to host a book club meeting. Here's what you'll find for each title:
A review of the book
Information about the author
Activities related to the book
Discussion questions created specifically for the book
Recipes that are relatively easy to make and tie in to the story
About Book By Book: The Complete Guide to Creating Mother-Daughter Book Clubs
Mothers and daughters share a special bond. . . why not further this bond through reading together? Book clubs have been growing in popularity over the past ten years, started by a variety of people with various interests and goals. Mother-daughter book clubs offer a great way for families to grow and share — with each other and with other mother-daughter pairs. In Book by Book Cindy Hudson offers all the how-to tips mothers need to start their own successful book clubs. Hudson offers her own firsthand experience as the founder of two long-running successful mother-daughter book clubs.
Hudson offers suggestions on books topics, club guidelines, and how to keep the club going as daughters grow older. How big should the club be? Whom should we invite? How often should we meet? How do we make sure we actually read the books? Hudson has all the answers. With recommended book lists (divided by four age groups), online resources, and suggested recipes for book-club treats, Book by Book is a great resource for helping moms and daughters form new memories and traditions.
The Very Short Interview
When did you know for sure that you were a writer and that writing would be a major energy focus in your life?
In some ways I've been writing my whole career, as I started out writing brochures, news releases, magazine articles, newsletters and other communications for corporate employers. About 2006 I decided to write more about what I wanted to get on the page than what someone else told me to create. It took me about a year of taking classes and getting a couple of articles published before I really started feeling comfortable telling people I was a writer.
Who has always been behind your writing career and who helped pull you up the ladder of success?
My husband has been my cheerleader all along. He helps me brainstorm ideas, reads my work and suggest edits, and comes up with ideas for me all the time. He bought the rights to my domain name, MotherDaughterBookClub.com, even before I knew I would dedicate so much of my writing to that topic. Professionally, Christina has always pulled me out of my comfort zone to help me get a book published and to continue writing for magazines, and writing e-books. I couldn't be successful without both of them on my team.
What is the most frequent comment you hear about your book (or books) from readers? Tell us a little story about the response to your work.
I often hear that my meeting planner guides are lifesavers for moms—especially those who work outside the home—who are planning get-togethers with their book clubs. From activities to discussion questions to recommended recipes that go with the book, readers like how comprehensive the guides are. They also like having options so they can put more or less effort into implementing the suggestions depending on how much time they have. Authors like the guides too, and they will often point their readers to my site when they are looking for help.
And Now, Your Turn
Now it's your turn. You remember how this works right?
I ask you a question. You answer in the comments for your chance to win a book each day.
Please just respond once, even if you make a typo.

Answer in the comments in 50-200 words (no less and no more to qualify to win one of today's books). Please read the complete rules at least once!
Thanks for participating in the Writer Mama Every-Day-In-May Book Giveaway! I hope to see you here every day this month. Bring your friends!
This seems like an appropriate question and some folks have already touched on the topic—give us your top five childhood books and why you loved them.

Ready, set, comment!
Like this post? Subscribe to my Feed!