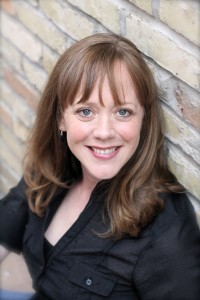 [Participants, please note: Please comment on the book giveaway post that matches the day. However, you are welcome to comment late just to answer the questions, if you like.]
I met Kate Hopper the way I meet so many wonderful Literary Mamas, through Caroline Grant, who is Editor-in-Chief of Literary Mama. I also remember seeing Kate after I met her in person on Facebook and Twitter. So for all of you who are wondering if you need to be active on social media before your book comes out, the answer is yes. Thanks for setting such a great example, Kate. And thank you for helping me welcome her!
About Kate Hopper
Kate Hopper teaches writing online and at The Loft Literary Center in Minneapolis, where she lives with her husband and two daughters. Kate holds an MFA in creative writing from the University of Minnesota and has been the recipient of a Fulbright Scholarship, a Minnesota State Arts Board Grant, and a Sustainable Arts Grant. Her writing has appeared in a number of journals, including Brevity, Literary Mama, and The New York Times online. She is an editor at Literary Mama. For more information about Kate's writing and classes, visit www.katehopper.com.
About Use Your Words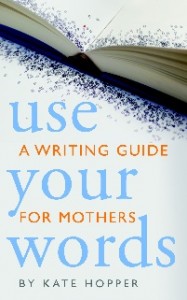 USE YOUR WORDS introduces the art of creative nonfiction to women who want to give written expression to their lives as mothers. Written by award-winning teacher and writer, Kate Hopper, this book will help women find the heart of their writing, learn to use motherhood as a lens through which to write the world, and turn their motherhood stories into art.
Each chapter of USE YOUR WORDS focuses on an element of craft and contains a lecture, a published essay, and writing exercises that will serve as jumping-off points for the readers' own writing. Chapter topics include: the importance of using concrete details, an overview of creative nonfiction as a genre, character development, voice, humor, tense and writing the "hard stuff," reflection and back-story, structure, revision, and publishing. The content of each lecture is aligned with the essay/poem in that chapter to help readers more easily grasp the elements of craft being discussed. Together the chapters provide a unique opportunity for mother writers to learn and grow as writers.
USE YOUR WORDS takes the approach that creative writing can be taught, and this underscores each chapter. When students learn to read like writers, to notice how a piece is put together, and to question the choices a writer makes, they begin to think like writers. When they learn to ground their writing in concrete, sensory details and begin to understand how to create believable characters and realistic dialogue, their own writing improves.
[Thought-bubble: If you don't win Kate's book and you didn't win Kelly's book, they would make great Mother's Day gifts for yourself. And if you need to add another book for free shipping, I've got three that can help you with that. Just thinking out loud. Now back to our regularly scheduled giveaway.]
The Very Short Interview
When did you know for sure that you were a writer and that writing would be a major energy focus in your life?
Honestly, I didn't call myself a "real writer" until after my daughter, Stella, was born prematurely in 2003. I had been writing for a few years and was just beginning my third year of the MFA program at the University of Minnesota when I developed severe preeclampsia and my daughter was born two months early. She spent a month in the neonatal intensive care unit (NICU) and the following long winter months at home with me. I withdrew from graduate school, and spent my days walking my fragile and very fussy infant around the dining room table. And for the first time in my life, I was desperate for words. I craved stories that revealed something other than the rosy versions of motherhood so often perpetuated in our society. I wanted to know that the exhaustion and despair I felt some days did not make me a bad mother. But I didn't find much out there. So when Stella was five months old, I went to the coffee shop near our house and pulled out paper and a pen. The images of her—writhing on white blankets, beamed from the NICU into the television set in my hospital room—came spilling out, and after an hour, words covered the page. For the first time since she was born, I felt grounded, and the world felt a little bigger. After that, when I had a free hour, I wrote for an hour.
Who has always been behind your writing career and who helped pull you up the ladder of success?
My husband, Donny, has been my biggest and most dedicated supporter. He has held me after painful rejections, has created the time and space in our lives for me to write, and has believed in my books, even when I doubted that they would ever find a home. I couldn't have finished either of them without his support. (Thanks, babe!)
What is the most frequent comment you hear about your book (or books) from readers? Tell us a little story about the response to your work.
Use Your Words isn't technically "out" yet, but I have begun to hear from readers, which is so amazing. Writing can be so lonely, and it's easy to question whether what you're writing will resonate with readers or not. That it *does* resonate is incredibly gratifying. A recent commenter on my blog wrote, "I squeeze in writing around the edges of my 'real job' and life with four sons because I have to – I get all tied up in knots when I can't think things out across a page and more keenly so since children have entered my life. Your blog (and now your book) is a great source of support, advice and motivation when I wonder whether the writing about me and them and us is truly worthwhile. Thank you." That my book has helped a mother writer believe more fully in her writing is the best compliment I could receive!
And Now, Your Turn
Now it's your turn. You remember how this works right?
I ask you a question. You answer in the comments for your chance to win a book each day.
Please just respond once, even if you make a typo.

Answer in the comments in 50-200 words (no less and no more to qualify to win one of today's books). Please read the complete rules at least once!
Thanks for participating in the Writer Mama Every-Day-In-May Book Giveaway! I hope to see you here every day this month. Bring your friends!
Q: How do you find the time to write? When are your best writing times and is it easy or challenging for you to get words on the page each day?
Ready, set, comment!
Like this post? Subscribe to my Feed!