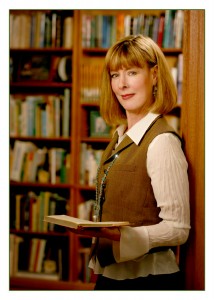 I recently hosted Pamela Smith Hill at the Northwest Author Series and found her presentation on the topic of biographical research to be fascinating. She revealed that when she was looking for a focus for her Laura Ingalls Wilder biography, she discovered the literary tension between Laura and her daughter, who was also an author. I never knew that Laura's daughter was an author. Rose Wilder Lane was her name, and the stories Pamela told us about the tensions between them were fascinating. You could pick up Pamela's book because you like biographies, because you like Laura Ingall's Wilder, or because you appreciate a real-life story of the relationship between two related authors. Or you could enjoy it for all three reasons!
Please help me welcome Pamela!
About Pamela Smith Hill
Pamela Smith Hill is the author of the award-winning biography Laura Ingalls Wilder: A Writer's Life and three young adult novels:  The Last Grail Keeper, A Voice From The Border, and Ghost Horses.   She is currently working on a new Wilder project, which will be released next year.
At 18, she sold her first story to her hometown newspaper and has been writing professionally ever since.  She's taught professional and creative writing classes at universities in Oregon, Washington, and Colorado.  Her books have been recognized by the Junior Library Guild, the Oregon Book Awards, Western Writers of America, Women Writing the West, the National Indie Excellence Committee, and the Mark Twain Award Committee.  She lives in Portland, OR, where she continues to teach and write.
About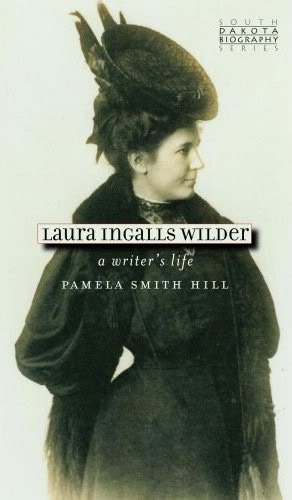 In Laura Ingalls Wilder: A Writer's Life, Pamela Smith Hill delves into the complex and often fascinating relationships Wilder formed throughout her life that led to the writing of her classic Little House series. Using Wilder's stories, personal correspondence, an unpublished autobiography, and experiences in South Dakota, Hill has produced a historical-literary biography of the famous and much-loved author. Following the course of Wilder's life, and her real family's journey west, Hill provides a context, both familial and literary, for Wilder's writing career.
Laura Ingalls Wilder examines Wilder's inspirations as a writer, particularly her tumultuous, but ultimately successful, professional and personal relationship with her daughter—the hidden editor—Rose Wilder Lane. Wilder produced her timeless classics with the help of, but not reliance upon, her daughter's editorial insights. Over the course of more than thirty years, Lane and Wilder engaged in a dynamic working relationship, shifting between trust, distrust, and respect. Hill argues that they differed in their visions of the path Wilder's career should follow, but eventually Lane's editing brought out the best of her mother's writing, and allowed her creativity, expression, and experiences to shine through.
This book is the first in a new series of biographies highlighting South Dakota's most famous residents. Future volumes in the South Dakota Biography Series will focus on the lives of Wild Bill Hickok and Calamity Jane, and Seth Bullock.
The Very Short Interview
When did you know for sure that you were a writer and that writing would be a major energy focus in your life?
Stories and books have been my passion for almost as long as I can remember. I started writing and illustrating picture books in third-grade; alas, my illustrations were vastly superior to my writing back then, but I was addicted from that point on. And over time, my writing improved as my artistic talent did not. I went on to work on my junior high, high school, college, and hometown newspapers. Once I started writing, I couldn't stop.
Who has always been behind your writing career and who helped pull you up the ladder of success?
The inspiring children's book author Eloise Jarvis McGraw once told me that "Nobody but you really cares whether you write or not. Never mind that, keep at it." And I have to agree with her. If you're serious about a writing career, you have to be self-reliant, self-starting, self-disciplining. But over the past twenty years, my critique group has provided support, encouragement, and constructive criticism that kept me writing when my inner critic told me it was hopeless. The writers in my critique group have made writing seem less solitary and a little less daunting.
What is the most frequent comment you hear about your book (or books) from readers? Tell us a little story about the response to your work.
Readers of my Laura Ingalls Wilder biography register shock, surprise, and sometimes dismay when they learn that Wilder's Little House books are fiction not autobiography, that Wilder transformed the facts of her life to make a better story. Several people have told me that after reading my biography, they've been inspired to reread the entire Little House series to better appreciate the dramatic differences between Wilder's real life and the fictional version she created in her books. But most of all,  I'm grateful to those readers who've told me that my writing moved them to think in new ways about Laura Ingalls Wilder, the American Civil War, mother-daughter relationships, women in science, social expectations for young women– all the various subjects and themes I've chosen to write about over the years.  Good writing should make you think and feel and experience life in new ways. I'm delighted when readers tell me my books have helped them do just that.
And Now, Your Turn
Now it's your turn. You remember how this works right?
I ask you a question. You answer in the comments for your chance to win a book each day.
Please just respond once, even if you make a typo.

Answer in the comments in 50-200 words (no less and no more to qualify to win one of today's books). Please read the complete rules at least once!
Thanks for participating in the Writer Mama Every-Day-In-May Book Giveaway! I hope to see you here every day this month. Bring your friends!
You haven't answered the three questions our author mamas are answering, so let's tackle those.
What is the most frequent comment you hear about your writing from readers? Tell us a little story about the response to your work thus far.
Ready, set, comment!
Like this post? Subscribe to my Feed!