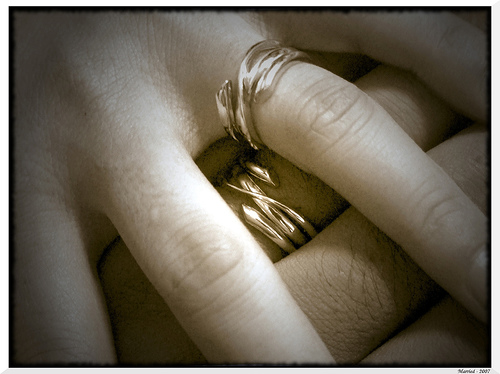 I've already discussed that writing is like sex. That's really just standard creativity talk. Sex and creativity have a lot in common. Not much we can do about it.
However, if you want to have a successful, long-term writing career, than the relationship between you and your work is going to look a lot more like marriage than anything else.
Because marriage isn't just about love; it's also about partnership and commitment.
It's about being in for the long haul, allying complimentary energies, and upholding a long-term relationship based on mutual love and respect.
Some people think marriage is hard. Some people say that it's work. Others have been burned by marriage or disappointed in love. I realize that this is not an analogy that is going to work perfectly for everyone.
But when I think about serious, committed writing for the long-haul, I can't help but think of marriage.
Love. Loyalty. Mutual respect. Long-term commitment. That's what your writing career wants from you. So you'd better get ready to propose if you haven't already. And after that, you'll need to figure out how the art of your mutual commitment works.
Because after you commit, you two are going to be stuck with each other. Every day. For better or for worse. In sickness and in health. For the rest of your life. As long as you both shall…succeed, I hope.
What do you think? Are you married to your writing career or not?
Like this post? Subscribe to my Feed!