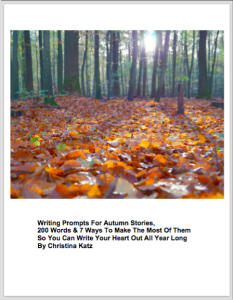 Writers often have to write out of season.
In other words, we are often writing about fall in the spring. Or we are writing about winter in the summer.
Even if you are writing in the same season that you are writing about, sometimes it's difficult to get your head in the seasonal game.
After all, seasons contain distinct weather, holidays, objects and more!
Well, now you have an edge, writers, because I have created Writing Prompts For Autumn Stories.
This workbook is a follow-up to my workbook Writing Prompts For Summer Stories.
And you guessed it, I'll be rolling out Writing Prompts For Winter Stories and Writing Prompts For Spring Stories soon!
If you write regular seasonal pieces, these short, PDF workbooks will help you come up with fresh ideas and save you tons of research time.
And if you write essays or fiction, you will love the way these workbooks can help you grasp the entirety of a season in only a few minutes of reading time.
So what are you waiting for, writers?
Awaken your autumn sensibilities, just in time for the season, with Writing Prompts For August Stories.
All this and more! Please subscribe to The Prosperous Writer Blog and sign up for The Prosperous Writer ezine, for exclusive discounts you won't find elsewhere.
Save
Like this post? Subscribe to my Feed!