Discover Your Platform Potential: A Self-study Workbook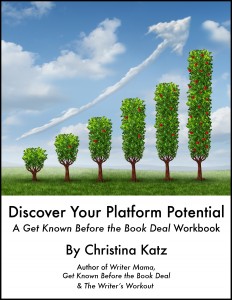 Discover Your Platform Potential
A Get Known Before The Book Deal Workbook
By Christina Katz
An Eight-chapter Companion Workbook for Get Known Before The Book Deal, Use Your Personal Strengths To Grow An Author Platform also by Christina Katz.
LEARN THE KEYS TO:
Uncovering your strengths
Making you and your work visible
Promoting your work authentically
Connecting with readers
Creating a lasting, profitable platform
Finding your niche
Understanding your unique platform dynamic
THIS WORKBOOK CONTAINS:
Lessons that summarize key platform strategies
Field trips to explore what others are doing
Brainstorming exercises to help you consider your options
Key considerations that will save you time and money
Reading assignments
Writing assignments
Finish the workbook in eight weeks, eight days, or eight hours! It's up to you.
REQUIRED READING:
Get Known Before The Book Deal, Use Your Personal Strengths To Grow An Author Platform by Christina Katz from Writer's Digest Books. Available everywhere books are sold. Learn more here.
The price for this workbook is $19.99.
Order today and you can download your e-workbook immediately:
The workbook is meant to be printed and worked on by hand. You can print it and clip it together or print it on three-hole punch paper and put it in a notebook. (It's about 50 pages and won't take a lot of ink–assuming you skip printing the front cover.)
Please subscribe to The Prosperous Writer Blog and sign up for The Prosperous Writer Newsletter, so you won't miss any important updates.
Did you know my website has a shopping cart?
If you put something into your cart in error, no worries. You can take your time, look around, and select items until you are ready to check out. To view or alter the contents of your shopping cart, click the button below.
So much inspiration, so much time! Please subscribe to the Create, Share, Prosper blog and sign up for The Prosperous Creative ezine for exclusive discounts you won't find elsewhere. Click on the Enter School tab above to put your creativity to prosperous use right now. Join my monthly pep talk video series because all the other prosperous writers are doing it. Like words? Check out my Etsy shop. And you haven't seen anything, if you haven't seen all the helpful offerings in my online shop. Thanks for reading and thanks for sharing this post with fellow creatives!
Save