Get Known Before The Book Deal, Use Your Personal Strengths To Grow An Author Platform By Christina Katz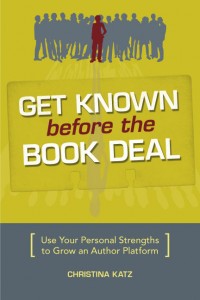 The Author Platform Bible. ~ Joe Wikert, General Manager & Publisher at O'Reilly Media in his Publishing 2020 blog
Published: November 2008
Publisher: Writer's Digest Books
Reviews: Over 90 reviews on Amazon for an overall rating of 4.5 stars!
Sell Your First Book & Develop a Successful and Sustainable Writing Career
Before you can land a book deal–before you can even attract the interest of agents and editors–you need to be visible. How do you become visible? You develop a platform, or a way of reaching your readers. Everybody can develop a platform, and this book shows you how to do it while you're still writing.
This book offers:
A step-by-step approach to creating, growing, and nurturing a platform
An economical approach to self-promotion (no need to spend thousands)
A clear way to uncover your strengths and weaknesses as an author
The strategies that are essential (or not) to online promotion
A philosophy of authorship that leaves you confident, empowered, and equally partnered with agents, editors, and publishers (instead of waiting to be discovered)
A diverse set of tools and methods for getting known (not just web-based tools or ideas for extroverts)
After you read this book, you'll be able to answer the inevitable question: "What's your platform?" You'll learn the hows and whys of becoming visible and how to cultivate visibility from scratch. Best of all, you won't need any previous knowledge or experience to get started.
Growing a writing career isn't just about landing one book deal and then scrambling like crazy. There is a more strategic and steady way to lay the groundwork so you can avoid scrambling altogether–and Get Known Before the Book Deal is the only comprehensive book that shows you how.
Get Known is available at fine booksellers everywhere, including:
Reviewers are STILL buzzing about Get Known Before The Book Deal…
I told my writing class about Get Known Before the Book Deal and suggested they all order a copy. The publishing landscape is so different now, and evolving so fast, that books like this one are needed to help authors navigate the new territory. I'm grateful to have it to recommend. ~ Hope Edelman, author of Motherless Daughters and The Possibility of Everything
The difference between a struggling writer searching for a book deal and the happily published author is a well-developed platform. (If you don't know what a platform is, you really need this book.) It's refreshing to read a book devoted to this very important part of the publishing process. Get Known Before the Book Deal is a must-read for any writer who wants to become a published author.  ~ Lee Silber, award-winning author of thirteen books, including Self-Promotion for the Creative Person
Katz challenges the comfortable myths writers often hide behind: I'm the exception, and I'm too modest for self-promotion. Marketing is the author's responsibility, and new authors seeking ways to meaningfully increase their audience and reach—before, during, and after publication—will find hundreds of practical strategies here. Katz says: get over yourself. She shows you exactly how to do just that.  ~ Heather Sellers, author of Georgia Under Water and Page After Page
This should be the go-to book for every writer wanting to succeed in the highly competitive world of book publishing. As an agent, I know platform is as important (in a successful deal) as the quality of the written words on the page. Christina brings that home in her warm and accessible writing style of this book that's filled with juicy tips!  ~ Sharlene Martin, Martin Literary Management
Christina Katz's no-nonsense guide to building an author platform is a shot in the arm, a kick in the pants, and a bracing dose of reality, not to mention chock full of sage advice, invaluable resources, and buckets of encouragement.  ~ Hallie Ephron, author of Never Tell a Lie and 1,001 Books for Every Mood
This book is an essential field manual for every new writer. In the increasingly competitive publishing world, those who follow Christina Katz's advice will have a definite advantage.  ~ James Scott Bell, author of Plot & Structure and Revision and Self-Editing
Every day I tell writers, 'Build your platform!' They ask, 'How?' Now I can point them in the right direction, to Christina Katz's excellent guide to platform-building.  ~ Eric Maisel, author of Creativity for Life and A Writer's Space
Your optimism is infectious and your Get Known Before the Book Deal has been invaluable to me. Keep up with the amazing work you are doing! ~ Carrie Minns
A couple years ago I read Get Known Before the Book Deal, and it changed my professional life. The relevant gem was this: you said to find that thing about which I am passionate, make it the central theme of my work, and stay true to it regardless of the form it took. Well, yesterday I gave a 45-minute talk, and it was about exactly the same theme as I write about in my fiction (finding your power in the second half of life.) My talk was hugely successful, and I don't think it would have even happened, were it not for your wisdom. ~ Lynne Spreen, novelist
Online Reviews Of Get Known Before The Book Deal
Book Reviews:
Recommended Book Lists:
Away And Away: The Four Books You Need To Read To Become A Self-publishing Success
* Cover Design for Get Known Before The Book Deal by Terri Woesner
So much inspiration, so much time! Visit my online creative confidence school and start expressing yourself afresh right now. Join the creative confidence club: subscribe to the Christina Katz blog and sign up for The Prosperous Creative ezine for a free gift, the latest news and exclusive discounts you won't find elsewhere. Need more encouraging words in your life? Check out my Etsy shop. And have you seen all of the helpful offerings in my online shop? Be sure to check it out before you click away. Thanks for reading and thanks for sharing my work with all of your creative friends!
Save
Save
Save