Purchase Offerings From Writing Coach Christina Katz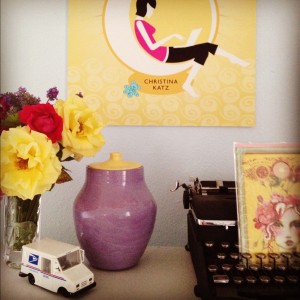 I teach writers to prosper by building solid, saleable, life-long career skills via video courses, audio coaching, phone consults, and a subscription-based, monthly writing accountability training group. My multi-media offerings empower writers even in a rapidly evolving publishing marketplace.
Here is the complete list of my works and services available for purchase. Thank you so much for your support.
Phone Consulting with Christina Katz:
Need specific support? Learn about phone consults Learn More
Video Courses For Writers & Authors:
Writing Category:
The Art Of Short Article Writing For Nonfiction Writers Learn More
Become An Article Idea Factory & Prosper Professionally Learn More
The Art Of Selling Articles Like A Seasoned Pro Learn More
Platform Category:
Power Up Your Platform Like A Pro & Become Better Known Now Learn More
Writer Platform Success: Discover Strengths & Grow Confident Learn More
Build A Better Bio To Market Yourself Easily Day Or Night Learn More
Personal Development Category:
Expressive At Home: Exercises To Skyrocket Your Creativity Learn More
More Joy Now: Stop Struggling & Start Thriving Learn More
Daily Writing Prompts:
Summer I Writing For Pleasure Daily Prompt Challenge Learn More
Summer II Writing For Pleasure Daily Prompt Challenge Learn More
Summer III Writing For Pleasure Daily Prompt Challenge (Coming soon!)
Audio Coaching:
These super-helpful how-to topics are recorded with a live audience. Learn More
Writing Career Solutions:
Getting Paid On Time Every Time Learn More
E-books/E-workbooks by Christina Katz:
Writing Prompts For Spring Stories Learn More
Writing Prompts For Winter Stories Learn More
Writing Prompts For Autumn Stories Learn More
Writing Prompts For Summer Stories Learn More
Write For Regional Parenting Magazines For Fun & Profit Learn More
Discover Your Platform Potential, A Get Known Companion Workbook Learn More
Permission Granted: 45 Reasons To Micro-publish Learn More
Creative Knowing, 50 Self-reflection Questions For Women Learn More
The Art of Making Time for Yourself, A Collection of Advice For Moms Learn More
Writer's Digest Books by Christina Katz:
Writer Mama, How To Raise A Writing Career Alongside Your Kids Learn More
Get Known Before the Book Deal, Use Your Personal Strengths To Grow An Author Platform Learn More
The Writer's Workout, 366 Tips, Tasks & Techniques From Your Writing Career Coach Learn More
Posters from Christina & Jason Katz:
Visit my Etsy Shop, Words, Glorious Words! to see all of our latest posters.
So much inspiration, so much time! Visit my online creative confidence school and start expressing yourself afresh right now. Join the creative confidence club: subscribe to the Christina Katz blog and sign up for The Prosperous Creative ezine for a free gift, the latest news and exclusive discounts you won't find elsewhere. Need more encouraging words in your life? Check out my Etsy shop. And have you seen all of the helpful offerings in my online shop? Be sure to check it out before you click away. Thanks for reading and thanks for sharing my work with all of your creative friends!
Save
Save
Save
Save
Save
Save
Save