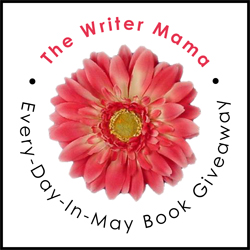 Some people have offered to help me with the giveaway.
Great! I can always use a little help. I need a few more author mamas to join us to make it to the end of the month. Wanna help me round them up?
The parameters are that authors must be traditionally published within the past year. Selected authors may offer a self-published item as a bonus.
Please e-mail me at christina at christina katz dot com if you have a referral, including the authors contact info.
I would also love your help buzzing our authors each day on Facebook and Twitter. I've always got wall announcements and tweets you can forward.
And now, I am pleased to announce our week two author mamas!
May 8th: Pamela Smith Hill is giving away a copy of Laura Ingalls Wilder: A Writer's Life (biography) More Info
May 9th: Ericka Lutz is giving away The Edge of Maybe (novel) More Info
May 10th: Malia Jacobson is giving away Ready, Set, Sleep: 50 Ways To Help Your Child Sleep So You Can Sleep Too (e-book) More Info
May 11th: Jessica Paige Morrell is giving away a copy of Thanks, But This Isn't for Us: A (Sort of) Compassionate Guide to Why Your Writing is Being Rejected (nonfiction, how-to) More Info
May 12th: Cindy Hudson is giving away Mother-Daughter Book Club Meeting Planner Guides: Collection One and Book By Book: The Complete Guide to Creating Mother-Daughter Book Clubs More Info here and here

May 13th: Christina Katz is giving away a copy of Writer Mama with a bonus e-book Author Mama More Info here and here
May 14th: Heather Vogel Frederick is giving away Once Upon A Toad (children's middle grade novel) More Info