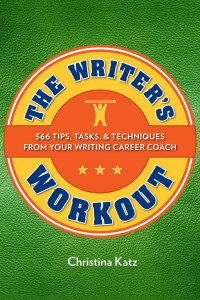 I wrote The Writer's Workout because we are living in confusing, fear-driven, distracted times for writers.
I felt it was important that there be a book in the world right now that would encourage writers to write our way to creative confidence one word at a time, when it might otherwise seem easier to just pitch the whole thing and go do something more "sensible."
I also felt, and still feel, like there were (and are), an awful lot of mixed messages out there for writers as to how to start, nurture, and grow a writing career, when I believe that the process is simpler, more natural, and more holistic than most of us tend to remember on a daily basis.
I knew that one of the risks of writing a book like this would be that I might be perceived as just another book-thumping guru, trumpeting, "Follow me to publishing nirvana!"
But that's not what this book says. And if you have become antagonistic about the effectiveness of paper and ink books, you can always access mine using the latest digital technology in the amount of time that it takes to say, "Click." Digital versions of the book should be available soon.
I specifically kept all of the varieties of technology in mind, while writing this book. That's just one more reason why the book offers daily career-building prompts addressing the challenges contemporary writers face in today's gig economy in an encouraging, no-nonsense tone…with a distinct absence of baloney.
I'm pleased with the results of The Writer's Workout. I know it's not fashionable to recommend something as old-fashioned as a book, for heaven's sake, however this one contains antidotes to issues currently paining creatives who are trying to launch and sustain businesses in the arts. And isn't this a topic that never gets old?
Inspiration, solutions, growth even in challenging times—I hope you will find The Writer's Workout helpful. I found writing it to be extremely helpful in many ways. My first copies should arrive this week and I am very proud and excited. Thanks for sharing the journey with me.
I will be speaking on Sunday, December 4th at the Wilsonville Public Library as part of The Northwest Author Series. My topic is: The Writer's Workout: Whip Your Literary Ambitions Into Shape. More info here. Pre-order your signed copy of The Writer's Workout for this event only. Hope to see you there!
Like this post? Subscribe to my Feed!