21 Moments Writing Challenge With Christina Katz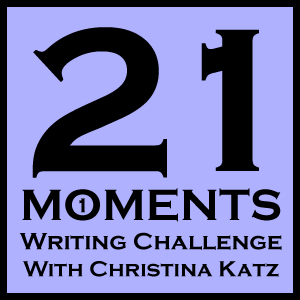 Having a whole twenty-one days to write has really lit my fire to keep writing. I give this class a twenty-one writer salute. ~ Annette S.
Christina's' writing challenge makes limp brain cells come alive to push words across the page. ~ Lila J.
This is the perfect program to jumpstart any writing project. I finished the 21 days with 25 pages of raw and material, and because the focus was on 21 different important moments, the writing is focused and meaty. ~ Lela D.
21 Moments was a perfect challenge to boost my writing slump. I felt no pressure to meet deadlines or write to a specific prompt. I loved the flexibility without being monitored. The price is so-o-o reasonable. I plan to increase my personal commitment on Round 2. Let's get started! ~ Illene S.
See what folks have to say about the 21 Moments Writing Challenge.
Looking to register for Round Two, Three, Four or Five? Click here, if you have completed round one.
Why I Started The 21 Moments Writing Challenge

I used to teach a class at Whatcom Community College in Bellingham, Washington many moons ago called Writing For Pleasure. What I remember about the class is that the quality of the writing was often on par—or even better—than the quality of the writing in the Writing & Publishing Nonfiction Articles class that I taught at the same time.
One thing I have always wanted to do was launch an initiative that would get writers writing every day for both pleasure and increased profits. This is not merely random writing just for the sake of writing, but focused writing for the purpose of writing better and more productively no matter what your writing goals.
I am pleased to offer five consecutive months of monthly writing challenges for writers of any level of experience. These writing challenges are available nine months out of the year, except for July, August, and December. And the price is definitely right!
This idea that writing for pleasure can compel high quality writing is something that has stuck with me over the years. If you know my work, you know I believe that there are many reasons to write, not just one or two.
A few reasons you might choose to write are to heal, to find out what you think, or to find your best ideas on a topic. Then again, you might be working on a project already and coming up dry or needing a push to improve your prose. Or you might be looking for a way in—a place to begin your writing journey and feel your own momentum.
Most writers are ready to write, but can benefit from just a bit of a push. All they often need is a writing prompt that can come from reading a short, inspiring piece of writing daily before turning to their own work.
How The 21 Moments Writing Challenge Works
When I was in graduate school at Columbia College Chicago, one of the many approaches to writing well that was impressed on us was the idea of creating a collection of "instances" around an idea. Instances were simply things that the writer noticed. Of all of the things that I leaned at Columbia College Chicago, writing about what you notice in short bursts that can be collected or expanded was worth the entire price tag of my master's degree.
Of course, there is a lot more to writing well. But good writing often starts with a strong first impulse. Strong impulses are often envisioned and written quite quickly, without over-thinking or over-researching. Often what we remember about memorable writing can be measured not just in longer instances, but even in brief moments, which have been remembered or invented.
Memorable writing inspires memorable writing. So vivid, compelling writing is what we focus on in The 21 Moments Monthly Writing Challenge. As many of you know, I am fond of the idea of mastering short forms before you move on to writing long forms. I have noticed over the years that many writers wish to publish but have trouble writing briefly, concisely, and precisely. The key to writing clear long pieces is becoming able to write a series of clear short pieces.
NaNoWriMo is a great program that encourages writers of any level experience to take on a major writing challenge and complete a novel in just 30 days. This is a wonderful idea in so many ways, and I am a big fan of NaNoWriMo. But as a writing instructor, I prefer to see some results in short form before I see a writer invest time and energy into a long form like a novel.
Once short forms are mastered, they can easily be expanded into long forms. And once short forms are mastered, writers usually compose better long forms. This is where a short, inspiring daily writing prompt can help. Sometimes all a creative mind needs is an excellent example of strong writing to remember how to write well. Writing short and tight takes the overwhelm out of writing no matter what length topic you are tackling. If most writers knew what is involved in writing long-form publication-quality work, like a novel or a book, some might think twice before attempting such a feat.
Seasoned authors have an innate capacity to spend huge amounts of time alone in deep concentration. Often writers I meet, even those who wish to join the ranks of authors, don't possess the concentration and commitment (or have the financial support) it takes to get a full-length manuscript successfully completed.
So if you want to write a book "some day," why not start working on writing short forms today?
Write Short & Tight And Then Repeat
I define writing success as composing a piece of writing that someone else would pay you to read. After you write your 21 moments, you will become a better writer in everything you write. Even if you only write ten moments, you will still become a better writer.
One way to learn how to write short and tight is to have an objective to write something short and then do it over and over. Readers of Writer Mama and The Writer's Workout know about my penchant for writing short and tight. This is something that has been central to everything I teach writers. And so, in the spirit of raising the writing quality bar for writers everywhere, I have created a unique, inexpensive writing challenge for only 21 bucks.
I call it The 21 Moments Monthly Writing Challenge and here is how it works. You select a month when you wish to work with me. You register for the writing challenge for that month by paying by the last day of the month prior. On the first Monday of the next month at midnight, you will receive a welcome letter with a list of suggested ways to get the most from 21 writing days. Then,  you will receive 21 e-mails from me. Each e-mail will contain an example moment to inspire you to write your moment-a-day to the best of your ability. At the completion of the challenge, you will receive a challenge feedback form.
Good writing breeds good writing. All you have to do to improve your writing is draft 21 of your own moments within a one-month time frame. You get 21 days to write your 21 moments. There is no reason to feel pressured to perform if something else comes up. But I bet you will miss your writing process on the days you can't get to writing a moment. And this is a good thing!
The point of the challenge is to encourage writing success for busy, creative people. And a big part of success is enjoying the writing you do.
If you get sick or you simply want a day off, take it. Go ahead. It's your process. No matter how strictly you approach the challenge, you will benefit from every bit of energy you invest into it.
Register now for the next session, which always begins the first Monday of every month:
Here are the upcoming challenge start dates:
2015
Monday, June 1st
Expect an e-mail confirmation upon registration. The workout begins the first Monday of each month at midnight. Look for an e-mail from me then!
If your usual e-mail address is different from you Paypal address, simply send me a note after you register and let me know. I will remind you in your confirmation letter.

What Should You Work On During The Writing Challenge?
Now let's talk about what you are going to write. You are going to read a short writing prompt daily and then write 21 moments fully and well, one per day. That's your challenge.
You come up with the idea for your moment, it's not assigned. Although I will offer you a long list of personal experience ideas to choose from, if you need help coming up with ideas. Then you simply write a moment a day as well as you can. Your goal is to draft each moment in 250-500 words.
This is not an assignment to write a novel, a poem, an essay, or a short story. But if a novel, a poem, an essay, or short story eventually emerges from a moment you write during this exercise, then that's wonderful.
I would not be at all surprised if experienced writers eventually find a use for every moment they write during the challenge.
For less experienced writers, none of your ideas will be lost once they are brought to light. Write them now as well as you can. In the process, you will learn how to write concisely, brightly, and, even occasionally, brilliantly.
The point of this writing challenge is to create quality writing by writers who understand that writing well is not about ego but about the ability to concentrate, commit, and create with all of your senses. Once you learn the power of focused attention and how to wield it in your own writing, you are on your way.
Prompts in the challenge come in a variety of genres. It does not matter what genre you would like to write in; this challenge works for any genre and should improve the quality of your writing no matter what you write, simply because the entire focus is on writing one moment at a time powerfully and well. This is what great writers have always been able to do.
What I Believe After 12 Years Of Training Writers
We all have the potential to become great writers if we are willing to discipline ourselves to write well. Maybe, if you had enough training, you could enter the ranks of great writers, as well.
Remember, everyone who is known as a "great writer" today was once completely unknown, and prior to that, was completely untrained.
So can you become a better writer after taking The 21 Moments Monthly Writing Challenge? I sincerely hope so, because that is the whole idea. With publishing opportunities all around us, there are an awful lot of people out there who would like to become better writers. My hope is that The 21 Moments Monthly Writing Challenge will provide a quick, inexpensive, and pleasurable way to learn and grow as a writer.
The cost is $21 dollars (21 dollars for 21 days of writing). Upon payment, you commit to reading 21 moments and drafting 21 moments of your own (one per day). So you'd better keep your word.
When the month is over, you will be sent a feedback form so you can tell me how it went. I am no longer reviewing any of your moments after the challenge, but I will send you an offer for a paid review of several moments, at the conclusion of the challenge.
The 21 Moments Monthly Writing Challenge is not the same as classes or Dream Team coaching with me. Classes and coaching are considerably more expensive and involve more direct interaction between students and myself. If more direct interaction with me is what you are looking for, please check out my classes and training groups. But in the meantime, why not allow me the opportunity to help you become a better writer in just 21 days?
Register now for the next session begins the Monday of every month:
Expect an e-mail confirmation from me upon registration. The workout begins the first Monday of every month after you register. Look for an e-mail from me then!
What Folks Are Saying About The 21 Moments Writing Challenge:
The 21 Moments Writing Challenge was the launching point for my daily writing, and as a result I felt more creative and had more ideas to pursue during the rest of the day. ~ Cindy H.
21 Moments taught me that it is quite possible to write every day, regardless of a job, other commitments or distractions. Anything can be turned into a moment to write about. The possibilities are surprising and endless! Thanks, Christina! I am recommending 21 Moments to others! ~ Ruth Ann A.
The challenge was just what I needed to get my writing going again, and to make writing a priority in my life again in a stress-free way. ~ Ellen S.
I've been "stalking" Christina (in a non-scary way, of course…) online for years. Watching her classes, watching her celebrate her students and wishing from afar I could participate. When a friend suggested that I really needed to get serious about my writing I decided I'd jump on this challenge as a way to motivate myself and learn a little from Christina. Best decision ever! It was just right for me! And the nudge to write a moment every day has led me to produce some great writing that I would not have otherwise attempted. Thank you! ~ Christy M.
I got deep thinking, deep writing, and a sense of accomplishment. The writings I produced were all about me – it felt good to loosen up and just write. ~ Krysty K.
I had ideas for stories I've been wanting to write, but I decided to just enjoy the pieces Christina gave us to read each day and see what transpired. Sometimes the pieces gave me moments related to what I wanted to write, sometimes not. What they DID do is give me the motivation to write. Every. Single. Day!  An additional benefit of the challenge, even though we don't interact with others: I came to feel part of a group. I looked forward to checking my inbox each morning and the commitment I'd made to writing for 21 days. I used to do morning pages, but for me, I didn't have the discipline to get it done. This works for me! ~ Mandy S.
I love Christina Katz's versatility as a teacher. She is always looking for new and creative ways to motivate her students to write. She has done it with the 21 Moments Challenge. Short and sweet, easy to keep up with, and an excellent value. ~ Kristin W.
21 Moments is a great motivator to get started and to keep going. This is a great tool to break out of a writing slump. ~ Leigh B.
These prompts are great!  You have the uncanny knack of selecting poems and stories that are some of my favorites. ~ Shirley J.
Christina's 21 Moments Challenge provided the inspiration and know-how exhibited in thoughtfully chosen examples to get me writing in ways I didn't think were possible for me. Each day of the challenge provided an example of how it's done. It was up to me to accept the challenge and get it done to the best of my ability. ~ Diane T.
Christina has always affirmed her belief in mastering small forms of writing before taking on bigger projects. 21 Moments is a great place to start, given the smaller word-count and the emphasis on writing every day. Not only can you produce your work piece by piece, but the format also helps you stick to a regular rhythm for long-term success. This exercise helped me formulate pieces of a rough draft for a novel that I have been trying to get together for over a year now!  ~ Kristeen M.
Writing one moment each day required focus, the one element I lack most. This course challenged me and the first few writings were rough. When I finally wrote one solid moment with no rambling, I learned how to reign in my wandering mind. I enjoyed opening my email each morning. Now that the challenge is over, my inbox feels empty. However, I've gained focus and consistency and am applying it each day. I pull a book off my shelf, read a page and write…one moment. Just one. ~ Diane J.
You are making me want to go back and reread all these classics!  ~ Kandace C.
Christina, I just want to thank you for offering the "moments." The daily prompts helped me to begin to regain my focus and play with different genres. ~ Judy S.
A daily writing prompt delivered to your inbox takes the work out of searching for inspiration, yet provides a gentle push to flex your writing muscles every day. Like the best personal trainer, Christina mixes up the genres for the prompts, so your writing muscles do not plateau. ~ Sue L.
I write with pen and paper (first), and that journal I got for Christmas is filling up fast, thanks to the 21 Moments Writing Challenge! ~ Debbie S.
The greatest thing this did for me was get me writing every day; writing every day has always been an area that I struggle with. I told myself that I only had to write for five minutes, but it always ended up being longer.  I used the time to attempt some scenes from a novel I've had floating around in my head for a while. The freedom to just focus on a "moment" was refreshing and prevented me from getting bogged down in details of the bigger picture. ~ Yvonne S.
The daily challenge to write put my brain on notice to generate ideas, and I generated ideas that I have yet to write about! Thank you for challenging me!  ~ Libby M.
Annie Dillard wrote, "How we spend our days is, of course, how we spend our lives." …and since, I'd like to be able to call myself a writer, I need to write. For me. Every day. This opportunity was a powerful reminder of that.  ~ Laurie T.
The challenge helped to jumpstart my writing again after a long absence from the pleasures of the process. ~ Sarah B.
The idea of writing a "Moment" forced me to focus on a single experience or scene or memory each day. So often my journal turns into writing about writing or whining or planning or brainstorming. All good things in moderation, but I found myself sinking into the moments as I wrote them. This led to stronger and more satisfying writing. ~ Heather L.
After rounds 1 and 2, I was doing short, focused writing daily. I wasn't sure I needed another round, but I felt like I hit my stride in round 3, like the first two got me into shape and in round 3 I was just ready to run. Glad I did all three! ~ Sara B.
Writing 21 moments was both motivating and enlightening.  I remembered things I haven't thought about for years and took the opportunity to reflect on them and then to write about them.  I have signed up for the next round. ~ Jo Ann B.
This challenge got me into a groove. I'm writing more and enjoying the writing process better now than I have in a long time. ~ Steffanie L.
Participating in the 21 Moments Challenge is like having your own writing productivity & creativity app. It keeps you in sync with your talent and challenges you to stretch the scope of what and how you write.  ~ Rhonda F.
I took this more seriously the second time around because it was fun. It reminded me of what good literature is and provided a much-needed deadline and consistency in writing practice. Thanks Christina!  ~ Leslie B.
This is a safe place to be vulnerable and learn more about yourself and your writing voice twenty-one times. ~ Annette S.
The challenge was fun, while providing some accountability with the daily prompt. There was a great variety of literature and the inspiration of past participants' moments to inspire new writing. It's an easy, painless way to establish a daily writing routine. ~ Crystal H.
Register below by clicking on the appropriate "add to cart" button underneath each badge.
Only Level One is currently available.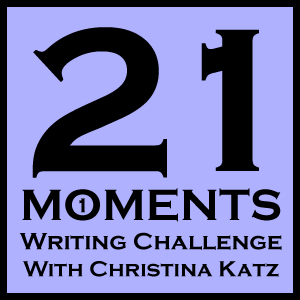 Did you know my website has a shopping cart?
If you put something into your cart in error, no worries. You can take your time, look around, and select books, workbooks, writing and platform challenges, classes, and dream teams until you are ready to check out. Then, to view or alter the contents of your shopping cart, click the button below.