Audio Coaching With Christina Katz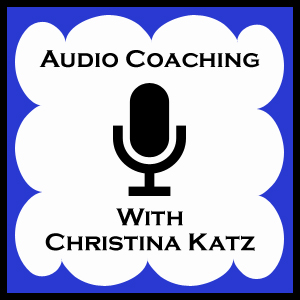 Welcome to my audio coaching page. As we know, different folks learn in different ways.
While one person might learn best by reading, studying, and contemplating, another person might prefer to listen to the same lesson in spoken forms. Another might be able to absorb and retain a lot more information in a shorter time by reading and listening on the same topic.
In the spirit of helping my students and readers learn in more ways, I am providing a variety of audio downloads.
I've spent years figuring out what I want to say on topics of crucial importance to writers and you will find it all right here. This page will fill up over the months and years to come, so please come back often.
The content of all audio is copyrighted to Christina Katz and is not to be shared, sold, or copied without the explicit permission of the creator. Fair use is permitted by those who purchase downloads and use appropriate citing.

Audio Pep Talks With Christina Katz
The Habits Of Successful Mom Writers
18 megabytes MP3 download (recorded conference call)
Cost: $9.99
Can a creative writing career be personally satisfying? Yes, it can, if you follow the same seven habits that happy, prosperous writers follow. Beyond my own personal philosophy, I have seen these principles in action with the successful students I have coached over the years.


Audio How-tos With Christina Katz
Unlock Your Writer Platform Profits
26 megabytes MP3 download (recorded conference call)
Cost: $19.99
This call is about harvesting your career success into long-term profitable income streams. Topics covered include:
~ How to make sure your platform positions you as an expert
~ How to translate your expertise and influence into multiple income streams
~ How to dig deeper into your specialty to create more profits

Did you know my website has a shopping cart?
If you put something into your cart in error, no worries. You can take your time, look around, and select items until you are ready to check out. To view or alter the contents of your shopping cart, click the button below.
So much inspiration, so much time! Visit my online creative confidence school and start expressing yourself afresh right now. Join the creative confidence club: subscribe to the Christina Katz blog and sign up for The Prosperous Creative ezine for a free gift, the latest news and exclusive discounts you won't find elsewhere. Need more encouraging words in your life? Check out my Etsy shop. And have you seen all of the helpful offerings in my online shop? Be sure to check it out before you click away. Thanks for reading and thanks for sharing my work with all of your creative friends!
Save
Save
Save