Power Up Your Platform Like A Pro & Become Better Known Now
Power Up Your Platform is an overview of what platform means, a discussion of what it might specifically mean to you and your business, examples of the most crucial items to build to reach a global audience, an overview of how to incorporate multiple income streams into your business, and the seven qualities of thriving platforms. This course is both introductory and comprehensive in terms of looking at your platform long-term whether you have one yet or not.

Power Up Your Platform Like A Pro & Become Better Known Now
Never Be Confused About Platform Again! Learn The 5 Keys To Global Business Branding That Help Any Professional Prosper
Learn Quickly & Work At Your Own Pace — 100% Video Course With Five Downloadable Worksheets
Get The Best Price On This Course Exclusively From ChristinaKatz.com
Are you tired of feeling confused about what platform means?
If so, you are not alone.
Or, maybe you understand platform, but you are not interested in spending your valuable time and energy investing in platform development.
Maybe you feel you have more pressing things to do?
I get it. But we are living in an increasingly global economy and the size, scope, depth and breadth of your platform impacts your prosperity on a daily basis. And because your platform success today affects your business profits tomorrow, no intelligent professional can really afford to ignore platform altogether.
These days, many professionals jump into social networking without a clear platform plan on hand. This usually costs them more time and energy than the experiment is worth.
The most expensive mistake I see is when pros hire web designers to do their thinking for them. This can cause delays and frustrations that are totally avoidable with a little advance understanding. Before you turn platform decision-making over to anyone else, I hope you will take this course and see just how easy and attainable platform progress actually is.
Avoid membership in the platform do-over club. This course will help you understand, once and for all, what platform means and how it indelibly affects your businesses productivity and prosperity.
I have been training creative professionals to find and grow their platforms since 2006. I have written three traditionally published books and hundreds of internationally popular articles and posts on the topic. I've inspired thousands and taught multiple courses and workshops. Most importantly, I help creative professionals go step-by-step from no platform to a prosperous platform.
You can benefit from my years of experience growing my own platform and coaching others to do the same. I know how to simplify complex concepts and how to guide you to set up your platform to prosper in the short run and for years to come.
I will talk you through five colorful and entertaining short videos and offer you five downloadable worksheets to help you identify and leverage your platform strengths.
You'll own the course materials for life, and I will continue to update them, so you can keep coming back for more platform pep talks for years to come.
So what are you waiting for? Platform building is fun. I look forward to working with you!
Get The Best Price On This Course Exclusively From ChristinaKatz.com
Need more help? I offer individual Writer Platform Coaching by the hour or half hour LINK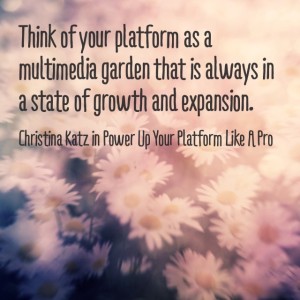 So much inspiration, so much time! Please subscribe to the Create, Share, Prosper blog and sign up for The Prosperous Creative ezine for exclusive discounts you won't find elsewhere. Click on the Enter School tab above to put your creativity to prosperous use right now. Join my monthly pep talk video series because all the other prosperous writers are doing it. Like words? Check out my Etsy shop. And you haven't seen anything, if you haven't seen all the helpful offerings in my online shop. Thanks for reading and thanks for sharing this post with fellow creatives!
Save
Save