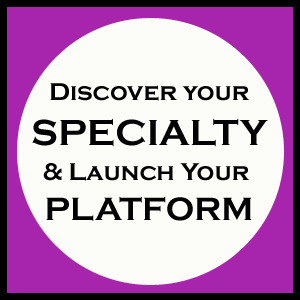 There is a lot of banter online about what a platform is and isn't these days.
So much of this debate feels like a colossal waste of time to me.
I'm sorry. I can't help it. I'd rather just do the work, or at least work with folks who want to do the work, rather than merely talk about it.
Why would you spend your time debating what a platform is and isn't, when you could create one and show us instead?
Much of the debate seems to center around who is going to have ownership of your platform, and I can answer that in four words.
You own your platform.
Your platform is not owned by anyone else. Your platform is the center of your creativity and your prosperity.
Your lack of platform is likely the cause of your lack of prosperity and lack of strong identity in the marketplace.
Happy, productive, profitable creatives have platforms.
Crabby, complaining, blocked creatives don't.
Bottom line: if you want to create ownership of your writing career it's going to take some time. You are going to have to work hard, at first, to develop and build your platform. And then you will invest energy regularly to maintain it.
But I can promise you one thing: of all the work you do in your writing career, you will have the most fun working on your platform and growing it into something significant and valuable. Because platform-development is all about self-discovery and personal power, first. Before you connect with others, you need to identity the best of what you have to offer.
Nobody can hand you the empowering feeling of ownership that platform brings. You have to build it. And an increased sense of purpose and self-confidence makes it worth every dollar and every minute you invest.
If you are ready, I hope you will join me for my popular class, Discover Your Specialty & Launch Your Platform starting Wednesday, March 6th.
Here's what recent students have had to say about it:
Before this course, I was in a quagmire about what to write and where to go with it. Because of this class and Christina's guidance, I am not only clear about what future novels I wish, but also am learning to expand into non-fiction.  ~ Kim T-B
If you do the work, this is the kind of class that delves deep not only your writing but your soul, so that you emerge with a clear description of who you are and where you're going. Writers, filmmakers, journalists, entrepreneurs, anyone who's looking to create a presence in the world – take this class, you won't regret it!  ~ Dorothy K.
Christina's feedback pushed me to dig deeply and think creatively about my platform. She helped me to realize that if I'm not focused on serving my clients, I'm not going to feel satisfied about my work or be very successful at it. Her comments helped me feel the freedom to own my gifts and passions while still reaching out to clients.  ~ Marianne P.
Discover Your Specialty & Launch Your Platform has been a breakthrough class. Even though I've been coaching for a few years now, I feel so much clearer today about who I am as an author and where I'd like to go than I have before. I highly recommend this class.  ~ Sophie B.
Like this post? Subscribe to my Feed!