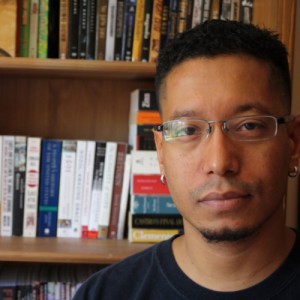 I confess, it's been a while since I have had time to read poetry. And when I say "a while" what I really mean is about a decade.
Maybe that's why writer papa Guy LeCharles Gonzales new e-chapbook, "Handmade Memories," was such a delightful surprise.
I told myself I was only going to give it a quick read, but that didn't quite work out. I ended up flopping on the couch with my laptop, next to my nine-year-old, who was reading Diary of a Wimpy Kid.
I must have shushed my kid a dozen times, every time she jarred me out of the vivid world of Guy's younger selves navigating his worlds in various degrees of defiance, fight-or-flight, and unflinching observation.
There were a couple of carefully chosen prose pieces in the chapbook, but, for me, they interrupted the pulsing voice of poetry that pulled me  in and kept me rapt all the way through 55 pages.
More poetry, please, Guy!
Here are a few of my favorite selections:
Years passed and
when he died
I arrived late for his wake
eyes and throat moist
from guilt and alcohol.
~ from "Sunday Mornings in the Kitchen with Gan'ganny"
The bartender
dresses for the crowd
in a shiny black bustier
and tight black polyester capris
long copper-dyed hair pulled
back into a poofy ponytail
flirts like Pollock attacking
a canvas, her artistic genius revealed
at the end of the night when
she counts her tips.
~ from "Old New York Love Story"
when he had three of us on his ten-speed
flying down the hill around the corner
him on the seat
Junior on that crossbar that dips
on a girl's bike
and me, on the handlebars
navigating
never seeing that beer can in middle of the street
even after we hit it
flying through the air like some
dysfunctional acrobatic family…
Junior was temporarily blinded in one eye.
My father had amnesia and
sometimes
I suspect that he never fully recovered.
I got thirteen stitches
and an everlasting respect for manhole covers
~ from Prodigal Son
Christina Katz: What compelled you to share these collected works now?
Guy LeCharles Gonzalez: When I was active on the poetry scene, I published three chapbooks and loved the process of creating them by hand and having them with me to sell at readings. Unfortunately, a chapbook's reach becomes very limited when you're not actively performing, and I've been off the scene for several years now. Plus, I'm pretty sure Burning Down the House is now out-of-print (or should be, at least!), so there's really no way for anyone to read any of my work in one place these days, and most of what I wrote after 2000 has never been published.
I initially got the idea to publish my own e-book from Jane Friedman during the first Writer's Digest Conference, back in 2009, and actually put together something really simple and posted it on Smashwords to test it out as a free e-book. I briefly promoted it on my blog and then pretty much forgot it about, checking in periodically, and when I deactivated it this past weekend, it had around 750 views/downloads and one very generous review.
With my recent job change, I decided to carve out some time for my own writing again (because writers write, right?), and the first thing on my list was publishing Handmade Memories, a bit of unfinished business I had to get off my plate for a sense of closure so I could move on the next project.
Christina Katz: This collection covers a lot of time and feels almost like a coming-of-age journey in poetry. How would you describe your writing journey as a coming-of-age journey?
Guy LeCharles Gonzalez: I was 28 when I first started reading my poetry at the Nuyorican Poets Café in 1997 – single and childless – and, in a lot of ways, I was still an obnoxious kid. Reckless and self-destructive, I loved a good debate and I was always right! As far as my writing  went, I was still very immature, too, and it showed in a lot of my early poems, including a couple I put in Handmade Memories. "Prodigal Son" was actually the first poem I wrote that I was really proud of as a poem rather than a performance, in early '98, and it heralded a gradual but permanent shift in my style, from the pugnacious energy of the hyper-competitive slam to a more narrative, storyteller approach. That shift enabled me to connect with myself, and over the years, my writing greatly improved.
By 2001, I was becoming known more for being the host and curator of my reading series, a little bit louder, than for my writing, as my output greatly decreased, but the little I did write over the past few years was far better than anything I wrote during my peak years on the scene. By the time I'd written three of my absolute favorites – "Old New York Love Story," "Party Like a Rock Star," and "Crazy White Devil" – I'd been absent from the scene for so long that most of the regulars at the series I founded (now called louderARTS), have no idea I ever wrote poetry!
Christina Katz: I know you have been reading, reviewing, slamming, blogging, building communities, and being a literary social artist for years. Tell us about the work you are doing now.
Guy LeCharles Gonzalez: I joined Media Source, Inc. last month – publisher of Library Journal, School Library Journal, and The Horn Book – as Director, Content & Digital Product Development, and the short job description is that I'm now the guy I've fought with the most over the past 7 years of my career in publishing! My job is to develop our content strategy and introduce new digital products that serve our audience's needs across a variety of mediums, while not forgetting that print is still an important channel that drives a lot of revenue. My first real job was at the Mt. Vernon Public Library, and I think librarians (along with teachers), are among our culture's most unsung heroes, so being able to work with such an incredible community of people is an amazing opportunity.
During my job search in February, I had a few freelance and consulting opportunities present themselves that were rather interesting, and while it's not something I want to do on a regular basis, I've launched a new initiative called Free Verse Media, where I plan to channel everything I've learned about storytelling, community building and marketing over the years into actionable forms; blog posts, conversations, presentations, and maybe even the occasional consulting gig when things settle down a bit.
Christina Katz: You're a full-time working writer papa. What's it like trying to juggle all you do literarily with making a living and raising a family today?
Guy LeCharles Gonzalez: Honestly, it's pretty difficult, but two things make it work: I have a VERY understanding wife, and I don't sleep much! For the past several years, my "literary" pursuits have mostly been confined to blogging, and I typically write posts early in the morning before leaving to work, or late at night, after everyone's in bed.
I first started blogging in 2003 out of curiosity and it eventually became my only real outlet for doing any writing, especially when I faded from the poetry scene in late 2003. It kept the juices flowing for years, and twice it actually transitioned into "jobs," once with PopCultureShock.com (where I was paid in highly discounted comics!) and most recently with Digital Book World, where among many hats, I was also editor-in-chief and primary contributor. Interestingly, after years of believing I was a novelist-in-waiting, I recently had to acknowledge that I've been a non-fiction writer for years, and even the majority of my poetry could be categorized as creative non-fiction.
As I noted earlier, the recent job change gave me an opportunity to carve out some time for my own writing again, and while it still involves getting as little sleep as possible, I intend to make the most of it. And by "most," I mean finally writing some fiction!
Christina Katz: Your portrait of yourself as a young man is rich, complex, and powerful. It takes guts to share such an intimate e-book. How did you get so brave and any suggestions for writers who might feel anxious about publicly sharing themselves in such a manner?
Guy LeCharles Gonzalez: What actually gave me the courage to get on stage at the Nuyorican in the first place was a couple of acting workshops I took in college. My teacher was Annette Cardona, the original Cha-Cha from Grease, and she was intense and no-nonsense. I wasn't a great actor by any stretch, but she was a closet psychiatrist and some of her acting exercises were all about stripping away all the layers and digging deep to connect with a character.
My personal breakthrough was an emotional scene from Michael V. Gazzo's A Hatful of Rain; I was playing Johnny Pope, and he and Celia are arguing because she thinks he's having an affair but he's really hiding that he's a junkie. The whole idea of letting a secret tear your life apart, and not letting the person you love and fear losing the most in on it because you're ashamed was tough, but tapping into that emotion was incredibly freeing, too.
Also, on the poetry side, I've always responded most to very honest, personal work, and Charles Bukowski and Willie Perdomo are probably my two favorite poets of all, both tapping into the less-than-glamorous aspects of their own lives to tell compelling stories that are ultimately bigger than themselves. That's the kind of work I always aspire to.
Christina Katz: What would you say to a dad, who feels like his creative energy is getting sapped by all of his daily responsibilities and commitments but wants to spend more time writing?
Guy LeCharles Gonzalez: It's a cliché, but it's true: "Writers write. Period." (And yes, they also have to carve out some time for marketing!) If we can find the time to go out drinking, to watch a football game, to sleep in late on the weekend, then, assuming it's really a priority, we can find the time to write. And I say that as someone with zero self-discipline when it comes to my own writing!
I'm working on it, though. And publishing Handmade Memories was partly a way to clear the decks so I can focus on writing new work, and also a way to reconnect to a community I'd drifted away from. Finding a community of writers, whether in person or online, is essential.
Writing doesn't have to be a solitary experience; the group of poets I ran with in my early days kept me going through the dry spells. We went to readings together, workshopped together, and inspired each other to keep writing and improving.  In this day and age, there's absolutely no reason to go it alone. [End interview]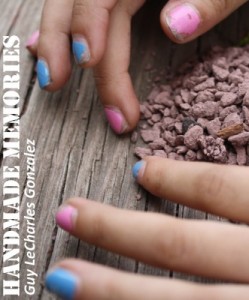 Thanks for purchasing a copy a of  "Handmade Memories" by Guy LeCharles Gonzalez. I think women should read it to better understand what it's like to grow up male in this crazy country. And I think mamas should by it for their men. I know my husband is eager to read it now that I've told him about it. Let me know if you like it by leaving a comment or e-mail Guy.
Order Info: Purchase Handmade Memories
Guy's Bio:
Guy LeCharles Gonzalez works in publishing by day, world domination by night. Over the years he's lived in Staten Island and South Beach Miami; served in the Jehovah's Witnesses, US Army, and Dennis Kucinich's '04 Presidential Campaign; won poetry slams, founded a reading series, co-authored a book of poetry and believes in the power of publishing as a community service. He prefers Pumpkin and India Pale Ales, Jim Beam, and Dona Paula Shiraz Malbec, and is a devout Mets and Jets fan from the Bronx now living in New Jersey with his beautiful wife and two amazing kids.
Like this post? Subscribe to my Feed!