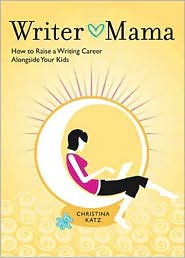 Yesterday was the four-year anniversary of the publication date of my first book, Writer Mama.
I was forty the year my first book came out. My daughter turned five on publication day. She was three when I got the book deal.
Back then, my days revolved around juggling playdates, shuttling back and forth to babysitters, figuring out how to feed a picky eater, contending with Elmo, and wrangling stuffed animals…and writing.
Today my days revolve around juggling homework, shuttling to dance classes, supervising disagreements (that I am often in), figuring out how to feed a picky eater and wrangling stuffed animals…and writing.
Writing with young children is not easy. Writing with school-age children is slightly easier, and somehow infinitely more complicated, especially living in these complicated times. Nothing matters more to me than raising an empowered little girl, who I hope will grow up into an empowered young woman.
An easy task? I don't think so. But a joyful one.
Since I am teaching, training, hosting my author series, and editing my next book (now 120,000 words long), it would be too easy to let the publication anniversary of Writer Mama slip by without notice. But I can't do that. Even as I pour so much time and work into my third book, I need to honor all the hours of work I poured into my first book, both before and after publication.
I also want to honor the readers and supporters of Writer Mama. Writing Writer Mama was an empowering experience for me and apparently reading it is still an empowering experience for moms. I still receive e-mail, tweets, and Facebook posts telling me that the combination of information, how-to insights, and encouragement still benefits moms of all ages, who wish to write for publication and grow a writing career.
Thanks for joining me in celebrating four years of Writer Mama! Here are a few testimonials about the book (mostly from recent Amazon reviews). If you don't have a copy, I hope you will treat yourself to one.
Here's what readers say about Writer Mama:
I honestly think Writer Mama was the most helpful writing book I ever read. ~ Jenny A.
I became so inspired by this book that I also became a happier person and a better mother. This book changed my entire outlook on life. It made me realize that being a writer and a mother is possible, and that what we writers write does matter. We change the world one person at a time with our words. ~ Rebecca G.
Well, I just finished reading this book yesterday and I can't wait to begin writing. I feel inspired and motivated. And not in the way that other motivational books make you feel. I've read those books before. You feel great and motivated, but those feelings fall to the wayside because you don't know what to do next. In this book, Christina Katz provides concrete steps and exercises. She makes what feels daunting accessible. ~ Viola C.
Writer Mama does it all. Katz explains quite easily how to get started, truthfully unveils the mysteries and explains the realities and hardships of being a writer and a mother, but then goes beyond that to offer countless quotes and words of encouragement from other writer mamas who have succeeded. This book is absolutely packed with tips, tricks, ideas, inspiration, and practical how-to instruction. I am not even finished with the book and it has helped me land five (paid) articles in print, having previously been unpublished! ~ K. Watterson
Has Writer Mama been helpful to you? I hope you will share here or on your favorite review site! More info here.

Like this post? Subscribe to my Feed!