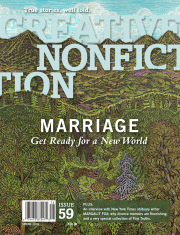 I have a lot of respect for Lee Gutkind and Creative Nonfiction magazine. I enjoy being a subscriber to a magazine with such high-quality nonfiction, and if you like my teachings, you likely will, too.
And good news, now The Creative Nonfiction Foundation is launching a new publication that pays writers for true stories.
Here's the scoop:
Topic: True Story
Accepted Year-Round
The Creative Nonfiction Foundation is pleased to announce that, with support from the National Endowment for the Arts, we're starting a new monthly magazine, set to debut this fall. Each issue of True Story will feature one exceptional work of creative nonfiction, which will be distributed in print and digitally (though not available online).
Submissions should be between 3,500 and 7,000 words long, on any subject, in any style. Surprise us! The only rules are that all work submitted must be nonfiction and original to the author, and we will not consider previously published work.
We'll pay $300 on publication and give you 10 free copies of "your" issue.
We'll do our best to respond to submissions within three months. We can't promise to consider work submitted for True Story for any of CNF's other projects or publications—but we reserve the right to do so.
Read the rest of the guidelines here.
Creative Nonfiction also has more upcoming deadlines that might interest writers, like this one:
Topic: Joy
Deadline: May 16, 2016
For an upcoming issue, Creative Nonfiction is seeking new essays about JOY.
Too often the moments that move us to write are bleak ones—stories of loss, hardship, or learning through painful interactions. For this issue we're looking for well-crafted narratives that explore the brighter moments in life, those that teach and enlighten us through their beauty or humor.
Your tale of joy need not revolve around ecstatic delight or a once-in-a-lifetime moment; we are equally interested in thoughtfully written pieces about finding pleasure in small things or unexpected places, and in works that highlight moments of joy in the midst of otherwise difficult circumstances. We also welcome less common approaches to this topic: the science of happiness, the history of some particularly joyful event, pop-cultural manifestations of bliss, and so on.
Essays must be vivid and dramatic; they should combine a strong and compelling narrative with an informative or reflective element and reach beyond a strictly personal experience for some universal or deeper meaning. They should approach the topic of joy sincerely—we're not looking for a bitter or ironic take on happiness—but should at the same time avoid sentimental, uncomplicated "feel-good" stories. We're looking for well-written prose, rich with detail and a distinctive voice; all essays must tell true stories and be factually accurate.
Creative Nonfiction editors will award $1,000 for Best Essay and $500 for runner-up. All essays will be considered for publication in a special "Joy" issue of the magazine to be published in winter 2017.
Read the rest of the guidelines here.
Thanks for reading! And thanks for sharing this post with fellow writers! Please subscribe to The Prosperous Writer Blog and sign up for The Prosperous Writer Newsletter, for exclusive discounts you won't find elsewhere. I hope you will check out the latest courses in my brand new online writing school.
Like this post? Subscribe to my Feed!