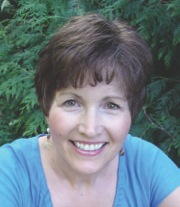 I recently hosted Heather at the Northwest Author Series in Wilsonville, Oregon and she gave a terrific presentation on mastering setting, character and plot. I am also thrilled to share that for my daughter's first mom-daughter book club book, we have selected Heather's book, The Mother-Daughter Book Club (both suggested to me by our Day 12 author, Cindy Hudson). Heather has released two new books within that past six months, which is quite a feat. No matter where you are in your publishing journey, it's always such a treat to be in the presence of such a seasoned, versatile author. Please help me welcome, Heather!
About Heather Vogel Frederick
After a 20-year career as a journalist, Heather Vogel Frederick decided it was high time to fulfill her lifelong dream of writing fiction for young readers.  Today, she's the author of more than a dozen books for young readers, including the popular mother-daughter book club series, and hot-off-the-press ONCE UPON A TOAD, which School Library Journal pronounced "a gem." Heather's work spans many genres, from historical fiction to fantasy and contemporary realism, and has been honored both nationally and internationally and translated into numerous languages.  A former staff reporter and children's book review editor for The Christian Science Monitor, Heather has also written for the New York Times, Child, Family Life, and Publishers Weekly, where she was a contributing editor for many years.
About Once Upon A Toad
Once upon a time, Cat Starr lived with her astronaut mom in Houston. But when her mother gets sent on a last-minute space mission, Cat is shipped off to a faraway land—her dad's house, halfway across the country—to share a room with her real-life evil stepsister, Olivia. Just when Cat can't take it any more, Great-Aunt Abyssinia comes to the rescue. And things go from bad to worse.
Out of nowhere, toads start appearing whenever she opens her mouth. At the same time, Olivia spouts precious gems and flowers when she speaks. How unfair is that? Before you can say "happily ever after," the girls are on the run from jewel thieves and a secret government agency. Can Cat save the day—and get rid of all those toads?
The Very Short Interview
When did you know for sure that you were a writer and that writing would be a major energy focus in your life?
The year I turned 12, my parents sent me to summer camp thinking it would be a big treat.  I was a shy girl whose favorite things to do were read and write, activities not in abundance at most summer camps!  Homesick and miserable from the moment I arrived, my coping mechanism for surviving the seven weeks away was to retreat to my bunk and write during rest hour.  Over the course of the summer, that story grew into an entire novel (never published, of course, but oh, the sheer joy of working on it!), and the process of writing it ignited a spark in me that has never been extinguished.
Who has always been behind your writing career and who helped pull you up the ladder of success?
My husband.  We've been married for 30 years now, and he's been my cheerleader every step of the way.
What is the most frequent comment you hear about your book (or books) from readers? Tell us a little story about the response to your work.
Readers often tell me they wish they could step into my books and live there, with my characters for their friends, which is catnip to a writer, of course.  Probably the best compliment I ever received, though, was from a girl who wrote and said, "Your books make me feel happy and safe."  Does it get any better than that, I ask you?
And Now, Your Turn
Now it's your turn. You remember how this works right?
I ask you a question. You answer in the comments for your chance to win a book each day.
Please just respond once, even if you make a typo.

Answer in the comments in 50-200 words (no less and no more to qualify to win one of today's books). Please read the complete rules at least once!
Thanks for participating in the Writer Mama Every-Day-In-May Book Giveaway! I hope to see you here every day this month. Bring your friends!
Yesterday I asked you to share the qualities you appreciate about your mom. Today, I'd like you to share the qualities you appreciate about yourself. They can be related to writing or anything else.

Ready, set, comment!
Like this post? Subscribe to my Feed!