Thank you for your time and for sharing your insights with me during our coaching session tonight. I feel great about moving ahead with renewed focus. You are such an inspiration—I'm glad to have your support!
~ Liz S.
How Editors Respond To My Work
Thanks so much for submitting this excellent and timely article!  ~ Karin C.
Great article, thanks very much!  ~ Melissa M.
Excellent Christina. Love the use of seeds, roots, flowers, fruit. And yes, service. All true. I'll be running it in June.  ~ Bill K.
Hi Christina. Thank you, this is great!  ~ Pamela N.
Long-time Editors & Publishers:
Christina Katz's 'internal database' of writing and publishing knowledge are the vitamins and minerals all writers should ingest on a daily basis. As a freelance writer she is second to none in her accuracy, strict adherence to deadlines, and ability to continually turn out exceptional articles and columns. ~ Leona Grieve, Managing Editor, The Willamette Writer monthly newsletter editor
There are very few writing instructors I recommend, but Christina Katz is one of them. Why? Because she knows how to get results out of her students. I don't care who you are (or who you think you are!)—Christina will understand how to get the best out of you, and can ensure that if you want to get published and have a career as an author, you'll have the right tools to do it. That doesn't mean it will be easy (it takes WORK), but anyone who promises overnight, effortless results is lying to you. ~ Jane Friedman, former editorial director of Writer's Digest LINK
Recent Students:
Before I started to work with Christina, I had dipped my toes into freelancing, but I never quite knew how to take the plunge. WPSS gave me the skills and confidence I needed to take off my water wings and dive into my writing. Since then, I've participated in two Dream Teams, sharpened my strokes, become a regular contributor to two local magazines, and been published in parenting publications around the country. Christina is a fantastic coach. If you're thinking about taking a class, come on in… the water's fine! ~ Julia Barber, Freelance Journalist & Writing Instructor
You've made a difference in my life, and through my writing I hope to make a difference in others! Thank you for your teaching, your advice, and your guidance this year! ~ Kelly Bartlett, Positive Parenting Journalist LINK

Long-time Students: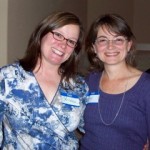 Christina Katz has it all to take the beginning writer from novice to successful freelancer with her combination of online classes and helpful books. Even though I had written for publication before I enrolled in Christina's first class, I had no idea how to focus my efforts to turn my desire to write into regular paying projects. With Christina's guidance I have learned how to craft pitches, write for my audience and build a writer's platform that helped me land a book deal less than two years out. If you really want to write and get published, Christina can show you how.  ~ Cindy Hudson, Mother-Daughter Bookclub Website and Blog, author of Book By Book: The Complete Guide to Creating Mother-Daughter Book Clubs LINK

Turn Your Specialty Into Course Curriculum made me stretch more than anything else I've done in my writing career. Researching and writing my curriculum empowered me to dig in a lot more than I would have on my own. Today, I am not only teaching one class, I am spinning off new classes and starting to teach those as well. As I continue to expand my expertise and my knowledge base, my increased confidence opens new doors. I teach for myself and partner with others who serve the same audience. I am finally being seen as an expert in my field. ~ Judy M. Miller, Adoptive Parent Educator and Support Specialist LINK

I signed up for Christina's class, Writing & Publishing the Short Stuff three months after I had a baby. Even though I'd been writing and publishing my work for years, I needed a kick-start after my maternity leave. I was also hoping to find some camaraderie and tips for combining writing and motherhood. Boy, did I ever! Christina offers her students just the right mix of positive encouragement and a no-excuses approach. It worked—an essay I wrote for her class is awaiting publication at a national parenting magazine! ~ Abigail Green, Freelance Journalist & Blogger LINK

Christina Katz taught me how to sharpen my arrows so that when I sent my writing out into the world I had a better chance of hitting my target. She gave me the information I needed, in bite-sized chunks, and the kick in the pants I needed to take my writing to the next level. I had to do the work, of course, and apply the lessons and now I'm published in national magazines.  ~ Gigi Rosenberg, Freelance Writer, Speaker & author of The Artist's Guide To Grant Writing: How To Find Funds and Write Foolproof Proposals for the Visual, Literary and Performing Artist LINK

Christina Katz is the book proposal whisperer. Her comments and critiques are absolutely on point. Highlight them, post them over your desk, commit them to memory. Once they sink in, you will have found your way to not only a saleable book proposal, but to a published book that really speaks to its readers. ~ Jennifer Hallissy, author of The Write Start, freelance writer, and child development expert LINK
Christina Katz took a chance and granted me scholarships for two of her classes. Since I had already been published, with a few clips in national magazines even, I first thought, "Easy peasy." Then Christina pushed me. I never had anyone to push me before. I learned that if I wanted to turn my writing into a career, I needed to learn to push myself. I have since grown my list of magazine credits, added two regular blogging gigs, a newspaper column, and published a series of e-booklets that gave me the needed platform to be chosen as a speaker at the Mother Earth News Fair this past September. In Christina Katz I've found an instructor who believes in her students and stands behind them every step of the way. ~ Carol Alexander
It was a treat to get to meet you in person earlier this month. I'm so glad to have had that consultation with you — you helped me clarify my thoughts about platform and sparked plenty of new ideas. Thank you for that opportunity and for being so generous with your time. I look forward to prospering even more this year thanks to you!  ~ Lara Krupicka LINK
Christina is the best type of teacher: one who leads by example and truly cares about her students. She doesn't offer get-rich-quick schemes for writers. Instead, she champions technical excellence, unsurpassed professionalism, and tremendous work ethic. When I first encountered her books and courses, I'd been a working writer for years and didn't want to spend time on fundamentals. But Christina knows her stuff: a successful career is created step-by-step, not overnight. In the past year, I've transformed myself as a writer, racked up publishing credits at dozens of respected publications, and developed my expertise—all while balancing my role as a full-time mom. ~ Malia Jacobson, Writer, Editor & Sleep Journalist LINK
One simple word: confidence. That's what my time with Christina Katz has meant to me. As a writer coming from an academic background, unsure of how to break into magazine writing or formulate a blueprint for publishing, I have learned what I never did in graduate school: advanced strategies about writing for pay, the nuances of building a successful relationship with editors, and a scaffolding for constructing a platform that has showcased my expertise in ways I'd never imagined. Her course Discover Your Specialty & Launch Your Platform will change the way you approach your writing life. Christina is the creative confidence crusader! ~ Jen Henderson, Freelance journalist, University Instructor, & Weather Safety Expert LINK
Before taking Christina's class Writing and Publishing the Short Stuff, I felt like a plane stuck in a foggy holding pattern desperate for a flight plan. I knew I wanted to be a published writer, but I didn't know how to get there, especially while staying at home with my two young children running circles around me. Through Christina's accessible teaching approach, her practical books and dynamo Dream Teams, I've gathered sage advice, valuable resources and an indispensable network of support. Now, I'm getting published in a variety of parenting publications, and I feel like anything is possible! ~ Christa Hines, Freelance Journalist
Audience Members/Program Coordinators:

Thank you so much for your spirited and knowledgeable presentation. Your energy and skills — and all the encouragement — were wonderful. The OWC registrants obviously loved you! ~ Lori Lake, OWC E-Pub Conference Coordinator
You're a dynamo. I still can't believe you came to the Missouri Writer's Guild Conference. Thanks so much.  ~ Tricia Grissom
Christina Katz provides buckle-in-and-hold-on energy in her information-packed workshop, Get Known before the Book Deal. Attending Christina's workshop is a must if you desire to launch your writing career to the next level. After her fifty minute session of non-stop advice, I'm jazzed and putting the knowledge to work. Reading her book, Get Known Before the Book Deal is like having Christina as your personal career coach. ~ Linda Joyce, OWFI Member and Missouri Writer's Guild Member
Christina commands an audience. She's witty, knowledgeable and on top of the social marketing venues that will boost your publishing to greater heights. Her real-life advice on how to grow your market before the book is on the shelf is invaluable. I've heard her present at national conferences and her enthusiasm and advice are always well received. ~ Gwen Mayes, ASJA Member
Christina Katz's session on how to build an author's platform was full of wisdom about why we need a platform, but also specific tactical actions I will put to work immediately. Most important for me — everything in Katz's presentation was cutting edge information that she has learned — is still learning — through personal experience." ~ Lela Davidson, OWFI Member, author of Blacklisted from the PTA LINK
The Northwest Author Series (2006-2012):
You did a great job with The Northwest Author Series.  It was a privilege to speak and to listen to your programs.  Standing ovation. ~ Cynthia Whitcomb, Former President of Willamette Writers, playwright, screenwriters, and teacher LINK
Thank you so much for the amazing work, time, and effort you put in for The Northwest Author Series over the past five years! It was a wonderful "brainchild" of yours and we are grateful for all you do for writers everywhere. ~ Kellie Grill, Independent Publisher
I wish I could have attended more Northwest Author Series events than I did. I found the selection of speakers EXCELLENT. Thanks for your work over the years! This was a real boon to aspiring writers and interested readers alike. ~ Marilyn Clint
I am writing to thank you for the work you have done for the Northwest Author Series.  It was such a priceless gift you gave to writers. ~ Kristine Thomas
Thanks so much for being the chief, cook and bottle washer with the NW Author Series.  I attended many of the presentations and always came away a more-informed, more-excited writer. You did a good thing. ~ Bill Kroger
Coaching Clients / Workshop Students / Seen & Heard Online:
Christina is an amazing mentor.  She sees possibilities in  her students that we don't see in ourselves.  Because of her encouragement and direction, I am not only writing personal stories that often get published, but am teaching workshops and coaching other writers as well.  ~ Samantha Ducloux Waltz, Author & Essay-Writing Coach LINK

[Christina] does not get pulled down by the negative press the writing industry is currently receiving. She encourages us. She celebrates our successes. She does not hold back. ~ Carrie Minns in a blog post, La Pomme De Portland
Christina knows writing and publishing but, even better, she knows what makes writers tick, what motivates them, and what makes them stop writing. I'd been working on a memoir on and off for some time, and I wanted to get started on it again. In just an hour's time Christina grasped what my story was about and noticed that I was avoiding an especially difficult part. I've been delving more deeply into what I wanted to avoid and generating more authentic material, thanks to Christina's coaching. This kind of insight, intuition, and no-nonsense approach only comes with years of experience working with many writers. Christina has all that and more. ~ Valorie Hallinan, Books Can Save A Life blog
About The Prosperous Writer Blog
Christina's blog advice is always spot-on and full of gratitude. She supports other writers and helps keep us all motivated, as well as encourages us all to find balance, no easy task in the life of a freelancer." ~ Vanessa Nix Anthony
I have found Christina's blog and her books to be extremely encouraging and empowering for my own writing and for other authors and publishers I've shared her work with. ~ Shaun Tabatt
Please subscribe to The Prosperous Writer Blog and sign up for The Prosperous Writer Newsletter, so you won't miss any important updates.
Readers Write:
Thank you for creating such valuable tools and for understanding the heart of a mother writer. You have been a real blessing to me.  ~ Laura J. Shank
I am a veteran journalist, author and coach with over a decade and a half of experience and a wealth of techniques to share. I am focused on making the world a saner, more expressive place. I help folks become more creative for personal enjoyment, professional development and transformational growth. Whether you are a professional creative or hope to become one some day, I can help you embrace your personal strengths, explore your creative possibilities, and evolve incrementally into your most inspiring self. If you are ready to achieve creative consistency in your life and career, email me about monthly coaching calls. To learn more about increasing your creative confidence, please check out my online school. Stay tuned for ways to save money by becoming a Beta User for my next new course by subscribing to The Prosperous Creative. And don't forget to get these blog posts delivered to your inbox, so you never miss a post. If you appreciate my work—school, products, blog and social media posts—you are welcome to make a contribution of any size at any time. Thank you for your support!
Save
Save
Save
Save