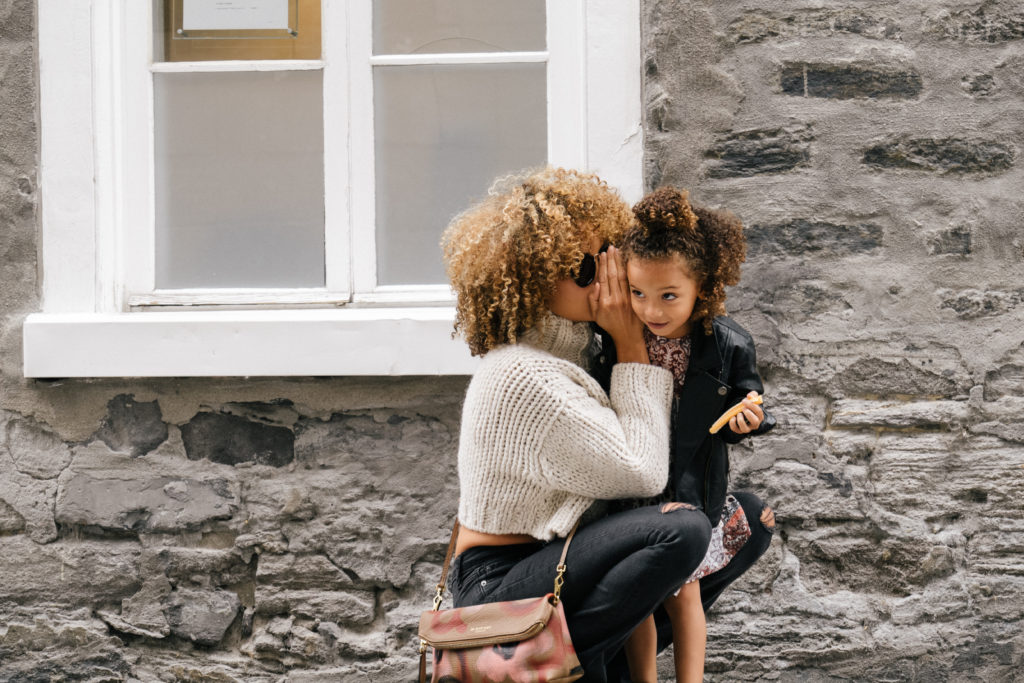 Yes, I said, "Joyful."
Remember this equation: joyful mom = joyful daughter.
A key to moving towards a future of powerful, confident, and joyful women, is raising our girls this way today.
My daughter is not perfect, and neither am I, but she is a joyful girl — meaning a girl who is in touch with her own ability to make herself happy.
I see other girls — girls who are mean, who manipulate, and who use gossip and peer pressure to tear others down in an effort to attempt to get their way and control situations.
Girls who do these things are wounded. They are wounded by mothers who don't do their healing work. They are wounded by mothers who unconsciously use their children as success surrogates, while they hang back and stay toxic.
If your daughter can't enjoy this moment, something is wrong. If she constantly has to please you and impress others, she is going to exhaust herself with codependency. If she sees herself as an object rather than a human being who gets to enjoy living just for the sake of living, she has a rough future ahead of her.
Historically, we have not been able to think of girls as joyful, because they have been raised in a patriarchy.
And if we know anything about patriarchy, we know that it's challenging to be female in a male-dominated culture.
But I believe that we are on the verge of changing this. Despite what you read in the daily news these days, we are moving to a more female-empowered world.
We will likely realize a better world for girls and women in the future, possibly even after you and I are gone. But it will only happen if we parent towards it.
So why not believe it with me?
I've gathered up some articles that I've written and that others have written that focus on raising empowered daughters.
I would like part of my legacy to be that I raised a joyful daughter. A joyful girl who grew up into a joyful woman. And this means letting her enjoy every day rather than making her a slave to my unmet emotional needs. This means, I take care of my needs, so I can meet hers, so she will grow up happy and even joyful.
I don't do it perfectly. But I have done a ton of work on myself over the past 22 years. I started doing healing work in 1995 for my own sake, so I could learn to enjoy life again. But my passion for healthy living was reignited after getting married and again after having a daughter. And guess what? My work is never done. Not as long as I want to grow, evolve and enjoy life.
We need a world full of joyful daughters who grow up into joyful women. Imagine what a better place the world would be if joy for all was the goal. Because there is plenty of joy to go around today, tomorrow, and in the future.
But healthy, happy girls won't happen, unless we parent towards that goal.
Let me know your thoughts!
Articles:
Power Down The Parent Pressure, 10 Ways To Stop Micromanaging Your Kids' Goals
Momfidence, Address Your Needs And Stand Strong, Mom
10 Conversations To Have With Your Daughter Inspired By International Women's Day
Raising A Powerful Girl on PBS
Dismantle The Mean Girl Time Bomb
Mommy-Daughter Time, 11 Outings That Won't Break The Bank
Kid-friendly Feature Films With A Girl Protagonist (Or A Boy Girls Can Relate To)
What We Can All Learn About Creative Empowerment From The Film Pitch Perfect
Bucket List Living Helps Me Bond With My Daughter
10 Mompower Mantras: Positive Self-talk For Mothers
So much inspiration, so much time! Please subscribe to the Create, Share, Prosper blog and sign up for The Prosperous Creative ezine for exclusive discounts you won't find elsewhere. Click on the Enter School tab above to put your creativity to prosperous use right now. Like words? Check out my Etsy shop. And you haven't seen anything, if you haven't seen all the helpful offerings in my online shop. Thanks for reading and thanks for sharing this post with fellow creatives!
Save
Save
Save
Like this post? Subscribe to my Feed!