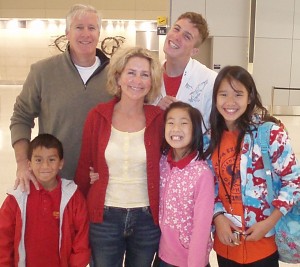 I thought I would start a series on prosperous writers, so you could see what I am talking about. In my post on Monday, I outlined how and why it makes sense to hold back on sharing all of your content until you have developed a goodly amount of expertise and experience that you can share with a specific audience. I can't think of a person who exemplifies this better than Judy M. Miller.
Judy first began taking classes with me at the beginning of 2008. Now only two years later, she is launching her first e-class, Parenting Your Adopted Child: Tweens, Teens & Beyond.
I could not be more thrilled both for her and for the adoptive parents and families, who are going to benefit by Judy sharing her considerable insight and sensitivity with this growing population of parents.
Judy has worked hard to cultivate her writing skills on the topic of adoptive parenting, racking up published essays in two books, dozens of magazine article credits, and serving as a columnist for Grown In My Heart, An Adoption Network. She has tackled sensitive topics in her writing bravely like adoption etiquette, talking about sex with your children, and raising kids with special needs.
To say that I am proud of Judy and all of her hard work would be an understatement. But perhaps what I'm most proud of is that she can be the first "poster child" for this blog and its siren call for prosperous writers. Judy didn't create overnight success (there is no such thing, folks!). But if her integrity and passion for her topic doesn't come through loud and clear, then I am a monkey's aunt.
Judy is enjoying vigorous and healthy growth. She is flourishing and this is just the beginning. I love being able to teach writers to cultivate a specialty writing for the audiences with whom they identify most. And I look forward to introducing you to more prosperous writers in the upcoming weeks.
By the way, if you'd like to follow the path that Judy followed, the first class she took with me begins a week from today. It's called, Writing & Publishing The Short Stuff and there is still room for moms who are ready to write for publication in 2010. Judy also took classes with other teachers I recommended like Abby Green (whose class also begins next week) and Jennifer Applin.
Please help me help Judy M. Miller launch her first e-class by spreading the word to any adoptive parents you might know, especially those whose children are on the cusp of their tween-age years. I just know that they will thank you for the introduction.
Congratulations, Judy! Best of luck with your premier e-class!
Parenting Your Adopted Child is a six-week e-mail course that focuses on helping adoptive parents support adopted tweens and teens as the entire family navigates the sometimes-tumultuous inner and outer terrain of growing up. The class offers a safe space in which parents can explore, reflect on and discuss the process of adoptive parenting.
By the time adoptive parents are done with the course, they will learn:
How to process the losses that are inherent in the adoption process
How to openly discuss the topic of adoption with your child
How to help your child become emotionally unstuck, if and when this happens
How to manage feelings of rejection, guilt and shame
How to support your child's quest for identity and self-esteem
Folks can find out more and sign up here.
Like this post? Subscribe to my Feed!