Now available for download in PDF!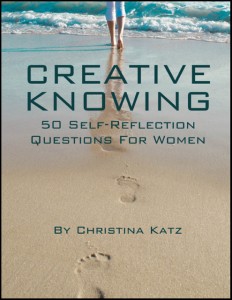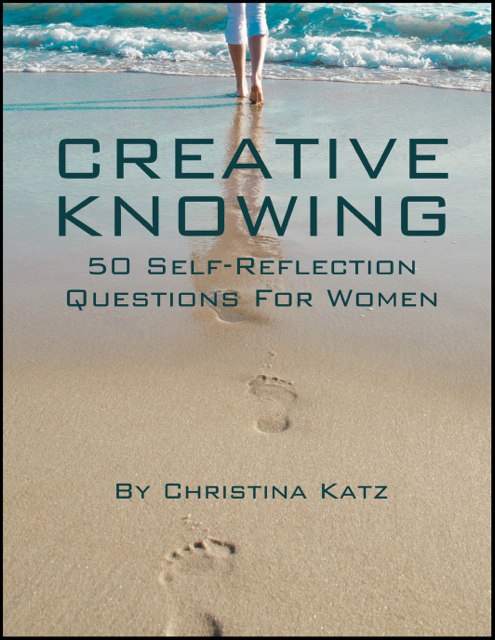 Creative Knowing
50 Self-reflection Questions For Women

A Work-booklet By Christina Katz

Price: $4.99 in PDF
Learn More About Creative Knowing, 50 Self-reflection Questions For Women:
Are you a busy woman who has trouble keeping up with herself?
If so, join the club! Most days, women deal with constant pressure to please, perform, and produce, and therefore we are constantly driven further and further away from our true identities.
If you are feeling or have ever felt:
Out of touch with your most current self
Numb or overly detached from your feelings in the moment
Sad or discouraged because you miss feeling connected to your sense of self and purpose
…then look no further. Creative Knowing, 50 Self-reflection Questions For Women is a simple, direct route back to being in touch with the wants and needs of your most creative self.
This work-booklet was inspired by the 13+ years I have spent asking women questions and then listening to their answers. I've asked these questions to women formally before and they have been moved and motivated by them.
Women who read this book will gain:
A feeling of recognition and affinity towards themselves
A sense of relief that finally someone is only asking them to be who they are rather than to be everything to everyone else
An increased sense of self-worth and self-appreciation
A respite from the workaday pace of the world
A reminder that there is a place within us where they can go to recover and connect with their true selves
Written expressly for busy women, this work-booklet is meant to be fun and expansive journey, like a mini-vacation.
Readers who reconnect with themselves through this work-booklet will find themselves feeling refreshed and energized for whatever is coming next. They will have a strong desire to bring what they have discovered within, back out into their day-to-day lives.
So what are you waiting for? Purchase your copy of Creative Knowing, 50 Self-reflection Questions For Women for only $4.99 and you will receive a link to download the PDF e-book immediately.
Thanks for telling all your friends about Creative Knowing, 50 Self-reflection Questions For Women! It's the perfect tool to reconnect friends across the miles, to use at a spa getaway, or simply to take a trip directly to yourself.
Send me your testimonial or just drop me a line at christina at christina katz dot com. I look forward to hearing your responses.
Did you know my website has a shopping cart?
If you put something into your cart in error, no worries. You can take your time, look around, and select items until you are ready to check out. To view or alter the contents of your shopping cart, click the button below.
I am a veteran journalist, author and coach with over a decade and a half of experience and a wealth of techniques to share. I am focused on making the world a saner, more expressive place. I help folks become more creative for personal enjoyment, professional development and transformational growth. Whether you are a professional creative or hope to become one some day, I can help you embrace your personal strengths, explore your creative possibilities, and evolve incrementally into your most inspiring self. If you are ready to achieve creative consistency in your life and career, email me about monthly coaching calls. To learn more about increasing your creative confidence, please check out my online school. Stay tuned for ways to save money by becoming a Beta User for my next new course by subscribing to The Prosperous Creative. And don't forget to get these blog posts delivered to your inbox, so you never miss a post. If you appreciate my work—school, products, blog and social media posts—you are welcome to make a contribution of any size at any time. Thank you for your support!
Save
Save
Save
Save