Introducing Permission Granted…
Christina Katz knows micro-publishing and she has successfully micro-published several works herself. She also knows frictionless writing – writing that is succinct and easy to read that can be delivered readily and steadily to waiting readers. For any writer who has been wondering where the future of publishing and self-publishing lies, Katz creates a compelling case for short digital works playing a key role for authors and writers of many stripes. ~ Lara Krupicka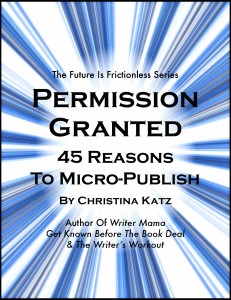 Permission Granted, 45 Reasons To Micro-publish
By Christina Katz
Length: 64 pages
Publisher: Christina Katz Media
Price: $9.99
Format: PDF
Read it on your favorite device! Scroll down to check out all the digital formats available in English.
Page Pusher
Gardners: In stock
Baker & Taylor: In stock
Learn More About Permission Granted: 45 Reasons To Micro-publish By Christina Katz
Permission Granted comes at a critical juncture in the history of publishing, when writers are too often still being fed old strategies for success where new ways of thinking are critically needed.
Permission Granted explores 45 reasons why micro-publishing makes sense as a short-term goal for all writers whether they are traditionally published, aspiring to authorhood, or dreaming about writing a book some day.
Writers who read this book will gain:
A working definition of micro-publishing and its role in the future for writers
An appreciation for how micro-publishing might fit into plans for writing success
Ways of understanding how micro-publishing works vs. how traditional publishing works
An understanding of the publishing terms all aspiring authors need to know
Support and inspiration to dare to micro-publish
A whole new respect for traditionally published authors
As an added bonus, readers may download a free list of Key Quotes From Permission Granted: 45 Reasons To Micro-publish to help them digest and remember the most important ideas from the book.
Take charge of your writing career with micro-publishing, a lucrative option that cannot be ignored by forward-thinking writers.
Permission Granted will help you give yourself permission to join one of the most prosperous publishing movements of the 21st century.
Written expressly for writers eager to pen the future of publishing with their next projects, this book is written in short, persuasive  chapters. Readers who adopt the advice in this e-book will find themselves ready to write, develop, and launch micro-publications in a professional manner.
So what are you waiting for? Purchase your copy of Permission Granted now and you will receive a link to download the PDF e-book immediately.
Thank you for your purchase. If you like what you read, send me your testimonial or just drop me a line at christina at christina katz dot com.
And thank you for spreading the word!
What Readers Are Saying About Permission Granted: 45 Reasons To Micro-publish By Christina Katz
I've been working with self-published authors for a couple of years now and I had not heard of "micro-publishing" until I saw Christina Katz's book Permission granted: 45 reasons to micro-publish. I was happy to see that her tips align with the advice that I have been giving my clients: don't think about one book, think about creating multiple products from a single manuscript. If ever there was a doubt of what can be done with one's work, Christina has gathered 45 wonderful tips to encourage an author's next step.
I particularly liked that she presented the benefits and possibilities of micro-publishing from different points of view: established author, aspiring author, and any writer. After reading it, you'll feel the urge to micro-publish your work as soon as possible. I know I do! In the end, I found reasons to micro-publish my own work and not just encourage my clients to do so. I must teach by example. Thanks, Christina! ~ Vigimaris Nadal-Ramos, @editorialnarra
Christina Katz knows micro-publishing. She teaches an excellent course on it and she has successfully micro-published several works herself. She also knows frictionless writing – writing that is succinct and easy to read that can be delivered readily and steadily to waiting readers. For any writer who has been wondering where the future of publishing and self-publishing lies, Katz creates a compelling case for short digital works playing a key role for authors and writers of many stripes. ~ Lara Krupicka
Christina Katz has written a concise, accessible overview of reasons why any writer should micro-publish. From the unknown writer to the multi-published traditional author, micro-publishing opens the doors of opportunity to increased creativity, success, income, and control over the writing and publishing process. A must-read for every writer.  ~ Crystal Howe
Christina Katz has done it again! She's taken on micro-publishing and broken it down into bite-sized pieces for any writer to digest. The take-away? There isn't a writer around that can't benefit from the sustainable career enhancement that micro-publishing offers. ~ Pam Torres
Permission Granted makes a compelling argument that the future is already here and micro-publishing is a promising way for writers to serve their readers. If you have ever considered micro-publishing or are just curious about it, read this book! ~ Laura Lane
For any fence-riders who might be considering self-publishing, Christina Katz's Permission Granted might be just the push one needs to be persuaded to test the waters with micro-publishing.  ~ Julia Mozingo
This is a timely book for all authors and would-be authors. Lots of information and advice in navigating the tricky world of publishing today.  ~ Jan Pierce
As a student of Christina's, I was already sold on the idea of micro-publishing. But this e-book really laid out all my future possibilities.  It shows any writer how your first e-book is just the beginning.  ~ Sarah Swofford
Christina pulls no punches with this informative, honest, and contagiously enthusiastic guide to the publishing wave of the future. ~ Lucie Winborne
After reading Permission Granted, I got excited at how the writing world is experiencing a revolutionary shift in power thanks to innovations in technology and self-publishing. With this empowering and thoughtful look at the future of publishing, Christina proves herself once again as an insightful and visionary leader in the writing world. This is a must-read for any professional writer.  ~ Christa Melnyk Hines
Did you know my website has a shopping cart?
If you put something into your cart in error, no worries. You can take your time, look around, and select items until you are ready to check out. To view or alter the contents of your shopping cart, click the button below.
I am a veteran journalist, author and coach with over a decade and a half of experience and a wealth of techniques to share. I am focused on making the world a saner, more expressive place. I help folks become more creative for personal enjoyment, professional development and transformational growth. Whether you are a professional creative or hope to become one some day, I can help you embrace your personal strengths, explore your creative possibilities, and evolve incrementally into your most inspiring self. If you are ready to achieve creative consistency in your life and career, email me about monthly coaching calls. To learn more about increasing your creative confidence, please check out my online school. Stay tuned for ways to save money by becoming a Beta User for my next new course by subscribing to The Prosperous Creative. And don't forget to get these blog posts delivered to your inbox, so you never miss a post. If you appreciate my work—school, products, blog and social media posts—you are welcome to make a contribution of any size at any time. Thank you for your support!
Save
Save
Save