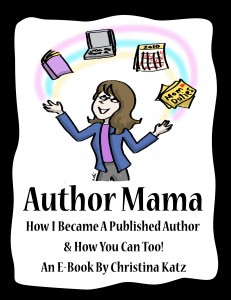 Thanks, Christina, for providing would-be authors with the knowledge and resources necessary to write that first book.
~ Kim M.
Have you ever considered writing a nonfiction book?
Have you ever wondered if you have what it takes to become a published author?
What would the process be like?
What are the steps?
What do publishers do for authors?
How long would it take from start to finish?
Can you make any decent money?
Should you self-publish or traditionally publish?
Now you can find out the answers to these questions and more when you order my e-book, Author Mama, right here.
In Author Mama, I share my personal experience walking through the traditional book-deal process and book-writing experience and offer tips along the way, addressing common myths and challenging writers to get ready for the marathon that is writing a book.
You can purchase Author Mama in PDF format for $5.99. Simply click on the Paypal purchase button and follow the simple instructions and the link to download your e-book will be delivered to your inbox.
Purchase Author Mama as a PDF:
Purchase Author Mama for Kindle:
What Readers Say:
It takes something special to make me buy an ebook. And I think Christina Katz' work is that kind of special. [Author Mama] goes through the different stages of getting a book published. She shares from her own authoring experiences plus how the current state of publishing changes the experience for current and future authors. Chapters come with recommendations or activities for readers to try out. ~ Jaymie Dieterle, Bring on the Books blog
This book couldn't have come at a better time! Christina Katz's insightful Author Mama joins my copy of Writer Mama as I move from freelancing to nonfiction books. This is a reference I will use over and over; the chapters are well written and in an easy, conversational tone that make this insider's guide to publishing a gem. ~ Stacey G
Christina Katz does it again! Author Mama is a well-balanced tightly written e-book that provides insight, wisdom and advice for writers looking to publish. Christina shares precious nuggets from her personal experiences of how she became a published author and delivers all of it with her signature thoughtfulness and wry humor. This is another "must have" that writers should have on their resource shelves. ~ Judy M.
Author Mama has it all! Christina Katz has done an amazing job putting everything an author mama needs from getting started writing a book all the way through to publication. She has left no topic untouched from celebrating each step completed in the book writing process to the changes taking place in traditional publishing. Especially unique in this e-book are the sections on paying attention to physical and mental health needs during the book-writing process. This is a book you will definitely want to have on your desk for reference as you begin the process of pitching and then writing your first book! ~ Sarah Joyce B.
I loved reading Christina's book, Author Mama! With a red pen in one hand and a highlighter in another, I completely devoured the book within a few days. It was so easy to read, and I'm amazed at how much I learned. And, despite the tough love and honesty that Christina uses to teach us about the book writing process, I am not discouraged one bit. I'm actually more excited about the process than before I read Author Mama. I would recommend this book to anyone considering starting the journey of becoming an author, mama or not. ~ Jen L.
Just like in Writer Mama and Get Known Before the Book Deal, Christina Katz delivers a practical, easy-to-follow guide based on personal experience. This is a must-have resource for those of us writer mamas with aspirations of someday landing our own book deal. ~ Liz S.
Author Mama is a pragmatic, personable read for new and seasoned author mamas alike, offering conversational and comprehensive information in a supportive but realistic tone. I wish this conversational and comprehensive guide had been around when my first book was published! ~ Jenn C.
Christina's writing style is so engaging it's as if you were discussing author characteristics with her over a cup of coffee. Her enthusiasm for her craft is obvious in her well-organized content and aspiring author action steps. Thanks, Christina, for providing would-be authors with the knowledge and resources necessary to write that first book. ~ Kim M.
Author Mama takes fear of the unknown out of the book-publishing equation. Christina Katz gives you the essentials you need to get your book written and published, along with additional resources. I feel confident that I, too, can follow these steps. ~ Kathleen M.
The words of encouragement and direction Christina Katz offers up in Author Mama will point you in the right direction as you navigate the publishing world. ~ Donna M.

What I love about Christina's books is she takes overwhelming topics and chops them up into manageable segments. Not only is her knowledge comprehensive, it's a relief to know she learned so much about writing and publishing as a mom. Author Mama presented some new ideas to me and it reminded me of other concepts I'd forgotten about. ~ Heather M.
Tight writing in an easy-to-read format and exercises you can start today will have you moving towards a book deal at a realistic pace. ~ Mary Jo C.
As an aspiring writer mama, I am relishing the information in Author Mama by Christina Katz. I feel closer to the writing world craving more. I appreciate Katz's honesty, intelligence, and encouragement she radiates for all writer mamas and soon to be author mamas. ~ Kristen M.
For all those who were so inspired by Writer Mama that they decided to write a book, Author Mama is the essential next step.  ~ Karen B.
Thanks for spreading the word about Author Mama to your blog readers!
Please subscribe to The Prosperous Writer Blog and sign up for The Prosperous Writer Newsletter, so you won't miss any important updates.