I find your writing to be both engaging and intelligent.
~ in a letter from Lara D.
The Writer's Workout, 366 Tips, Tasks & Techniques From Your Writing Career Coach (2011)
Get Known Before the Book Deal, Use Your Personal Strengths To Grow An Author Platform (2008)
Writer Mama, How To Raise A Writing Career Alongside Your Kids (2007)



You really did a great job with this book. From one writer to another I thank you. This is a masterpiece.
~ Lee Silber, author of twelve books including "Show and Tell Organizing"
Title: The Writer's Workout: 366 Tips, Tasks & Techniques from your Writing Career Coach
By Christina Katz
Publication date: Tuesday, December 6th
Available everywhere books are sold!
Publisher: Writer's Digest Books
ISBN-10: 1599631792
ISBN-13: 978-1599631790
Media Kit Page
Description:
The Writer's Workout, 366 Tips, Tasks & Techniques From Your Writing Career Coach
The Writer's Workout is like having a personal trainer for your brain every day of the year.
In the age of information overload, writers need the ability to focus and feel satisfied at the keyboard on a daily basis. The Writer's Workout greets you each day of the year with fresh advice that helps writers coach themselves to produce an impressive body of published work, whether in print or online.
You'll learn manageable, no-nonsense techniques for every aspect of your writing career from getting organized to connecting with your audience to relationship building.
The Writer's Workout contains 366 tips for writers in every genre on how to:
Make your writing as strong and powerful as possible.
Pitch and sell your work at every opportunity.
Overcome rejection to come back better than ever.
Promote your work and build an audience.
Learn how to balance your creative life with your daily life.
Veteran writing coach Christina Katz draws on her knowledge from more than a decade in the business.
With her no-more-excuses wisdom, you'll find your stride and motivate yourself to career-long publishing success.
The Writer's Workout gives you substantial suggestions every day to help you build a robust, unique writing career.
Read an excerpt on WritersDigest.com
Read another excerpt on Scribd.com
Bonus online exclusive: Download a free motivational poster to keep you moving as your build your writing career at writersdigest.com/writers-workout.
Now available at these retailers:
Reviewers are buzzing about The Writer's Workout…
The Writers Workout is like having a personal trainer for your brain–every day of the year. Christina Katz will turn you into a lean writing machine, preparing you to face the challenges of the Too Much Information Age.  ~ Marc Acito, author of How I Paid for College and Attack of the Theater People
For years, I searched for one book to offer my students—a book that would walk them with kindness and respect through the maze of learning to live as a working writer. Christina Katz's The Writer's Workout is that book.  ~ Melissa Hart, author of Gringa: A Contradictory Girlhood
Christina Katz is a writing coach in the every sense of the word. This book is absolutely packed with tips, techniques and pearls of wisdom. One can use this as a reference book, curriculum of study or motivational guide—or all three.  ~ James Scott Bell, author of The Art of War For Writers and bestselling suspense novelist
Christina Katz is the warm, funny, inspiring and enthusiastic mentor every writer dreams of having in her corner. Like any good workout, this book will make you feel strong, energized, and ready to take on whatever comes next!  ~ Dallas Woodburn, young writer activist
If you want great tips for writing and great tips for publishing all in one place, this is the book you need!  ~ Eric Maisel, author of over thirty-five books including Coaching The Artist Within
Christina Katz's The Writer's Workout is like a writer's devotional—366 entries, from inspirational to practical to cautionary tips, advice, and exercises—to get you through the seasons of your writing life. It's perfect for aspiring writers who want to get in the driver's seat rather than leave it to fate to jumpstart their careers.  ~ Hallie Ephron, author of Never Tell A Lie and Writing and Selling Your Mystery Novel
As in sports, success in writing is half psychology. Coach Christina Katz builds both your word skills and your confidence. Get ready to flex your muscles—and harness your mind!  ~ Donald Maass, literary agent and author of Writing the Breakout Novel
The grounding metaphor of the workout is beautifully developed throughout the book, and Katz's tone is warm and encouraging as she takes on the role of coach. Her comprehensive work is an inspiring pleasure to read.  ~ Caroline Grant, Editor-in-Chief of Literary Mama and co-editor of Mama Ph.D.
No more excuses! Writing is hard work, arguably harder than physical exercise, but Christina Katz' insightful regimen offers a holistic body/mind/soul workout that will rejuvenate even the flabbiest of authors. From the motivational to the practical, her coaching style is an appealing blend of warm encouragement and a no-nonsense kick in the pants that almost every writer needs at some point in their career.  ~ Guy LeCharles Gonzalez, Digital Publishing Expert and poet
The Writer's Workout will take you from wanting to be a writer to thinking, acting, and working as a writer should. An indispensable daily read, with a leap year's worth of lively, thought-provoking, and invariably useful information.  ~ Randall Albers, Chair of the Fiction Writing Department, Columbia College Chicago
The Writer's Workout is a must-read for any writer on this path for the long haul. Christina Katz is the teacher we all want—supportive and understanding, but handy with a good kick-in-the-butt when we need to get down to work.  ~ Becky Levine, author of The Writing & Critique Group Survival Guide
What writers want to know is: What's the shortcut to success—the fast and easy way to get a book deal? Hint: there isn't one. That's why I am so glad that Christina Katz wrote The Writer's Workout because it clearly shows aspiring writers what to do, when to do it, and how to do it.  ~ Lee Silber, best-selling author of fifteen books including Time Management for the Creative Person
The Writer's Workout removes intimidation factors from readers' minds and propels them toward publication. That is the best accolade any book on writing can hope for.  ~ Thomas Snethen, Vice President of Oregon Writer's Colony
Christina, in the summer of 2011 you took the time to reply to an email question I sent you, "What is your definition of a writer's platform?" Although I had overlooked Platform as a page at the top of your blog at the time, you patiently explained your viewpoint to me. I then ordered a copy of your book, The Writer's Workout. You nailed it with that book. You are to writing what Julia Child was to cooking. ~ Barbara McDowell Whit
* Cover Design of The Writer's Workout by Terri Woesner
* Interior Book Design by Claudean Wheeler

• • •

Get Known Before The Book Deal, Use Your Personal Strengths To Grow An Author Platform
A couple years ago I read Get Known Before the Book Deal, and it changed my professional life. The relevant gem was this: you said to find that thing about which I am passionate, make it the central theme of my work, and stay true to it regardless of the form it took. Well, yesterday I gave a 45-minute talk, and it was about exactly the same theme as I write about in my fiction (finding your power in the second half of life.) My talk was hugely successful, and I don't think it would have even happened, were it not for your wisdom.
~ Lynne Spreen, novelist
The Author Platform Bible.
~ Joe Wikert, General Manager & Publisher at O'Reilly Media in his Publishing 2020 blog
Sell Your First Book & Develop a Successful and Sustainable Writing Career
Before you can land a book deal–before you can even attract the interest of agents and editors–you need to be visible. How do you become visible? You develop a platform, or a way of reaching your readers. Everybody can develop a platform, and this book shows you how to do it while you're still writing.
This book offers:
A step-by-step approach to creating, growing, and nurturing a platform
An economical approach to self-promotion (no need to spend thousands)
A clear way to uncover your strengths and weaknesses as an author
The strategies that are essential (or not) to online promotion
A philosophy of authorship that leaves you confident, empowered, and equally partnered with agents, editors, and publishers (instead of waiting to be discovered)
A diverse set of tools and methods for getting known (not just web-based tools or ideas for extroverts)
After you read this book, you'll be able to answer the inevitable question: "What's your platform?" You'll learn the hows and whys of becoming visible and how to cultivate visibility from scratch. Best of all, you won't need any previous knowledge or experience to get started.
Growing a writing career isn't just about landing one book deal and then scrambling like crazy. There is a more strategic and steady way to lay the groundwork so you can avoid scrambling altogether–and Get Known Before the Book Deal is the only comprehensive book that shows you how.
Get Known is available at fine booksellers everywhere, including:
Try Get Known: Read an excerpt at Writersdigest.com LINK
Reviewers are STILL buzzing about Get Known Before The Book Deal…
I told my writing class about Get Known Before the Book Deal and suggested they all order a copy. The publishing landscape is so different now, and evolving so fast, that books like this one are needed to help authors navigate the new territory. I'm grateful to have it to recommend. ~ Hope Edelman, author of Motherless Daughters and The Possibility of Everything
The difference between a struggling writer searching for a book deal and the happily published author is a well-developed platform. (If you don't know what a platform is, you really need this book.) It's refreshing to read a book devoted to this very important part of the publishing process. Get Known Before the Book Deal is a must-read for any writer who wants to become a published author.  ~ Lee Silber, award-winning author of thirteen books, including Self-Promotion for the Creative Person
Katz challenges the comfortable myths writers often hide behind: I'm the exception, and I'm too modest for self-promotion. Marketing is the author's responsibility, and new authors seeking ways to meaningfully increase their audience and reach—before, during, and after publication—will find hundreds of practical strategies here. Katz says: get over yourself. She shows you exactly how to do just that.  ~ Heather Sellers, author of Georgia Under Water and Page After Page
This should be the go-to book for every writer wanting to succeed in the highly competitive world of book publishing. As an agent, I know platform is as important (in a successful deal) as the quality of the written words on the page. Christina brings that home in her warm and accessible writing style of this book that's filled with juicy tips!  ~ Sharlene Martin, Martin Literary Management
Christina Katz's no-nonsense guide to building an author platform is a shot in the arm, a kick in the pants, and a bracing dose of reality, not to mention chock full of sage advice, invaluable resources, and buckets of encouragement.  ~ Hallie Ephron, author of Never Tell a Lie and 1,001 Books for Every Mood
This book is an essential field manual for every new writer. In the increasingly competitive publishing world, those who follow Christina Katz's advice will have a definite advantage.  ~ James Scott Bell, author of Plot & Structure and Revision and Self-Editing
Every day I tell writers, 'Build your platform!' They ask, 'How?' Now I can point them in the right direction, to Christina Katz's excellent guide to platform-building.  ~ Eric Maisel, author of Creativity for Life and A Writer's Space
Your optimism is infectious and your Get Known Before the Book Deal has been invaluable to me. Keep up with the amazing work you are doing! ~ Carrie Minns
* Cover Design for Get Known Before The Book Deal by Terri Woesner

• • •

Katz' book walks a perfect line: encouraging and guiding, pushing just a little in the right direction — just like a Mama! — followed by concrete research, tried methods and honest resources for the newbie Writer Mama to feel empowered enough to go out on her own.
~ Kara Garrod in an October 2011 Amazon review
Children change your life, but they don't necessarily have to end your career!
As a mom, you want to spend as much time with your children as possible. But you'd also like to make some money doing something you enjoy. How do you get the best of both worlds? Writer Mama by experienced freelancer Christina Katz tells you how. You can start a stay-at-home freelance writing career tailored to fit your family and lifestyle.

Writer Mama will answer all your questions about how to get started, in realistic, easy-to-follow steps. While conversational and easy-to-read, this book also does a lot of hard work for you. It gives you practical advice and exercises that help you get started in a matter of weeks. You'll get tips on how to:
begin with the easiest routes to publication for moms
network with other writer mamas, editors, and agents
write cover letters and queries
choose your own writing specialty
create a web presence
set up a home office
make time for yourself, your kids, and your writing
You'll love the short chapters, sidebars, and exercises that let you get the information you need in small doses that fit into your busy schedule. Plus this book was written to grow with you. Once you master the skills of being an article writer, it teaches you how to pitch a nonfiction book idea and explore other areas of writing.
So if you want to get started writing for publication, let writer mama Christina Katz help. If she and countless other moms can do it, so can you!
Try Writer Mama: Read an excerpt at Writersdigest.com LINK
Podcast: To hear me read the introduction from Writer Mama, "A Pep Talk" click here (the podcast will begin right away, so don't be startled).
Reviewers Are STILL Buzzing About Writer Mama
I have read Writer Mama from cover to cover and gone back over certain parts multiple times. I believe that my life changed the day I walked out of the bookstore with that book in my hand.  ~  Julie S.
Hands down, a treasure!  ~ Allena Tapia, About.com
As opposed to most books out there about writing that are intimidating and overwhelming, Ms. Katz's tone is warm and helpful. She shows you how to get published even though you don't have a newspaper column that 300,000 people read every week or a marriage to a famous celebrity.  ~ Genevieve Ferraro in an Amazon review
I picked up this book and haven't been able to put it down.  ~ Opal Tribble, Addicted to Writing blog
[Writer Mama is] a great read especially if you'd like to stay home after your baby is born and establish a paid writing career.  ~ Black Pregnancy Blog
Christina Katz's Writer Mama: How to Raise a Writing Career Alongside Your Kids is a brilliant book for all new writers – whether they are mothers or not.  ~ Chryselle Silva, Reading and Writing Lounge blog
Writer Mama is a solid, sensible guide that is sure to help any woman who wants to pursue a professional writing career while raising her children.  ~ Eric Maisel, author of Creativity for Life
What a find! Writer Mama is a must for any woman beginning a freelance career.  ~ Barbara DeMarco-Barrett, author of Pen On Fire
Year's ago I read Writer Mama. I was a mama. I wanted to be a writer and had been practicing writing for years but I was flailing about on the business side of it. I underlined that book. Marked sections with post-it tabs. I return to it again and again. Writer Mama helped me to develop a linear method, while still allowing for circular inspiration. Most helpful was pinpointing exactly what topics I want to write about. In the past year, I've declined a few full-time writing offers because they were not the topics I know I want to write about. I now write for local magazines and I just began writing two columns regularly (on the exact topics I love). I am also negotiating a book contract. I am at the beginning stages of developing local writing classes for other expat moms. Clarity of thought and intention is powerful. Thank you for the part you played in that. ~ Christine Gerber Rutt
Writ
er Mama is available at fine booksellers everywhere, including:
* Cover Design for Writer Mama by Claudean Wheeler

• • •
Special Packaging: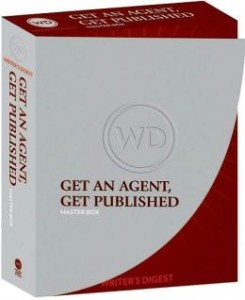 Get Known Before the Book Deal is part of a collection of helpful multi-media materials called "The Writer's Digest, Get An Agent, Get Published Master Box" set. Check out the amazing list of items that come with the kit, including Writer's Market database subscription, a one-year subscription to Writer's Digest, 3 webinars on DVD (I know that some of these Webinars feature former publisher Jane Friedman), an e-book download of The Writer's Digest Guide to Query Letters by Wendy Burt-Thomas, and a paperback copy of my book, Get Known Before the Book Deal. Full details are available through Barnes & Noble, which, for the time being, is the only place where you can purchase the collection.
Writer's Digest Premium Kit for September 2011: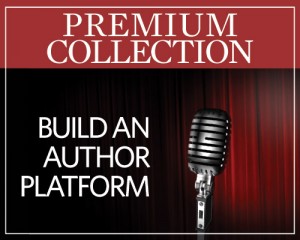 I made several contributions to the Writer's Digest September 2011 Premium Collection. My contributions are underlined in the list below:
The Build an Author Platform Premium Collection includes:
1. Build Your Author Platform (Independent Study Workshop): Created exclusively for Writer's Digest by author platform maven and writing coach Christina Katz. Learn how to establish and, more importantly, sustain an engaging and dynamic presence among your fellow writers; develop a devoted following of readers; identify and capitalize on your unique areas of expertise; and more.
2. Get Known Before The Book Deal (Paperback Book): Before you can land a book deal — before you can even attract the interest of agents and editors — you need to be visible. Anyone can develop a platform, and this book shows you how to do it without sacrificing time to write.
RETAIL: $16.99
3. Build Your Author Platform Through Blogging: This informative webinar from WD contributing editor Jane Friedman teaches you everything you need to know about the tools and resources you need to get started, how to develop strategic content for your blog that will benefit your career, and how to measure your blogging success.
4. Using Social Networking Tools to Succeed in Publishing (OnDemand Webinar): Twitter, Facebook, LinkedIn. If you're not using these sites, you're missing out on new opportunities and important information that can help you get published, as well as market and promote your books. Take a step-by-step tour of the most important social media tools available and the principles behind using them.
5. How to Use Social Media to Promote Your Writing and Yourself (OnDemand Webinar): Aspiring writers, established writers, and everyone in between can promote their talents and credentials in clever, continuous ways — at no cost. Determine what you want to get out of social media, and then go after it!
6. Using Twitter to Boost Your Writing Income (OnDemand Webinar): Editors, publishers, peers, and sources are all flocking to Twitter. Veteran freelancer Tim Beyers walks you through his rules for earning a return on your Twitter time, including strategies for querying editors, building your contact list, and how to find credible sources.
7. Build Your Own Writing Platform (Tutorial): From blogging to Tweeting to attending conferences and making videos, Writer's Market editor Robert Lee Brewer walks you through the multitude of references available to build your readership. You'll also learn about his targeted 6-point strategy for building your own platform.
8. Writer's Digest May/June 2009 (Digital Issue): This issue features articles to help you stand out to editors and agents. It includes "The Must-Have Online Marketing Plan" by M.J. Rose, "Springboards to Success" by Jessica Strawser, and "Build Your Power Platform" by Christina Katz.
BONUS! HTML Reference (PDF Download): Build your blog and expand your platform with basic HTML skills. With this exclusive download from Writer's Digest, you'll learn the basics of structuring HTML, and the most commonly used tags to make your text, images, and links work.
Please subscribe to The Prosperous Writer Blog and sign up for The Prosperous Writer Newsletter, so you won't miss any important updates.