Available for download in PDF as well as in every digital e-reader format under the sun!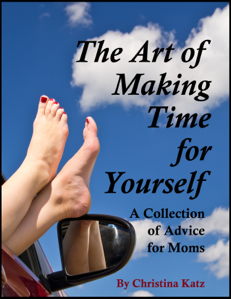 The Art Of Making Time For Yourself, A Collection Of Advice For Moms
By Christina Katz
Price: $7.99 in PDF
Or read it on your favorite device! Scroll down to check out all the digital formats available in English.
eSentral
Gardners: In stock
Baker & Taylor: In stock
Isn't it selfish to make time for you?
Nope. Actually, it's selfish to abandon yourself for the sake of others.
And habitual self-abandonment can make formerly content, competent moms feel resentful, discouraged, and chronically unhappy. So don't deprive others of getting to know and love your calmest, happiest, most integrated self.
Making time for you is crucial for every mom trying to navigate the complex and constantly evolving role of mother. And because no two moms are exactly alike, The Art Of Making Time For Yourself presents multiple approaches to finding more time for you.
If you are struggling to juggle all of your responsibilities and identities as a mom, this collection of helpful inspiration will help you factor yourself back into the happy family equation.
Moms who read this book will gain:
• 145 tips for creating more you-time
• 16 must-have books to inspire self-care
• 50 recommended movies featuring a momcentric point of view
• 60 self-reflection questions
• Lists for stocking your home spa and portable hobby bag
• A variety of approaches for making the most of your time, no matter how much time you have
Reclaim your personal power and create more day-to-day happiness and satisfaction without neglecting your responsibilities as a parent.
This book fulfills a longtime dream of mine to create a definitive guide about making time for yourself after fourteen years of writing on the topic.
This book makes a great gift for a mom-to-be or a new mom, for a mom who is choosing to stay home with her kids, or for a mom who is trying to juggle work and home life, for a WAHM, and even for a veteran mom with kids in school or leaving the nest.
Thanks for telling all your mom friends about The Art Of Making Time For Yourself. Let's start a movement of cheerful, relaxed moms who can express ourselves our individuality clearly and joyfully!
Did you know my website has a shopping cart?
If you put something into your cart in error, no worries. You can take your time, look around, and select items until you are ready to check out. To view or alter the contents of your shopping cart, click the button below.
I am a veteran journalist, author and coach with over a decade and a half of experience and a wealth of techniques to share. I am focused on making the world a saner, more expressive place. I help folks become more creative for personal enjoyment, professional development and transformational growth. Whether you are a professional creative or hope to become one some day, I can help you embrace your personal strengths, explore your creative possibilities, and evolve incrementally into your most inspiring self. If you are ready to achieve creative consistency in your life and career, email me about monthly coaching calls. To learn more about increasing your creative confidence, please check out my online school. Stay tuned for ways to save money by becoming a Beta User for my next new course by subscribing to The Prosperous Creative. And don't forget to get these blog posts delivered to your inbox, so you never miss a post. If you appreciate my work—school, products, blog and social media posts—you are welcome to make a contribution of any size at any time. Thank you for your support!
Save
Save
Save