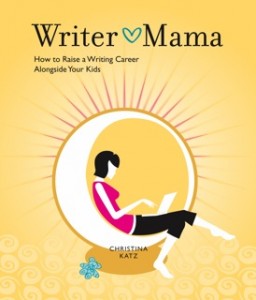 Writer Mama is now a collector's item. Get your brand new signed and shipped copy right here for the cost of the cover price!
Katz' book walks a perfect line: encouraging and guiding, pushing just a little in the right direction — just like a Mama! — followed by concrete research, tried methods and honest resources for the newbie Writer Mama to feel empowered enough to go out on her own. ~ Kara Garrod in an October 2011 Amazon review
Published: March 2007
Publisher: Writer's Digest Books
Reviews: Over 75 reviews on Amazon for an overall ranking of four and a half stars!
Children change your life, but they don't necessarily have to end your career!
As a mom, you want to spend as much time with your children as possible. But you'd also like to make some money doing something you enjoy. How do you get the best of both worlds? Writer Mama by experienced freelancer Christina Katz tells you how. You can start a stay-at-home freelance writing career tailored to fit your family and lifestyle.
Writer Mama will answer all your questions about how to get started, in realistic, easy-to-follow steps. While conversational and easy-to-read, this book also does a lot of hard work for you. It gives you practical advice and exercises that help you get started in a matter of weeks. You'll get tips on how to:
begin with the easiest routes to publication for moms
network with other writer mamas, editors, and agents
write cover letters and queries
choose your own writing specialty
create a web presence
set up a home office
make time for yourself, your kids, and your writing
You'll love the short chapters, sidebars, and exercises that let you get the information you need in small doses that fit into your busy schedule. Plus this book was written to grow with you. Once you master the skills of being an article writer, it teaches you how to pitch a nonfiction book idea and explore other areas of writing.
So if you want to get started writing for publication, let writer mama Christina Katz help. If she and countless other moms can do it, so can you!
Writer Mama is available at fine booksellers everywhere, including:
Reviewers Are Buzzing About Writer Mama:
I have read Writer Mama from cover to cover and gone back over certain parts multiple times. I believe that my life changed the day I walked out of the bookstore with that book in my hand.  ~  Julie S.
Hands down, a treasure!  ~ Allena Tapia, About.com
As opposed to most books out there about writing that are intimidating and overwhelming, Ms. Katz's tone is warm and helpful. She shows you how to get published even though you don't have a newspaper column that 300,000 people read every week or a marriage to a famous celebrity.  ~ Genevieve Ferraro in an Amazon review
I picked up this book and haven't been able to put it down.  ~ Opal Tribble, Addicted to Writing blog
[Writer Mama is] a great read especially if you'd like to stay home after your baby is born and establish a paid writing career.  ~ Black Pregnancy Blog
Christina Katz's Writer Mama: How to Raise a Writing Career Alongside Your Kids is a brilliant book for all new writers – whether they are mothers or not.  ~ Chryselle Silva, Reading and Writing Lounge blog
Writer Mama is a solid, sensible guide that is sure to help any woman who wants to pursue a professional writing career while raising her children.  ~ Eric Maisel, author of Creativity for Life
What a find! Writer Mama is a must for any woman beginning a freelance career.  ~ Barbara DeMarco-Barrett, author of Pen On Fire
Year's ago I read Writer Mama. I was a mama. I wanted to be a writer and had been practicing writing for years but I was flailing about on the business side of it. I underlined that book. Marked sections with post-it tabs. I return to it again and again. Writer Mama helped me to develop a linear method, while still allowing for circular inspiration. Most helpful was pinpointing exactly what topics I want to write about. In the past year, I've declined a few full-time writing offers because they were not the topics I know I want to write about. I now write for local magazines and I just began writing two columns regularly (on the exact topics I love). I am also negotiating a book contract. I am at the beginning stages of developing local writing classes for other expat moms. Clarity of thought and intention is powerful. Thank you for the part you played in that. ~ Christine Gerber Rutt
* Cover Design for Writer Mama by Claudean Wheeler
I am a veteran journalist, author and coach with over a decade and a half of experience and a wealth of techniques to share. I am focused on making the world a saner, more expressive place. I help folks become more creative for personal enjoyment, professional development and transformational growth. Whether you are a professional creative or hope to become one some day, I can help you embrace your personal strengths, explore your creative possibilities, and evolve incrementally into your most inspiring self. If you are ready to achieve creative consistency in your life and career, email me about monthly coaching calls. To learn more about increasing your creative confidence, please check out my online school. Stay tuned for ways to save money by becoming a Beta User for my next new course by subscribing to The Prosperous Creative. And don't forget to get these blog posts delivered to your inbox, so you never miss a post. If you appreciate my work—school, products, blog and social media posts—you are welcome to make a contribution of any size at any time. Thank you for your support!
Save
Save
Save