[This group is on hiatus for summer in June & July 2018]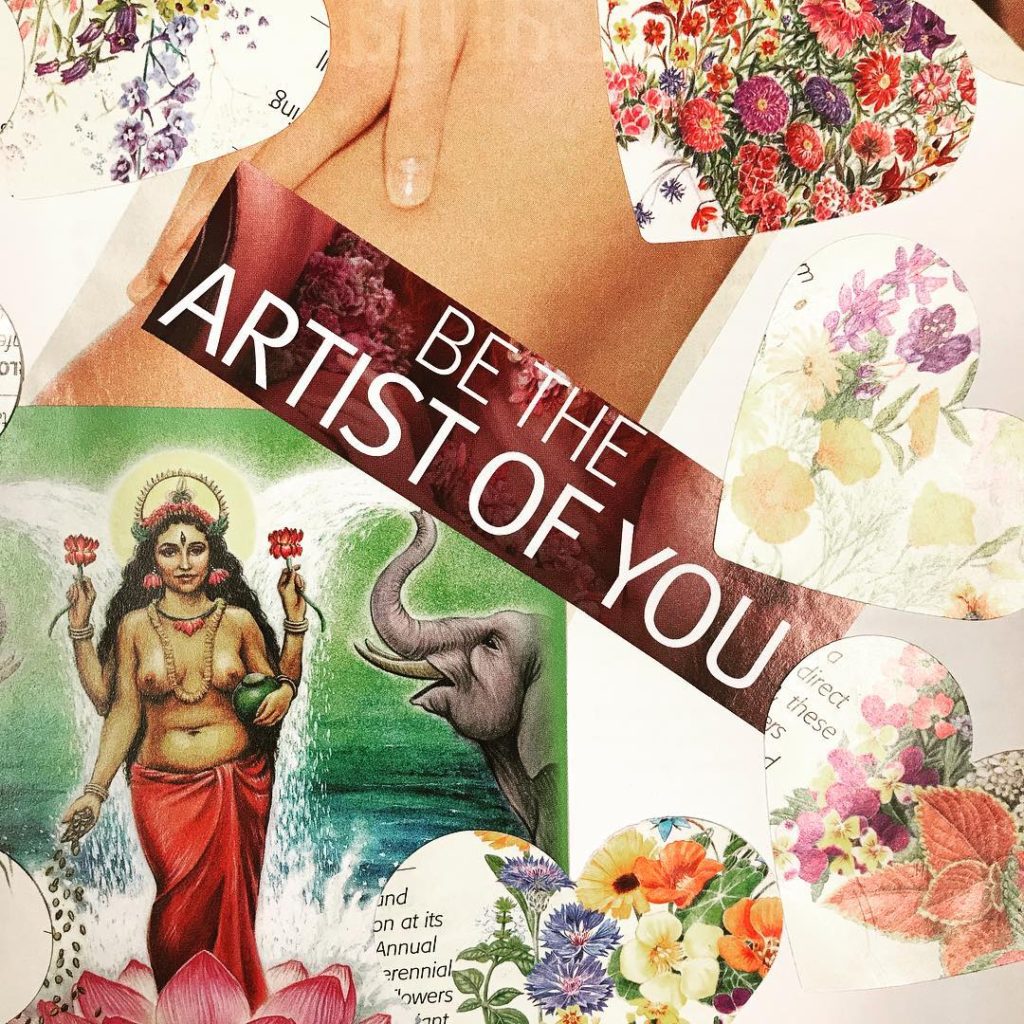 This group is pay-what-you-will and membership is open on an ongoing basis! Keep reading to see how you can join for a low monthly payment.
Do you love cutting up magazines and making vision boards?
Perhaps, like me, you are already a collage journaler.
Have you longed to make time for these activities but never seem to consistently prioritize the time?
Well, here is your chance to join a group of supportive, like-minded people facilitated by an experienced online leader.
The premise of the group is simple: we collage as much as we like and then we share a bit of the results with each other. This is not a therapy group; it's a self-expression group.
If you are just getting started, you can share your beginning steps and take advantage of tips and tricks from more experienced collagers. Inside the group, I have a list of basic materials and a video that outlines the process of collage journaling, which I refer to as Joy Journaling.
Having a collage practice can serve as a centering meditation, bringing you the peace, serenity and courage to express yourself on a daily basis.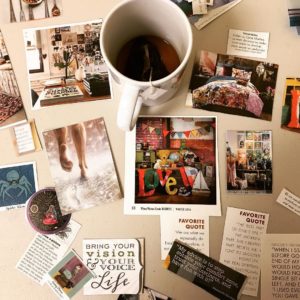 If you have been craving more creative self-expression in your life, but you have never collaged before, no problem! You do not need to have any collage experience to join this group.
Our intention is to band together to create a positive, supportive environment that supports our creative self-expression one month at a time.
Register Now!
Go ahead and register now. The payment structure is pay-what-you-can as long as it's over $10 per month by Paypal subscription. The suggested price is between $10 – $30 per month. I'd love to work with you!
Which of the following monthly payment amounts work for you? Click on the button that represents the amount you wish to pay, register, and I will add you to the group!
Pay $30/month:
Pay $25/month:
Pay $20/month:
Pay $15/month:
Pay $10/month:
If you are looking for a creative sanctuary in a chaotic world, I hope you will join us and share your collage practice with like-minded others.
No preparation is necessary. Just bring yourself and your enthusiasm. I'll see you on the inside, where I check in daily.
Group Format
I hold the space for a non-critical, non-judgmental creative community.

I collage five times per week, and share images from my process several times each week.

I encourage you to collage for the sheer joy of it and to explore the methods and systems that work best for you.

I discuss where to find collage materials, share simple organization tips, and post regular encouragement.

I respond to questions and rally members to share their insights, as well.

I host an informal yet inspirational environment that encourages you to collage for the sake of self-discovery and the enjoyment of doing it.

I create positive pressure for you to collage and share your results with the group.

I manage the administrative aspects of facilitating the group.
Group Guidelines
This group is open to the public, and a sense of safety and security is desired, so thank you for understanding the necessity of rules of group conduct.
This group is for non-professionals.
What's shared in the group, stays in the group.
New members are added to the group at the beginning of each month.
In this teaching-learning community everyone is considered equal.
The group is open to any gender, denomination and person aged 18 or older.

Participation is encouraged.

You will get out of the group as much as you put in, therefore some participating is required.

Proceed forward in time from the day you join.

You are encouraged to upload images of your process and progress to share with the group.

Posts must be rated PG-13 and should be non-triggering.

A fee is charged for participation in the group.
The facilitator may share in the group as well as oversee operations of the group.
Inspirational content is welcomed. Triggering, explicit or intolerant images or messages will be removed by the facilitator.
Everything happens in the group so external links are not permitted except by the facilitator.
No promoting, marketing or selling is allowed except by the facilitator.
Rules may be updated by the facilitator for the good of the whole on an as-needed basis.

Each member is responsible for staying up to date on payments to remain in the group.

The facilitator reserves the right to add or remove group members as needed.

Those who do not follow the rules will be removed from the group.

The group operates on a three-strikes-you're-out-basis, with warnings given for the first two errors. A member is removed without refund after the third infraction.

Reminders to follow group rules will be communicated via Facebook messenger.

Rule updates will be announced and posted in the group.