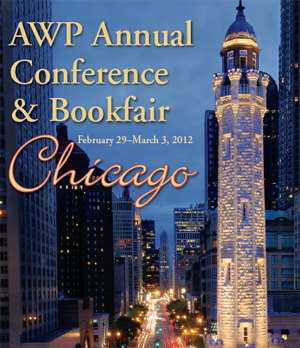 Looking forward to seeing everyone at AWP 2012 in my old stomping grounds, Chicago, Illinois!
Here's the details of our panel:
R175. The Tech-Empowered Writer: Embrace New Media, Experiment, and Earn
(Christina Katz, Jane Friedman, Seth Harwood, Robert Lee Brewer)
Boulevard Room A,B,C, Hilton Chicago, 2nd Floor
What can a professor, a journalist, a novelist, and a poet teach you about new media? Using real-life examples from our own experience and that of other tech-savvy writers, we'll construct a composite of how working writers use technology to invest in their careers, experiment and launch new works, and grow their income opportunities. Whether you need a day job, a part-time job, or just enough gigs to pay a few bills, there have never been so many ways for tech-savvy writers to earn.
Come back to this blog on Thursday, March 1st for some great examples of writers who are using technology to grow and empower their careers.
Be sure to visit blogs by @JaneFriedman, @sethharwood, and @RobertLeeBrewer.
Follow them on Twitter, so you won't miss their conference and tech-related tweets.
Follow @Porter_Anderson for continuous tweets on the entire conference.
Thanks to all the folks who make AWP possible. See you in Chicago, writers!
Like this post? Subscribe to my Feed!