I have had the pleasure of meeting Hallie Ephron in person and getting to interview her for a Writer's Digest article. She is not only a prolific author and champion of other writers, she's just an all-around great gal, too. So without further ado, let's kick the giveaway off with a real writer's writer.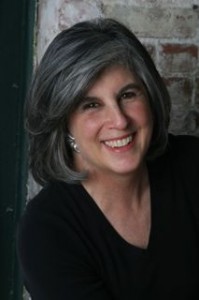 Hallie Ephron writes suspense and mystery novels. Booklist calls her newest novel, Come and Find Me from William Morrow, "A suspenseful tale of high-tech skulduggery that even low-tech readers will appreciate."
Her novel Never Tell a Lie, was made into the Lifetime Movie Network film, "And Baby Will Fall." It was also a finalist for the Mary Higgins Clark Award and for the Salt Lake Libraries Readers Choice Award, and won the David Award for best mystery of 2009.
A book lover and award-winning book reviewer for the Boston Globe, she is also the author of The Bibliophile's Devotional and 1001 Books for Every Mood.
Hallie lives near Boston and blogs with Jungle Red Writers. Learn more about her at www.hallieephron.com.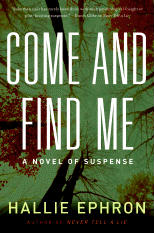 Come And Find Me tells the story of a recluse who works and lives online. When her sister disappears, she is forced to do what seems impossible: brave the outside world. By assuming the identity of her alter-ego, an avatar who is as fearless as Diana herself once was, she finds the courage to set out. But soon she finds herself wondering: Has she become a character in someone else's game?
With seven novels and four nonfiction books published in the last eleven years, Hallie says that on one level, getting published has boosted her self confidence—as in, "You mean someone wants to PAY me to do THIS?"
On the other hand, as she gets more experienced, she keeps raising the bar, which has the opposite effect on her confidence.
Hallie calls her creative book-writing process ugly, ugly, ugly.
"I teach writing but I almost never do what I tell people to do. I'm forever getting stuck and finding myself spinning my wheels. I talk a good line, but when it comes to actually writing, I'm just glad no one's in the office with me. At the end of the day, I just hope my books divert and entertain—like scary carnival rides where everything comes out well at the end—but also give readers something to chew on."
• • •
Thanks for participating, Hallie!
Hallie writes fiction and nonfiction, so let's start the giveaway off with an easy question. Here goes:
Which do you prefer writing: fiction or nonfiction? And why? Answer in the comments in 50-200 words (no less and no more to qualify to win today's book).
(Hallie is allowed to answer too, but not until tomorrow because she can't win her own book.)
Thanks for participating in the Writer Mama Every-Day-In-May Book Giveaway! Please spread the word.
Like this post? Subscribe to my Feed!