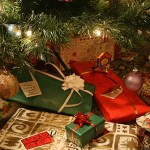 Well, the weather outside is starting to get frightful. So here are my top holiday buys for writers from lowest price to highest.
1. Books Galore! As usual, books are still coming in as great inexpensive gifts that keep on giving. And yes, I still like the old-fashioned kind of books with bindings and paper. In fact, I hate to tell all the e-fanatics, but all the time that I spend reading online only makes me treasure my good old fashioned bound books even more. And I'm pretty sure I bought more books in 2009 than I have bought in years. (So, put that in your "The End is Nigh" pipe and smoke it.)
Here's my short list of books that I recommend for writers and friends, including my books (because naturally, I recommend my own books):
For Writers
The Writer's Digest Guide to Query Letters by Wendy Burt-Thomas (order)
Writing the Life Poetic, An Invitation to Read and Write Poetry by Sage Cohen (order)
2010 Guide to Literary Agents Edited by Chuck Sambuchino * (order)
Novel Shortcuts, Ten Techniques That Ensure a Great First Draft by Laura Whitcomb (order)
Trust Agents, Using the Web to Build Influence, Improve Reputation, and Earn Trust by Julien Smith and Chris Brogan * (order)
Permission Marketing, Turning Stranger Into Friends and Friends Into Customers by Seth Godin (order)
The Elements of Style by William Strunk, Jr. and E.B. White (order)
Get Known Before the Book Deal, Use Your Personal Strengths to Grow an Author Platform by Christina Katz (order)
Writer Mama, How to Raise a Writing Career Alongside Your Kids by Christina Katz (order)
For Friends
Book By Book, The Complete Guide to Creating Mother-Daughter Book Clubs by Cindy Hudson * (order)
Thirsty, a debut novel by Kristin Bair O'Keeffe * (order)
Gringa, A Contradictory Girlhood, a memoir by Melissa Hart * (order)
The Last Will of Moira Leahy a debut novel by Therese Walsh * (order)
The Possibility of Everything, a memoir by Hope Edelman (order)
Fix, Freeze, Feast by Kati Neville and Lindsay Tkacsik * (order)
2. Boing-Boing-Boing Put a little bounce in your compositions by sitting on a Yoga Ball instead of a chair. I've been doing this for several months now and not only does it help me to not hunch over my keyboard (which will land you in physical therapy in case you didn't know) and also helps me sit up straight use my abs for balance. Pump it up about once a week or it gets too squishy. (order)
3. Old Faithful I wouldn't last a day as a writer on one of these old-fashioned thingamajigs…but I sure love looking at the old Royal Typewriter that sits on top of my desk. I picked up mine in a local antique store but I've also seen them on Ebay and on Craig's List. Get yours quickly! Before they have all been stripped of their keys to make jewelry. (search eBay or check Craig's List in your area or happy antiquing!)
4. A Membership to Willamette Writers (or another writer's association near you)
For a mere $36 a year, I receive a world of connections, assistance and discounts just by becoming a member of my local writer's association. Join Willamette Writers (student and family memberships are also available) or another writers association near you and make the most of what they have to offer. You will be so glad you did.
5. Writer's Digest VIP Membership
And speaking of great deals, Writer's Digest has finally bundled the best of what they have to offer into one low price. Hip-hip-hooray! I've been asking for this for years. (Truly. See Jane Friedman's post "Achieving a Dream of Mine" in her blog, There Are No Rules.)
A one-year membership to the VIP program includes:
One-year U.S. subscription to Writer's Digest magazine
One-year subscription to WritersMarket.com
The Essentials of Online Marketing & Promotion Webinar
10% off all Writers Online Workshop courses
10% off all Writers Digest Shop purchases
You'll have access to the best writing advice, markets, competitions, tips, prompts, and more. Learn more and register here.
6. Caffeine Lover's Gift Basket (AKA: How Christina gets so much done in a given day.)

One lb. bag each of Starbucks coffee beans (regular & decaf)
Two packages of Via (Columbia & Italian Roast)
One carton of Oregon Chai
One box of Stash Organic Earl Grey Black & Green Tea
One box of Stash Organic Lemon Ginger Green Tea
One box of Stash Organic Breakfast Blend Black Tea
One adorable honey bear
Toss in a couple of Starbucks Gift Cards
Who wouldn't be happy to get a gift basket like this? Definitely beats the Starbucks rip-offs they are selling in other stores (don't buy those). Take inspiration from this one combination and make your own. But don't drink everything all at once! Pace yourself out, like I do. In other words the contents of this basket would last you…oh about…a month???
Happy Holidays, Writers!
[I'll add links to other folks holidays lists to the blog as I come across them…]
* I received a review copy of this book.
Photo: alancleaver_2000
Like this post? Subscribe to my Feed!