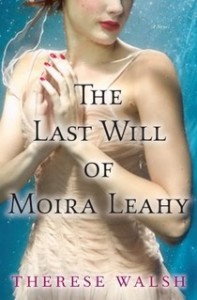 Did you read The Last Will of Moira Leahy?
You did? It was fantastic, wasn't it?
Well, on Tuesday we are fortunate to have the author, Therese Walsh, swinging by to answer our questions about her debut novel.
Please post your questions below to join in!
And if you haven't read The Last Will of Moira Leahy, you are really missing out on a special book. (If you dare, you can view my video review here.) I hope you will pick up a copy just as soon as you can. Why not ask your local library to add it to their collection?
Here's some of my questions to kick things off:
Looking back on the entire journey of conceiving the novel, writing the novel, rewriting the novel, and promoting the novel…is there anything you would do differently?
At what point do you or did you feel ready to say goodbye to these characters and hello to the characters in your next book? Do you work on more than one project at a time?
Of all of the advice you've read and given novelists, what is the one, most crucial piece of advice for the as-of-yet unpublished writer?
Thanks, Therese!
Everyone else, feel free to chime in with your questions!
Like this post? Subscribe to my Feed!