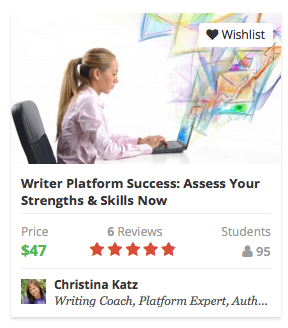 One thing most writers do not realize about platform development is that it is a long-term practice. In fact, it's a career-long process.
At least, it is a career-long process if you want to get the most out of it.
So many writers focus their energy and intention on building that very first website and getting on social media for the first time, but then lose interest once they have hit these marks.
What they don't realize is that building your first site and getting ready to use social media is just the beginning of making the most of your platform throughout your career.
Look at Martha Stewart, for example. Once upon a time her website was new and she'd just created profiles on social media outlets.
Was she done at that point?
Of course not. It was just the beginning! And every year creates another new beginning not just for Martha, but for any writer.
It's so easy to see how shortsighted this sounds when we talk about the career of someone else.
But it's much harder to admit when we are considering our own career, and how much more work we still have to do.
Luckily, if this describes you, I have created a self-paced one-hour class on Udemy.com that can help put you through the paces of your writing career, so you can gather up the best of who you are and what you do, and share that with the world.
Just don't forget that this story evolves every year, as your career evolves.
That's why I created my class to work for both first-time platform builders and veteran platform builders.
Obviously veterans are going to work through the class more quickly than first-timers, because they already have a platform foundation established.
I suggest you designate a time of year each year just for platform review and updating. I usually do it now, just before the New Year. And I love doing it because I love to learn all that I accomplished in the past year.
I hope you will join me in reviewing your platform progress and updating your online presence to make it more current and effective.
I'm happy to offer you a discount coupon on my class, Writer Platform Success: Discover Strengths & Grow Confident, 24 Questions To Answer Before You Build Your Writing Platform Using The Platform Bingo Method LINK
Subscribe to my newsletter, follow my blog, and follow me on social media so you won't miss discount coupons for this course. I am about to send out my monthly newsletter with a great discount!
Let me know if there is anything else I can do for you!
Like this post? Subscribe to my Feed!