I would have loved to give every author in this giveaway their own day. Certainly ever single author in this giveaway deserved her own day. But on days like today I can only say, you get double the awesomeness when I feature Christina Baker Kline and Jessica Maria Tuccelli. Please help me welcome them!
Introducing Christina Baker Kline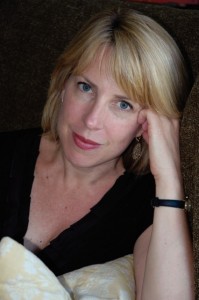 Christina Baker Kline is the New York Times bestselling author of five novels: Orphan Train, Bird in Hand, The Way Life Should Be, Desire Lines, and Sweet Water.  She is co-editor, with Anne Burt, of About Face: Women Write about What They See When They Look in the Mirror and co-author, with Christina L. Baker, of The Conversation Begins: Mothers and Daughters Talk about Living Feminism. She has edited three other anthologies: Child of Mine, Room to Grow, and Always Too Soon. Writer-in-Residence at Fordham University from 2007 to 2011, Kline has also taught literature and creative writing at Yale, NYU, UVA, and Drew University.
A graduate of Yale, Cambridge University, and the University of Virginia, where she was a Hoyns Fellow in Fiction Writing, Kline is a recipient of several Geraldine R. Dodge Foundation Fellowships and research fellowships, and has been a Writer-in-Residence at the Virginia Center for the Creative Arts. Born in Cambridge, England, and raised there as well as in the American South and Maine, Kline lives with husband and three sons in Montclair, New Jersey. She is at work on another novel and an anthology.
Learn about Orphan Train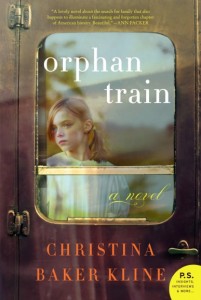 Penobscot Indian Molly Ayer is close to "aging out" out of the foster care system. A community service position helping an elderly woman clean out her home is the only thing keeping Molly out of juvie and worse…
As she helps Vivian sort through her possessions and memories, Molly learns that she and Vivian aren't as different as they seem to be. A young Irish immigrant orphaned in New York City, Vivian was put on a train to the Midwest with hundreds of other children whose destinies would be determined by luck and chance.
Molly discovers that she has the power to help Vivian find answers to mysteries that have haunted her for her entire life – answers that will ultimately free them both.
Rich in detail and epic in scope, Orphan Train by Christina Baker Kline is a powerful novel of upheaval and resilience, of unexpected friendship, and of the secrets we carry that keep us from finding out who we are.
I asked Christina three questions about our giveaway's theme topic, self-expression:
1.  Is self-expression an important part of your life today, why or why not?
Exactly a year ago I discovered a lump in my breast and entered a bewildering world of treatment, from chemotherapy to surgery to radiation. In the intervening months I have learned more than I ever wanted to about my own capacity to endure uncertainty and illness. One of the things I've learned is that being sick and vulnerable gives you a kind of authority of experience. I move with less hesitation now. I am more sure of my beliefs, more direct, more willing to step forward to help. Rumi said that the wound is the place where the light enters you. As a result of this experience (which seems to be over, thank goodness) I am both more aware of joy in the world and the depth of people's sorrows. I understand, in a way that I never did before, the value and the power of self-expression.
2.  What does self-expression mean to you and how do you do it in the world?
There are many ways to address this question, but I'm going to give one specific answer: When I was in treatment I was astonished by people's generosity in ways large and small. I'd wake up to find fresh-baked muffins at my front door, care packages of body lotions, cheerful Gerbera daisies in a vase. One friend organized a meal train that chugged along for months; another set up a blog to post updates. I wasn't surprised that my close friends came through for me (though I was amazed by their stamina through the marathon length of my treatment and recovery). But the gestures from near-strangers humbled me. People I barely knew reached out with a hand or a hug, gave of their time, anticipated my needs without being asked. Having learned first-hand how much even the smallest gesture can mean has definitely made me a better friend.
3.  How does your self-expression impact the world — your family, your friends, your readers, and everyone else?
As far as my writing goes, it will be interesting to see how my experience in the past year affects the way I tell stories. I'm just beginning a new novel about a lonely, misunderstood woman who is afraid to let go of the familiar and head into the unknown. I'm certain that the story I tell will be different than it would've been a year ago. I'm eager to find out how.
Introducing Jessica Maria Tuccelli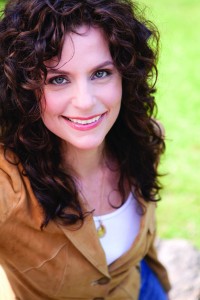 Jessica Maria Tuccelli is a writer and filmmaker. Her debut novel, Glow (Penguin 2013), was named a Southern Independent Booksellers Alliance Okra Pick, its highest honor. According to the Fredericksburg Freelance Star, Glow is "full of love, hate, discrimination, heartbreak, hardiness, ghosts and hoodoo. Every page seems to introduce a new twist to draw the reader in and keep the pages turning. You won't be disappointed."
In film, Tuccelli's lighting finesse can be seen in over 100 film shorts, commercials, and documentaries, most notably the Sundance Film Festival Audience Favorite Hoop Dreams, the Emmy Award-winning How Do You Spell God? (HBO), and Sesame Street (PBS). A graduate of the Massachusetts Institute of Technology with a degree in anthropology, Tuccelli travels the globe, where she finds inspirations for her stories.
Learn about Glow from Penguin 2013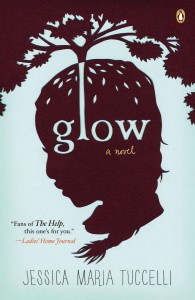 October 1941. Eleven-year-old Ella McGee sits on a bus bound for her Southern hometown. Behind her in Washington, D.C., lie the broken pieces of her parents' love story—a black father drafted, an activist mother of Scotch-Irish and Cherokee descent confronting racist thugs. But Ella's journey is just beginning when she reaches Hopewell County, and her disappearance into the Georgia mountains will unfurl a rich tapestry of family secrets spanning a century.
Told in five unforgettable voices, Glow reaches back through the generations, from the eve of World War II to the Blue Ridge frontier of 1836, where slave plantations adjoin the haunted glades of a razed Cherokee Nation. Out of these characters' lives evolves a drama that is at once intimately human and majestic in its power to call upon the great themes of our time—race, identity, and the bonds of family and community. Lushly conceived, cinematically detailed, and epic in historical scope, Glow announces an extraordinary new voice in Southern fiction.
I asked Jessica three questions about our giveaway's theme topic, self-expression:
1. Is self-expression an important part of your life today, why or why not?
Self-expression is present in my life everyday, from the moment of waking to the moment of sleep, perhaps even within sleep, if you consider the fantastical realm of dreams and nightmares, which, now that I think of it, could be the most authentic form of self-expression.
When we dream, we don't intrude upon our expression with our conscious thoughts; it includes all that we've absorbed through a lifetime, an expression of our deepest hopes and fears and everything in between. For example, many years ago, in December 1988 to be exact, I had a dream in which I was looking for my high school friend, Danny Rosenthal, in a thickly wooded forest in Scotland. Danny had been, in real life, a passenger on Pan Am 103 when it exploded in a terrorist attack over Lockerbie, Scotland.
My dream brought me solace as I found him in the forest, and we hugged, and I was able to tell him how much we all missed him and how devastated we all were. When I awoke, I could still feel the warmth and weight of his embrace. This visceral experience was so deeply moving to me that I needed to give it to one of my characters in my debut novel, Glow. I needed to share it with the world. I wondered if anyone else had had this kind of experience.
2. What does self-expression mean to you and how do you do it in the world?
In the home sphere, I pour my self-expression into everything from the meals I cook for my family to how I decorate our apartment. Of course, there must be a balance at home, one must allow for all family member's self expression, and that's not always easy. Different tastes, different beliefs all in one small New York City apartment!
In the public world, I put my self-expression into my work in theatre, film, and now novels. Before making my debut in the world as an artist, I tried to be a scientist—I went to MIT to study molecular biology. But science wasn't my calling, and once I acknowledged this, I felt an immense weight lifted from my shoulders.
People often ask about how I transitioned from MIT to writing. All I can say is that science and art are both forms of self-expression: The difference, of course, is that a scientist is working on a new theory of physics, and the writer is working on inventing the physicist who is working on the new theory of physics!
3. How does your self-expression impact the world—your family, your friends, your readers, and everyone else?
Hmm. That's a good question. I don't know how it impacts the world, but I hope it adds to it in a positive way, that it creates dialogue that leads to a deeper understanding and tolerance of differences, be they ethnic, gender, racial, cultural, sexual, or religious differences.
I grew up in a bi-ethnic, bi-religious household, which resulted in a lot of emotional tumult within my family. I like to think I can take those experiences, add a bit of alchemy and craft to it, and create something that provides solace or comfort for someone else, as well as good story that stays with you after you read the last page.
And Now, Your Turn…
You remember how this works right?
Please read the complete rules at least once!
I ask you a question.
You answer in the comments for your chance to win a book each day.
Please just respond once, even if you make a typo.

Answer in the comments in 50-200 words (no less and no more to qualify to win one of today's books).
What are the things you know you were put on earth to do and be? Past, present, future…answer any way you like.

Ready, set, comment! I will hold the drawing tomorrow and post the results here in my blog.
Thanks for participating in the Writer Mama Every-Day-In-May Book Giveaway!
And thanks for spreading the word. We will be giving away great books by wonderful women authors all month.
View the complete list of authors and books.
View the giveaway Pinterest board.
Like this post? Subscribe to my Feed!