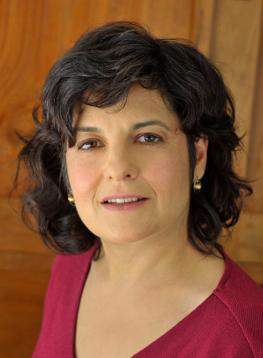 I became acquainted with Ericka through Literary Mama. Whenever I read her work, I always felt like there was a fire inside of it. And this was never more true than her account of her husband's sudden and horrifying death in the wilderness. I was so moved by Ericka's writing around the time of her husband's death. Partly because of the excellent writing and partly because of such an intimate, compelling account of such a personal tragedy. I was bawling by the time I finished reading. (You've been warned, here's the link.)
Since reading this piece, I have been impressed by the steady stream of creative work that just seems to pour out of Ericka. I was so impressed that I invited her to be on one of my AWP panels, and I discovered that she is not only an impressive talent herself, she's also a patient and grounded writing teacher.
So without further ado, please help me welcome Ericka!
About Ericka Lutz
Ericka Lutz is the author of eight books, most recently her first novel, The Edge of Maybe. Her writing also appears in many literary magazines, journals, and anthologies. She teaches at the University of California, Berkeley, and performs her solo shows around the San Francisco Bay Area. She lives in Oakland, California, the city from which she draws much of her inspiration.
About The Edge of Maybe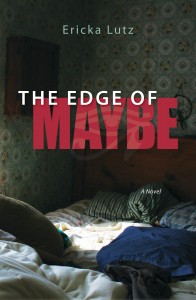 What makes a family a family? And what do we owe the people in our lives? Adam and Kira Glazer live a Northern California liberal lifestyle, entering middle age with politically correct values, an obsession with gourmet organic food, and no idea what has happened to their punk rock, adventurous youth. Then, a shocking reminder of the past lands on their doorstep. Adam, Kira, and their 13-year-old daughter Polly take on freeways, yoga classes and junk food, face dark truths and blood secrets, and drive — alone and together — all the way to The Edge of Maybe.
The Very Short Interview
When did you know for sure that you were a writer and that writing would be a major energy focus in your life?
My creativity was encouraged from an early age with drama/music/art lessons. My mother was a dancer, my father a jeweler and sculptor, my grandmother a well-esteemed writer, and my godmother a Tony-award winning choreographer. But, still, there wasn't much encouragement for me to write. In our family we divvied up the talents: I was supposed to be the actress, my sister the dancer, my cousin the poet, etc. But I defied that, and I always wrote (as well as performed) – poems and journals, mostly. When I was 29 I spent a year in therapy, in crisis, talking mostly about my desire to write (and my relationship with my family – not unrelated). I came out of that year determined to make writing a major focus in my life, and began writing my first (unpublished) novel. That was a long time ago.
Who has always been behind your writing career and who helped pull you up the ladder of success?
I didn't study writing formally and I withdrew from the only college writing class I ever took (because I didn't like the teacher's response to a story I turned in). That said, I've felt mentored since I was eighteen by Alix Kates Shulman, even when years go by without us seeing each other. I've studied privately with Masha Hamilton, Tom Jenks, and a few other great teachers. But mostly, my writer friends, writing group buddies, and my long time writing partner and I have pulled each other up. It's less a ladder and more a cliff, in my experience, and we're all roped together.
What is the most frequent comment you hear about your book (or books) from readers? Tell us a little story about the response to your work.
I often hear how much my writing – both fiction and non-fiction – sounds like listening to me talk. I take this as a compliment on my writer's voice.  I also hear the words "honest" and "courageous" a lot. I don't feel particularly brave. I just try – in both my fiction and non-fiction – to tell the truth as I know it. Oh, and I hear "page turner," about my novel The Edge of Maybe. A lot of people pretend to be annoyed that I've kept them from getting a good night's sleep: "I just couldn't put it down!" This makes me happy.
And Now, Your Turn
Now it's your turn. You remember how this works right?
I ask you a question. You answer in the comments for your chance to win a book each day.
Please just respond once, even if you make a typo.

Answer in the comments in 50-200 words (no less and no more to qualify to win one of today's books). Please read the complete rules at least once!
Thanks for participating in the Writer Mama Every-Day-In-May Book Giveaway! I hope to see you here every day this month. Bring your friends!
Here's a question inspired by my keynote at the Missouri Writers Guild Conference. I would like Lela Davidson to share her answer with everyone. Let's see if we can persuade her to come on over. 😉
When you were 9-11 years old, what did you love to do? Was there any activity you could just completely lose yourself in for hours and hours? Were you alone, with others, or both? Tell us about this activity and then consider if and how this passion still informs your life today. (If you need inspiration, what this short video first.)

Ready, set, comment!
Like this post? Subscribe to my Feed!