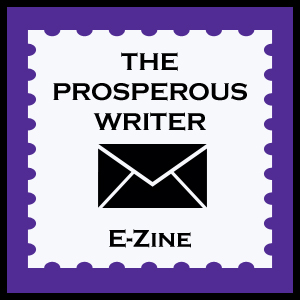 There has never been a more important time to make sure you are subscribed to my monthly ezine, The Prosperous Writer.
Why?
1. To Become a Christina Katz Insider.
I need to know who my biggest fans are, and I need you all in one place so I can spoil you. If you are scattered all over the place, it's harder for me to get the word out about what's new, and that takes time away from my work. I want to spend most of my time on my work and some of my time on spoiling my biggest fans. If you are on the list for The Prosperous Writer, you will be there when I'm ready to spoil you, which is often.
2. Get Exclusive Discounts Not Available Elsewhere.
Part of spoiling my subscribers is giving them the best deals on classes, coaching, and products. Usually these offers are time-sensitive, so it's very important to be on my email list, when the offers go out. In the past, I've repeated great deals over and over. Starting in September, I will only share them once or twice. So you need to be a subscriber, and you need to pay enough attention so you won't miss any of my best offers.
3. Keep In Touch & Get Exposure!
I love to hear from people I've worked with in the past and I love to get them involved in my blog, so they can get some exposure for their work. If you are a fan of mine and you are looking for opportunities to get exposure for your work. You will find these opportunities in my e-zine. These opportunities will not be posted elsewhere. So if we've worked together in the past, make sure you keep in touch in the present.
4. Get A Free Gift For Subscribing.
Everyone who subscribes to my ezine gets a free gift. If you have not claimed yours, isn't it time?
5. Monthly Inspiration To Help You Grow Your Career.
The Gentle Taskmaster—that's what my students call me. And you can benefit from my steady, positive encouragement simply by signing up for my ezine. I will be adding occasional free worksheets to my ezine this year, too. Subscribe now, so you won't miss a single one!
Basically, you can subscribe to my blog, you can follow me on social media, but the only way to take advantage of my best offers is to subscribe to my ezine.
And if you have questions or concerns about subscribing, just head on over to my Contact page and shoot me an email. I'd love to hear from you!
Subscribe to The Prosperous Writer right over here at the top of the page >>>
I will never share or sell your contact info.
See the little sign-up box?
Let's stay in touch!
Like this post? Subscribe to my Feed!