Thanks to Christine Fonseca for this awesome recipe. Now I know what I'm doing with the Thanksgiving leftovers!
This stew is perfect on a cold winter's night.
Sundays are relaxing days in our house, filled with sounds of football, family and serious R&R. Sometimes I write on Sundays, sometimes I just enjoy my family. Regardless, I cook a nice family dinner and invite extended family.
Since it is a relaxing time, I am always on the hunt for easy recipes that I can fix without a lot of trouble. Of course, I want it to "taste" like I slaved – all without the work. This recipe, fit the bill beautifully. Cooked in the slow cooker with very little fuss, I was able to throw this together and not think about it for 6 hours – taking away any of my normal excuses for not writing. Even better, this is an easily adaptable recipe. I plan on making a yummy day-after-thanksgiving stew using similar ingredients on Black Friday.
Chicken Pot Pie Stew
2 lbs boneless, skinless chicken breasts, cubed
2 ½ cup frozen mixed veggies (I like peas and carrots)
3 cups peels potatoes, cubed
4 cups homemade cream of chicken base (see recipe below)
Put cubed chicken in crock pot. Add frozen veggies on top, followed by the potatoes. Top with the cream of chicken base. Cover and cook on high for 5-6 hours. STIR and serve with your favorite bread.
Recipe for cream of chicken base:
3 cups water
4 chicken bouillon cubes
½ cup half and half
1 cup milk
¾ cup Wondra Flour
Salt
White Pepper
Garlic powder
Onion powder
In small bowl, mix flour and milk together until smooth.
Bring water and half and half to a boil. Stir in chicken bouillon and reduce heat to simmer. Add flour/milk mixture in a slow stream, stirring constantly. Season to taste while stirring until thickened.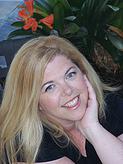 Christine Fonseca is an acclaimed and award-winning author of nonfiction and young adult novels dedicated to helping children and adults find their unique voice in the world. When she isn't crafting new worlds and new stories, she can be found sipping too many skinny vanilla lattes at her local coffee house. Find out more about Christine or her books at ChristineFonseca.com.
~ Adapted from the recipe for "Slow Cooker Chicken Pot Pie Soup" at The Gunny Sack
Christina's Post-Thanksgiving Update:
I adapted this recipe to use up Thanksgiving leftovers and the soup turned out great. Here's what I did, in case anyone wants to try it:
I boiled the turkey carcass right after Thanksgiving dinner. As we cleaned up from the meal, I tossed all the turkey bones, turkey scraps, and leftover drippings into a large pot with onion, celery, and herbs and boiled it for a few hours.
I strained the broth and chilled it, so I could skim the layer of fat off the top more easily. This is the broth I used for my stew (instead of water and bouillon cubes).
I used FOUR cups of my turkey broth, for my Cream Of Turkey base, and then added about a quarter teaspoon each of garlic powder, onion powder, and garlic salt. (You could always purchase turkey broth instead of making it if you have leftover turkey meat to use up but no homemade broth.)
I did not think it would take 6 hours to cook this stew because I wasn't using raw poultry meat, but it still did take that long to cook the potatoes. I used red potatoes and added the potatoes first with a small bag of frozen pearl onions, topped them with the Cream Of Turkey base, and cooked it for two hours. Then I added a bag of frozen petite peas, crinkle cut carrots, and about a cup and a half of chopped, cooked turkey meat (leftover from Thanksgiving) and cooked it the remaining four hours. In retrospect, if I had cut my potatoes a bit smaller, it would not have taken so long. So I would suggest cubing your potatoes into about the same size as the pearl onions, which could slash an hour off the cooking time.
And that's it. The result is delicious! Thanks so much to Christine for sharing this recipe. I will definitely make it again.
Like this post? Subscribe to my Feed!