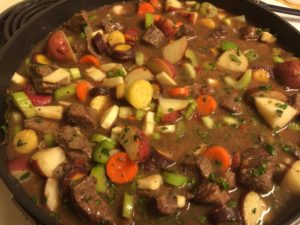 On Sunday, we made a large batch of beef stew. Today is Friday and that stew is gone. Hopefully this helps you understand just how tasty this recipe is.
As I usually do, I begged, borrowed and stole from several other recipes to create this one. Let me know if you like it.
The most important ingredient in beef stew is the beef, of course. I got ours at Whole Foods, and I will probably never get it anywhere else from now on. The quality of the meat was amazing. Even better, I stumbled on a sale and it was almost half price.
Get two pounds of beef cut into chunks our cubes in a size that will suit everyone's tastes. Our chunks were a bit big, but they maintained a nice juicy texture, so I will probably keep them about 1 inch by 1 inch by 2-3 inches next time, as well.
Red Wine Beef Stew
4 tbsp olive oil
2 tsp minced garlic
2 lbs trimmed beef chuck, high quality, cut into cubes or short strips, at least one-inch thick (use fresh, not frozen meat whenever possible)
About a 1/4 cup flour tossed with meat, salt and pepper to coat
20 small red potatoes
2 medium onions
2 cups sliced, peeled carrots (I use rainbow carrots)
2 cups sliced celery
1 large parsnip peeled, sliced and chopped
2 cups red cooking wine
2 cups organic, salted beef stock
1 14.5 ounce can of diced tomatoes
Pint of sliced fresh mushrooms
3 bay leaves
1/2 cup finely chopped fresh parsley leaves or 1 tbsp dried parsley
1 tbsp finely chopped fresh thyme leaves or 1/2 tsp dried thyme
1 tbsp finely chopped oregano leaves or 1 tsp dried oregano
Salt and pepper to taste
The whole process will go much more smoothly, if you do all the chopping first or if two people make the stew together with one person chopping and the other cooking. Have the butcher cut your meat so that will be one less thing to prepare.
Step one: Coat & sauté the beef
Put the flour, salt and pepper in a large plastic storage bag and shake half the meat to lightly coat. If you need to add more flour, salt, and pepper for the second coat, go ahead.
Heat up a large skillet over medium heat with the olive oil. Do not overheat the pan and scorch the meat or the oil, or you will ruin the flavor of your stew. Brown the beef, turning gently, on all sides for about five minutes. You are not trying to cook the meat all the way through, just to brown it. Break the meat into two batches, if all of your meat won't fit in your pan in a single layer at once. Put all the sautéed meat in the pan, add the onions and garlic and sauté for three more minutes. Then pour in the red wine, beef broth, diced tomatoes, bay leaves and dried herbs if you are using dried herbs. If you are using fresh herbs, save them for later and only add the bay leaves now. Scrape the bottom of the pan so nothing sticks (always avoiding any type of scorching) and bring mixture to a boil. Then turn down the heat to low, cover, and simmer for one hour, stirring once every quarter hour.
Step two: Add the vegetables and simmer
Add potatoes, carrots, celery and parsnip but not mushrooms yet. Stir and bring to boil. Then turn down the heat to low, cover, and simmer for 30 minutes. Stir once in the meantime. Remove the bay leaves.
Step three: Finish the stew and let it sit

Add the mushrooms and fresh herbs if you used them. Bring mixture to a boil and then turn off heat. Allow stew to sit on a cold stove for several hours for the best flavor. Once it's cool enough, add salt and pepper to taste, and either serve or refrigerate.
When it's time to eat, warm only the amount of stew you plan to eat in a sauce pan or microwave individual bowls. Offer salt and a pepper grinder. This stew goes well with fresh bread of any kind especially garlic bread or fresh popovers. We sometimes have it with toasted bagels.
Enjoy!
If you are looking for more recipes on this blog, click here.
So much inspiration, so much time! Please subscribe to the Create, Share, Prosper blog and sign up for The Prosperous Creative ezine for exclusive discounts you won't find elsewhere. Click on the Enter School tab above to put your creativity to prosperous use right now. Join my monthly pep talk video series because all the other prosperous writers are doing it. Like words? Check out my Etsy shop. And you haven't seen anything, if you haven't seen all the helpful offerings in my online shop. Thanks for reading and thanks for sharing this post with fellow creatives!
Save
Save
Save
Save
Save
Save
Save
Like this post? Subscribe to my Feed!