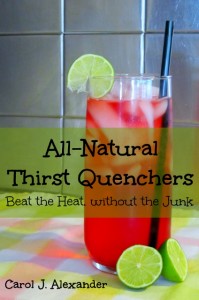 Like most kids in the '70s, I grew up on Kool-Aid. Even today, our homeschool group serves Kool-Aid to the kids at lunch. I think that moms give their kids Kool-Aid because it's cheap, it quenches your thirst, and it tastes good. (At least to a kid, that is.) But it's not a healthy food choice.
About 20 years ago, I lost babysitter after babysitter because of my oddly behaving son. He was even kicked out of Sunday school because they didn't know what to do with him. I knew we had a problem; I just didn't know the cause. After putting the entire family on a special elimination diet we discovered the boy's trouble was food coloring. Well, wouldn't you know? The Sunday school teacher gave him Kool-Aid and cookies for snack time every Sunday.
If you want to serve your family a healthy alternative to that brightly colored, mind-altering drink that comes with the instructions to "add water and stir," I have the solution for you. I call it the Natural Kool-Aid Alternative. It is sugar-free, dye-free, and has a lot of extra health benefits because it's high in vitamin C and bioflavonoids. Here is the super-simple recipe.
Natural Kool-aid Alternative
To make half a gallon of Natural Kool-Aid Alternative you will need:
Two cups of boiling water
Two tablespoons of hibiscus flowers
One to one and a half teaspoons of stevia leaves
One teaspoon of peppermint leaves
Pour the boiling water over the herbs and let steep 15-20 minutes before straining into a pitcher. Add a couple of cups of ice and fill the rest of the way with water. Stir and enjoy.
The hibiscus flowers give your brew an alluring red color that is natural and just the right amount of tartness that really quenches your thirst. Stevia is an all-natural sweetener with no side effects, and the peppermint gives it that refreshing coolness you want on a hot summer day.
If you're wondering where to buy hibiscus, stevia, and peppermint, check out your local health food store or an online bulk herb supplier. Buy plenty because your kids will be coming back for more.
Carol J. Alexander writes stories of hard-working folk—farmers, homesteaders, homemakers, and parents—for magazines like BackHome, Grit, Urban Farm, Hobby Farms, From Scratch, and regional parenting publications all over North America. She recently published All-Natural Thirst Quenchers: Beat the Heat without The Junk, a collection of drink recipes, available on Amazon.

Like this post? Subscribe to my Feed!