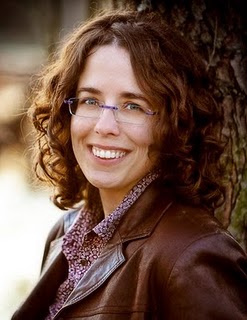 Today's delicious soup recipe comes to us from my friend and former editor, Jane Friedman. Like many of you, I've been following Jane's writing and publishing advice for years and it's always fun to catch a more personal glimpse of her life. Please join me in congratulating Jane on her forthcoming Great Courses lecture series! What an honor to be selected for such a prestigious gig!
I left home at fifteen, and spent the next six years of my life living in dormitories, where I depended on university dining halls to feed me.
Once I finally graduated to a living space with a kitchen, I didn't know what to do with it. I bought a lot of pasta, packaged foods, frozen dinners, and canned soup. Even after I was married (briefly), my habits didn't change much.
But one thing that did change is that I started learning the difference between good food and packaged food. I traveled extensively, ate at wonderful restaurants, and started getting depressed with all the crap I ate at home.
I decided I would have to do better. I began watching the Food Network and PBS cooking shows (and subscribing to various foodie magazines). I started to learn a few recipes I could execute well and tasted like I put a lot of work into them. One of the first trusted recipes was for roasted red pepper soup. You cannot screw up this recipe. You can't overcook it, you can't over-season it (unless you dump in the salt shaker by accident), and you can't add too little or too much cream. And it can sit on the stove indefinitely at pretty much any temperature.
Best of all, I've never had a man in my life who didn't like it.
Roasted Red Pepper Soup
Prep Time: 10 mins | Cook Time: 30 mins | Servings: 4
Ingredients:
2 tbsp butter
4 garlic cloves, minced
1 medium red onion, diced
1/4 cup flour
3 cups roasted red peppers — Divina is the best brand if you don't roast your own, and don't stress about the amount here; you can add more or less liquid to adjust
1/2 tsp hot red pepper flakes (optional)
5 sprigs thyme (add loose or tie in a string)
3 1/2 cups chicken broth
1 cup water
3/4 cup heavy cream
Directions:
Heat butter, then saute garlic and onion with a 1/2 tsp of salt. Once the onion is lightly brown, add flour and stir. Toast for a minute or so. Then add roasted red peppers, pepper flakes, thyme, broth, and water. Bring to a boil. Reduce heat and partially cover. Simmer 20 minutes. Remove thyme springs. Purée with a hand blender, then stir in cream.
Jane Friedman teaches digital media and publishing at the University of Virginia and is a columnist for Publishers Weekly. She's proud to be a Great Courses professor for the upcoming "How to Publish a Book" lecture series (launching October 22nd). She is the co-publisher of The Hot Sheet, the essential publishing industry newsletter for authors. Stay in the loop by RSS subscribing to JaneFriedman.com. And be sure to check out Jane's latest book:
Like this post? Subscribe to my Feed!