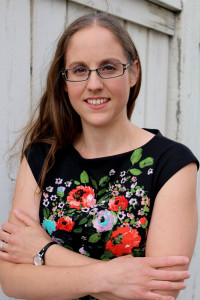 Who doesn't love pie at Thanksgiving?
You can make this pie for Canadian Thanksgiving or American Thanksgiving, or better yet, both!
I had never heard of butterscotch pie before I joined my now-husband for his extended family Thanksgiving gathering. As stuffed as I was with all the delicious food, I still had room for a sticky, sweet, meringue-covered slice.
The story goes that my husband's grandfather once made butterscotch pie for a pie social. It was his first attempt at pie and it came out beautifully, but the snowy roads were so bad that they had to turn back and ended up eating the pie all by themselves. Gramps never made another pie, since he said he couldn't improve upon it and he didn't want to spoil his reputation as a baker.
Besides inheriting a tradition of great food, my husband is a dual Canadian-American citizen, so he grew up celebrating Thanksgiving twice a year! Whether you are Canadian or American, I hope you enjoy my mother-in-law's family recipe for butterscotch pie.
Butterscotch Pie
First, make the piecrust.
Mix 1 ½ cups flour, 1 ½ tsp sugar, and ½ tsp salt.
Add ½ cup butter, shortening, or lard (or a combination), cut into small pieces. Use a pastry blender or your fingers to work the fat into pieces the size of small peas.
Add ¼ cup cold water and toss the mixture with a fork. Slowly add more water until the dough can form a ball.
Pat the ball into a ¾-inch disc, wrap in plastic, and refrigerate at least one hour.
Roll the dough out and fit into a 9-inch pie plate. Trim the excess. Freeze for 15 minutes.
Preheat the oven to 400 degrees. Fit a piece of aluminum foil over the piecrust and fill with dried beans.
Bake the crust 15 minutes. Then remove the beans and foil, prick the dough all over with a fork, and drop the oven temperature to 375. Bake 15 more minutes.
Next, make the filling.
Melt ¼ butter in a medium-sized pot.
Stir in ¼ cup flour.
Add 2 egg yolks, 1 cup brown sugar, 1 ½ cups milk, and a pinch of salt.
Cook until the filling begins to thicken, then 15 more minutes.
Remove from heat and add ½ tsp vanilla.
Spread in pre-baked pie shell.
Finally, make the meringue.
Beat 2 egg whites on high speed until soft peaks form.
Slowly add ¼ cup white sugar and keep beating until stiff peaks form.
Spread meringue over pie filling, making sure it reaches the crust on all sides.
Place the pie under the broiler until brown (a moment or two).
Margaret is a fiction writer fascinated by the way artefacts from the past affect the present. She lives in Calgary, Alberta with her husband and two young daughters. She recently launched her website, www.mebondbooks.com, where you can read her blog, find recommended websites and novels, solve monthly ciphers, and subscribe to her email newsletter, The Mouse & Pencil.
Like this post? Subscribe to my Feed!