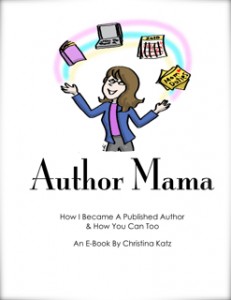 If you are a writer mama and you think you might like to write a traditionally published book some day, I hope you will give Author Mama a read. By the time you are done, you'll have a much better idea of what is required in the pitching and writing phases of the first-book process. Here's what first readers have to say:
Christina's writing style is so engaging it's as if you were discussing author characteristics with her over a cup of coffee. Her enthusiasm for her craft is obvious in her well-organized content and aspiring author action steps. Thanks, Christina, for providing would-be authors with the knowledge and resources necessary to write that first book.  ~ Kim Murray
What I love about Christina's books is she takes overwhelming topics and chops them up into manageable segments. Not only is her knowledge comprehensive, it's a relief to know she learned so much about writing and publishing as a mom. Author Mama presented some new ideas to me and it reminded me of other concepts I'd forgotten about.  ~ Heather Mark
Author Mama has it all! Christina Katz has done an amazing job putting everything an author mama needs to get started writing a book all the way through to publication. Katz has left no topic untouched from celebrating each step completed in the book writing process to the changes taking place in traditional publishing. Especially unique in this e-book are the sections on paying attention to physical and mental health needs during the book writing/publishing process. This is a book you will definitely want to have next to you on your desk for reference as you begin the process of pitching and then writing your first book!  ~ Sarah Joyce Bryant
For all those who were so inspired by Writer Mama that they decided to write a book, Author Mama is the essential next step.  ~ Karen Banes
Learn more about Author Mama here.

Like this post? Subscribe to my Feed!